This is the fourth installment in a series that elevates the work of up-and-coming queer individuals working in the fashion world. Check HuffPost Gay Voices regularly to learn more about some of the designers of tomorrow and the way their work in fashion intersects with their queer identity.
Vincent Tiley is a queer fashion designer and artist living in the Bushwick neighborhood of Brooklyn, New York. Tiley's designs involve a significant amount of garment work with heavy queer overtones, largely informed by notions of the body. In the words of the designer, "I have a hard time believing that a person stops at the edge of their skin. In a way all of my work is trying to illustrate that feeling one way or another." Read the interview below to learn more.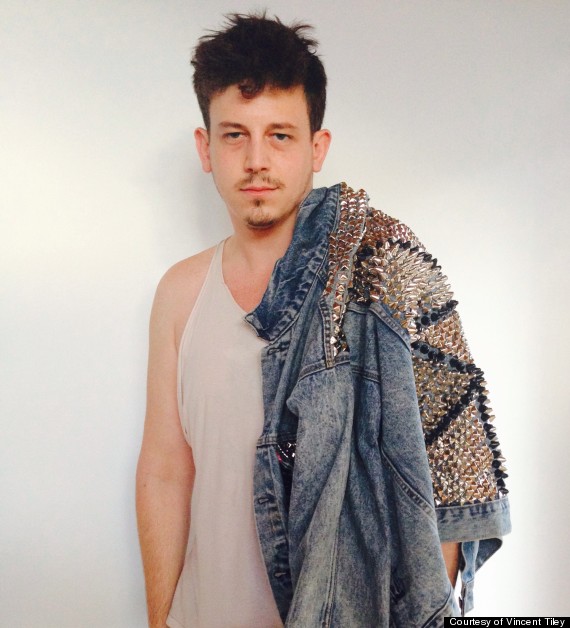 The Huffington Post: What has your journey as a queer artist and fashion designer entailed?
Vincent Tiley: I started out by making costumes. I got my BFA from the Maryland Institute College of Art and it was there that I made the jump from drawing and painting to working with textiles on the body in a sculptural way. But first everything I made was for video. The first things I started sewing were sci-fi costumes for these Kenneth Anger-style short video pieces I was making that blended biblical apocalyptic scenarios with sci-fi fantasy.
My work really changed, however, when I studied abroad in Japan. The street fashion there blew my mind and I suddenly started thinking very differently about clothes. I came back and started thinking really hard about the intersection of fashion and art. I am really inspired by artists that can ride this line -- people like Leigh Bowery, Lucy Orta and Terence Koh. I eventually got to work for Terence Koh, which was a dream come true.
I moved to Chicago for graduate school. I think it was my second week there that I met my very good friend Matt who is known for his drag persona Pearl, appearing on season seven of RuPaul's Drag Race. I made Pearl her first dress and I still continue to design for her today -- Pearl is always a constant source of inspiration for me.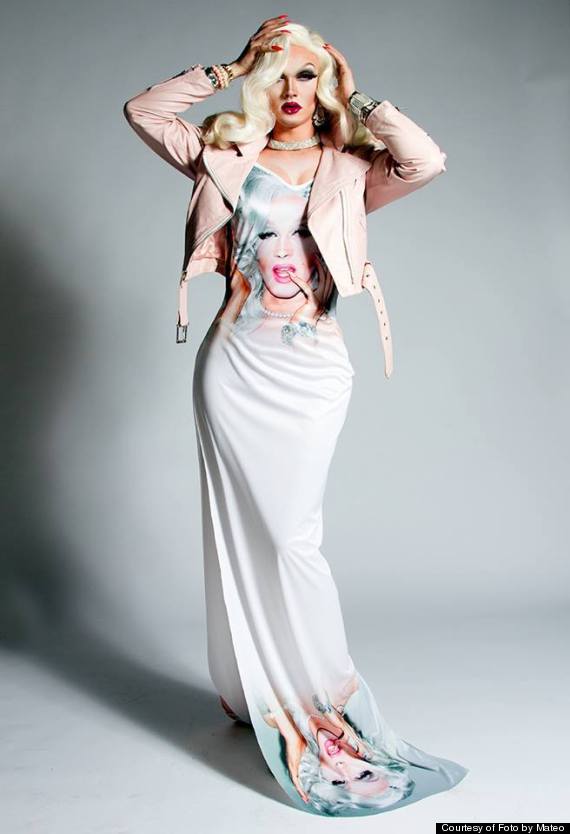 In Chicago I was also encouraged by my teachers and peers in school to continue to work between art and fashion. The time I spent there was an amazing time of collaboration and innovation. Now I'm back in New York City, living in Bushwick, where I've found a new community of artists, designers and performers. I'm always amazed by the people here and how this tight-knit community holds together.
What is the focus of your work? How does your work as a designer intersect with your work with an artist?
My work is very body-conscious. I'm always trying to reinvent the body. Sometimes I do this by making a new skin or bodysuit that extends or confines the body of its wearer. Other times I'm just thinking about how a material might make someone want to touch it even if it's a painting and you know your'e not really "supposed" to.
I have a hard time believing that a person stops at the edge of their skin. In a way all of my work is trying to illustrate that feeling one way or another. This is why my bodysuits often connect their wearers to each other and force them to touch.
When I'm designing something for a client, however, I have to translate these ideas into something much more practical. So I try to use prints and materials in unconventional ways that make the viewer feel that they are looking through a top layer or that it might be something they want to touch. I also collage vintage clothes together to make a new garment in a similar way that I might collage performers together in a piece to make a new kind of body.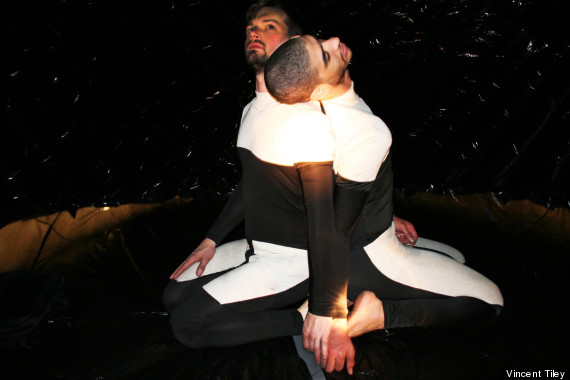 With the body suits I also try and think about painting and its history. One time I showed another artist a piece I was working on and he screeched, "YAAAS LYNDA BENGLIS REALNESS!" That was a huge compliment. By putting these painted body suits on the floor I'm trying to relate to her work and how she could take the logic a kind of machismo expressionist painting on the wall and flip it on it's head. I want the bodysuits that I make to be understood as paintings and sculpture -- not just in a performance art context.
I also work really hard to make things visibly queer by quoting existing queer dress like drag, fetish and punk. Though, I also try to think what making a subversively queer garment might mean. Does it mean that there is going to be a third sleeve? Or maybe the wearer won't be able to move? It's not just about doing what others have done to making getting dressed a queer act of rebellion, but about how to put that spirit in the garment.
What does it mean to you to be a queer artist and designer? How does your queer identity intersect with your work?
For me, being a queer artist means having to pay attention to how things blend together and lose their edges. Right? That's the kind of power that the idea of the spectrum has to offer us. It's about being able to see presumptions and unnecessary barriers, tearing them down and revealing an unknown nature to things. I think this relates directly to queer experience and how something as mundane as attraction and who a person is attracted to can be this huge societal barrier that invites discrimination and violence to those just born the way they are. Thankfully, so many of those barriers have come down -- but there are still more.
It's a dangerous and powerful thing to reveal yourself and be boldly strange and resist labels, but that is the good work that has to be done.
Earlier this year you did a performance piece where you danced nonstop for 24 hours. What was your intention behind this endeavor? What were you trying to accomplish?
I love that piece. That performance is called "BABY YOU'RE NEVER THERE." In that piece I dance for a whole 24 hours (midnight 'til midnight) to music provided by a rotation of live DJs. I've done this twice now. The first time was at New Capital Gallery in Chicago and the last time I did it was at Glasshouse Art Life Lab in Williamsburg. The installation is very simple for this piece -- it's just the DJ booth, me wearing a tank top with the title on it and an installation of gatorade on the floor of the gallery -- which is the only thing I eat or drink to sustain myself during the performance.
When I came up with "BABY YOU'RE NEVER THERE" I was going through kind of rough time in Chicago and I was going out a lot as a way to distract myself. I started thinking about the club as a kind performance experience where people get dressed up and come a a space to perform what they think is attractive for the sake of onlookers who may potentially decide to share a drink or dance with that person and maybe head home with them. I wanted to take that experience and separate it from the logical conclusion of meeting someone. I also wanted to extend something enjoyable to the point that it became painful. The audience gets to watch and dance as this all plays out and see how I degrade from energetic booty shaking to barely able to take a step.
The end is always really emotional -- I'm exhausted from both the dancing and being looked at. Both times there was a lot of crying and cheering and dancing at the end when I collapse at midnight. I had one person tell me that while he was watching he didn't know whether what he was feeling were his emotions, mine or the emotion of the collective group in the room.
You went to Art Basel this year, partially to take part in "Bushwick Gone Basel." What did your work for Art Basel involve?
The first body suit I made was called "Alter Overflow" and it was a body suit for three people and worn for three hours. It was made of sheer spandex and black neoprene. Draped overtop myself and one other performer was a mass of six denim jackets that were studded, painted and sewn together. The other piece was at Ms. Fitz's and Christine Tran's show "Bushick Gone Basel" at a venue in Wynwood. I made a wearable painting that hung from the surrounding architecture like a hammock or a sex swing. I was inside of it with both my legs and one arm in the air with most of my weight resting on one shoulder. The only parts of my body you could see were my fingers and toes sticking out of the painting. the rest was covered by painted neoprene and digitally-printed spandex. That one was called "Figure Ground (there is no winning with me)." I wore that for two hours. I was really lucky to have performed when I did -- or at all -- because the venue kicked us out for being too "weird" (read: queer).
Historically the fashion world has been extremely queer friendly -- what role do you think the fashion world has played within mainstream acceptance of LGBT identity?
I think one of the things we are called to do as queer people is to stay visible and endure. I think the fashion world has done an amazing job of making queerness visible. I see it everyday in advertisements and how similar men's wear and women's wear is becoming. I remember watching TV and seeing the "Fab Five" (from "Queer Eye for the Straight Guy") give make-overs to straight men and that being kind of my first introduction to gay male culture. Now that show seems so limited and contrived but it was important for what it was. It put five super cute gay dudes in the homes of families across the country.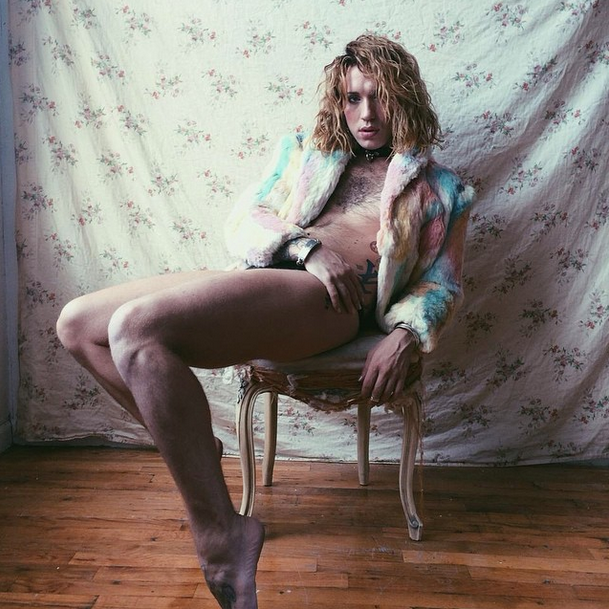 Vincent Tiley
At HuffPost we've seen an emergence of clothing lines that cater to queer and trans bodies whose needs aren't met by traditional designers. Do you think we'll see more of this in the future? What does this say about the future of fashion?
I think businesses and projects like this are incredible. It shows a real attitude change in this country in regards to the LGBT community. I think that gender-bendy garments have existed in the mainstream and straight society for a long time, but that they were always "wink wink nudge nudge." That kind of queer representation had to fly under the radar and only be recognizable to people in the know. An iconic example of this is the hanky code which is has now been replaced by your cell phone apps which ironically also sits in your back pocket. Now all of that seems obsolete and you can have a successful business model that has a queer buyer in mind.
What's next for Vincent Tiley?
I recently got taught how to make Latex gear from the Baroness in the East Village. I love the look of latex and how far it can stretch. I also like how you can paint with it or do screen prints and then it dries and becomes material to then make clothes or sculpt with. I've got a lot of plans for things I want to make in latex.
Also, to bring this full circle, I am writing a queer sci-fi movie called "Virgo," which will have a bunch of costumes I will make and art-work by me and other artists that will be used as props and sets in the film. It takes a lot of inspiration from "Sailor Moon" and other stories of powerful young girls that form magical teams of friends. I'm currently casting the characters right now. I hope to start fundraising in spring and shoot it in the summer.
Want to see more from Vincent Tiley? Head here to check out the designer's website. Missed the previous installments in this series? Check out the slideshow below.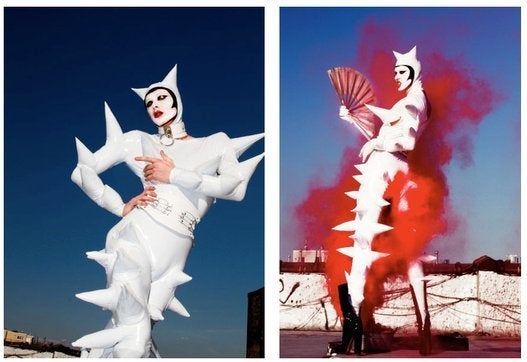 FABRICATIONS
Popular in the Community