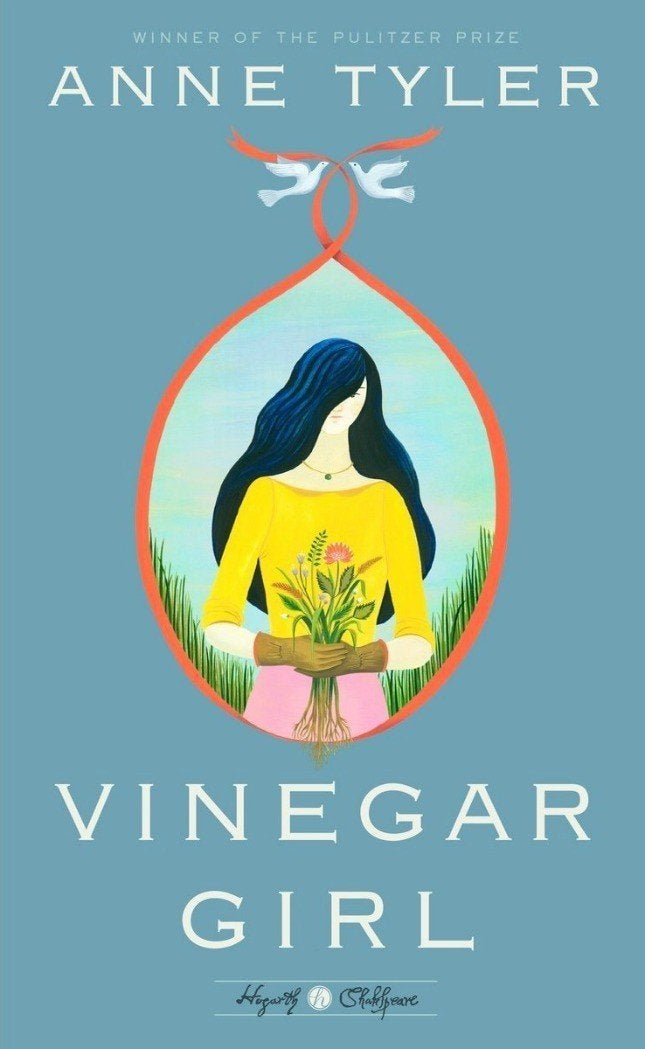 Shakespeare's "The Taming of the Shrew" -- perhaps his most contentious story -- starts with a bang, and ends with a whimper. 
Katherina, a headstrong, quick-witted woman, puts off suitors in search of a docile young wife, until, that is, she meets her supposed match: an opportunistic man as uninterested in societal strictures as she is. That Kate should consider marriage at all is at odds with her personality, but her father has set up a rule: her sought-after younger sister, Bianca, can't be married until Kate is. Bianca's inspired suitors enlist Petruchio for the job, and he successfully convinces Kate to marry him, namely by telling her that her every unkind utterance is music to his ears.  
Already, these mind games are achingly resemblant of pick-up artistry. From there, the play's controversial morality escalates, culminating in a monologue given by Kate, in which she offers to place her hand beneath her husband's foot as a symbol of her service. "Our lances are but straws," she says of women's strength, an idea that's been interpreted both sincerely and forgivingly, as a lamentation of society's impossibly bright lines.
But what to make of the play now that those lines have dimmed, allowing for a fluidity between genders and gender roles? In modern adaptations, Kate's tricky final monologue has been either interpreted as earnest -- Kate has fallen in love with Petruchio, a specific feeling that softens the general blow of societal norms -- dashed off as ironic, or circumvented altogether, as in the Julia Stiles-led "10 Things I Hate About You." 
In Anne Tyler's modern rewrite of the story, Vinegar Girl, the final scene is recast in a new light and given all the trappings of contemporary relationships -- misconstrued texts, lukewarm feelings about nuptial celebrations. Still, Tyler manages to end the story on a pontifical note, one that's troublingly reminiscent of the original play's sexist sincerity. And, unfortunately, the regressive ideas at work in Vinegar Girl are made clear long before its final pages. 
When we're introduced to 29-year-old Kate Battista, she's gardening behind her father's house before she's interrupted by a phone call. She lets the call go to voicemail, and we hear her 15-year-old sister's voice intoning ditsy pleasantries, each ended in an unsure question mark. Kate learns that her dad, who runs a research lab for autoimmune diseases, has forgotten his lunch, and could she kindly bring it in? It's clear from Page 1 that Kate is the reluctantly responsible family member, preparing dinner and performing other domestic duties for her hapless unit. To this end, she's taken a job at a daycare after dropping out of school, where she studied botany and where she had hoped to eventually return. 
When she brings her father his lunch, Kate senses something's amiss; usually too focused on his work to pay mind to his daughters' emotional needs, Doctor Battista encourages her to stay and eat with him and his research assistant, Pyotr Cherbakov, who's in America on a soon-to-expire extraordinary-ability visa. Over the course of a few more strange encounters, Kate learns of her father's plan: he wants her to marry so that he can stay in the country and continue to work in his lab. The arrangement would only be temporary, but they'd have to gather enough photographic evidence to make the romance seem legitimate.
Kate, naturally, is appalled; until, abruptly, she isn't. Won over in part by Pyotr's brusque mannerisms, which to her seem more sincere than the chattiness of her coworkers, and in part by her father's uncharacteristic pleas, Kate agrees to the deal. Besides, she thinks, her career and home lives have gotten stale. A shake-up may be just what she needs.
While Kate takes the plan curiously in stride -- aside from a few chiding remarks correcting her father's reductive view of women -- it's clear throughout the story that Pyotr's affections needn't be feigned. From the onset he's smitten with Kate's flowing long hair. Later, he gives her the nickname "vinegar girl," after a proverb from his home country: "beware against the sweet person, for sugar has no nutrition." Kate counters that in America, it's said that honey catches more flies than vinegar, and Pyotr guffaws: "Why would you want to catch flies, huh?" 
The proverb bit is prevalent throughout the story, painting a reductive picture of Eastern European immigrants, who, in the context of this story, are barely more than comic relief characters. The same goes for teenage girls who gussy themselves up for the sake of male attention -- the easiest form of power allowed them -- and aging Asian-Americans, who, according to the narrator, are prone to dressing in casual menswear. Throughout the book, stereotypes are embraced rather than questioned, mostly for the sake of easy jokes.
In a particularly off-putting scene, Kate has an epiphany about Pyotr: Although he speaks slowly, bluntly, and with jumbled article usage, he's capable of thinking as sharply as she is. That this information is revelatory to her makes her character development uninteresting at best.
It is this realization, and the sympathy she feels for Pyotr when she learns that he's an orphan with no family to speak of, that leads Kate to feel tenderness for him, and to begin to view their arrangement as beneficial not only to her family, but to herself. The specifics of their relationship are touching, but Tyler balloons them, writing a global observation about men, women, marriage and sexism that is not only reductive, but out of character coming from the headstrong Kate. 
"It's hard being a man," she announces at her wedding reception. "Anything that's bothering them, men think they have to hide it […] They're a whole lot less free than women are, when you think about it." She continues, in earnest, "[Women] know how things work underneath, while the men have been stuck with the sports competitions and the wars and the fame and success."
Perhaps Tyler isn't fully to blame for the askew morality of Vinegar Girl. She did take on one of the trickiest oft-retold stories, one that's difficult to depoliticize, given the outdated framework it functions within. As with "Taming of the Shrew," the story can be appreciated if the ideals of its protagonist are unmarried from the ideals of its author, but doing so begs the question: why tell it at all? 
In taking on a play notorious for its reductive views on gender roles, Tyler does little to set the record straight, maintaining the divisive power of social difference. Her entertaining book may nevertheless appeal to Bard fanatics.
What other reviewers think:
The Guardian: "You have to hand it to Tyler. This is just about as believable as it gets in terms of a modern way of rendering a Shakespeare plot. Which is sort of the problem. While Tyler has a lot of fun with it, it never rings entirely true or escapes what this is: an experiment in form."
Kirkus: "Neither a faithful retelling nor a trenchant countertale, though agreeable enough as an afternoon's entertainment." 
Anne Tyler is a Pulitzer Prize-winning author. Her most recent novel is A Spool of Blue Thread. 
Anyone interested in Shakespeare, contemporary conversations about gender, or modernizations of classic stories.
"Kate Battista was gardening out back when she heard the telephone ring in the kitchen."
"'I am not proud,' Pytor said. 'I would like to not have accent.'
"He was looking down at his sandwich as he said this -- just holding it in both hands and gazing downward, with those lids of his veiling his eyes so she couldn't tell what he was thinking. It occurred to her suddenly that he was thinking -- that only his exterior self was flubbing his th sounds and not taking long enough between consonants, while inwardly he was formulating thoughts every bit as complicated and layered as her own. "
The Bottom Line is a weekly review combining plot description and analysis with fun tidbits about the book.
Calling all HuffPost superfans!
Sign up for membership to become a founding member and help shape HuffPost's next chapter
BEFORE YOU GO
PHOTO GALLERY
Banned Books