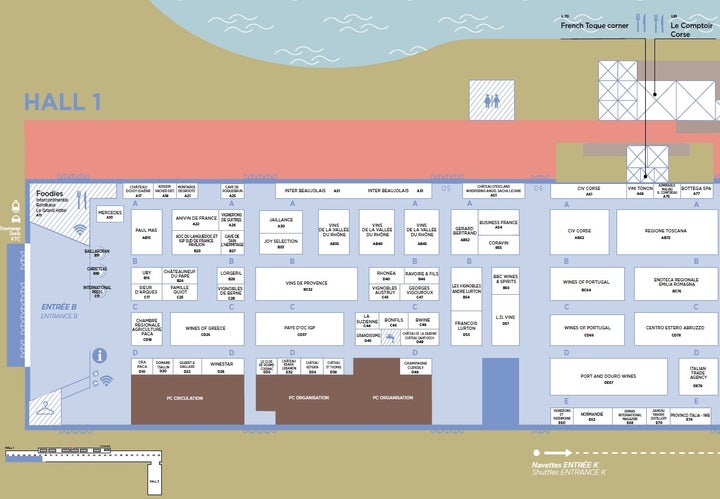 The graphic above shows but one hall connected to many in the vast Parc des Expositions in Bordeaux, where the 2017 VINEXPO show was held in June as a showcase for the world's wines and spirits. Indeed, walking from one end of the connected hallways—without stopping and saying "par-don" to a hundred people standing in the aisles—can take close to fifteen minutes. Along the way tens of thousands of bottles of wines and spirits in state-of-the-art lighted stalls make it all the more dazzling—the proverbial kid in the candy store reaction—for anyone visiting this four-day event. It has its glitzy glamour—the vendors always pick the prettiest girls in France as hostesses—but it's even more about business.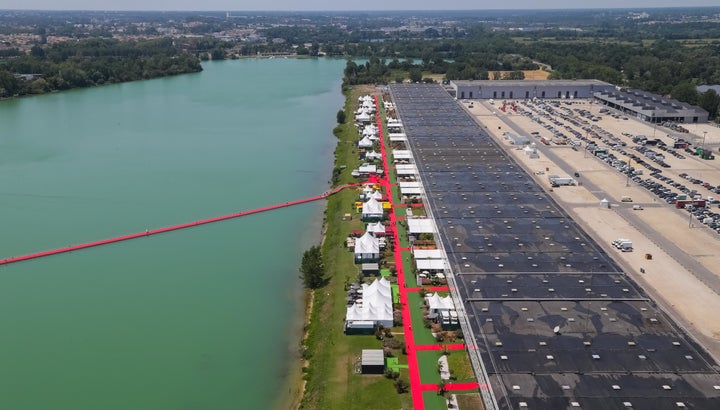 Each of the 2,300 exhibitors from 40 countries comes seeking to attract the attention of the 45,000 visitors who pour in from more than 150 countries. (Even so, VINEXPO is second to VINITALY, held each spring in Verona, Italy, with 4,100 exhibitors and 128,000 visitors.) Some are merchants and distributors, others restaurateurs and sommeliers, and—the most prized of all—buyers from the world's supermarkets, who might wrangle deals and sign contracts to buy thousands of cases. There were also 1,000 journalists from 50 countries, including myself, a first-timer at VINEXPO, set 20 minutes by tram from the city of Bordeaux, which is the center of the wine business in the region of the same name.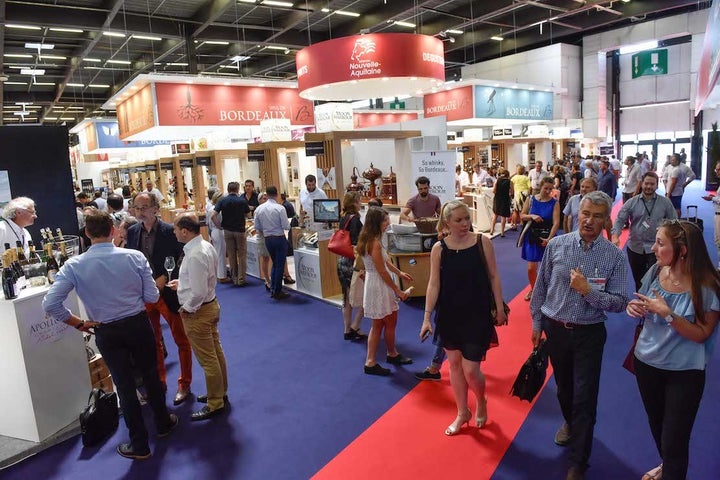 The importance of inviting journalists to the event is for them to afterwards spread the word garnered from special tastings, seminars, interviews, and luncheons. This year, in league with Wine Spectator, a Taste of Spain event (left) was held in Bordeaux's sprawling Palais de la Bourse to showcase both modern viniculture—Spain was the Country of Honor this year—and the food by an array of young Spanish chefs hand-picked by the master Ferran Adria. Sadly, a 100-degree heat wave made the un-air conditioned Palais a bit stifling. Each morning an edition of VINEXPO Daily appears, detailing the myriad events of the day and featuring interviews and opinion on the trends in the global wine world. And global is the key word. Where once exhibitors courted U.S. buyers and distributors with high fervor, equal attention is now being paid to China, which is set to become the world's second largest wine drinking country by value by 2020, overtaking the U.K. and France. Discussion of the Chinese market was paramount throughout the event, with consumption expected to grow by nearly 40% over the next three years, to the tune of $22 billion and 52.7 million cases. In an article in VINEXPO Daily, Lei Zhao, director of Fast Moving Consumer Goods for the Chinese retail giant Tmall Food, said that China is already the fourth largest importer of French wine. "China is a country enchanted by wine," he insisted. "After France, Spain, Italy, Australia and the U.S. are the most important partners. A growing share of the population, including younger generations, are refining that taste for wine and becoming more sophisticated when they choose what to drink. It's also a mindset shift, as consumers understand that wine is great to pair with food." He did advise exporters to take regional Chinese tastes into consideration in their marketing: "For example, consumers from certain parts of China such as the southern Jiangsu province, tend to appreciate fruity wine to go with the cuisine, which is founded on sweeter flavors."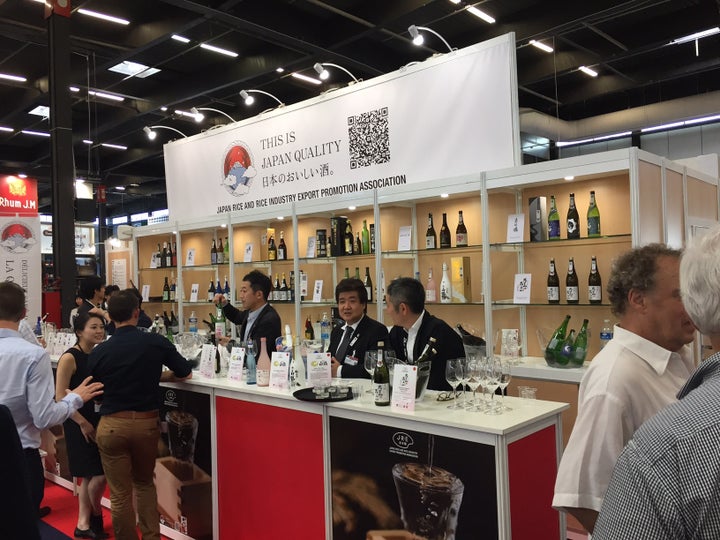 On another front, Japan is now Asia's next largest importer of wines, but the biggest for imported spirits in the region, with a 15% growth in spirits in 2015, even as sake and shochu consumption declines in Japan. But outside of it, sales are rising, with exports currently 3% of production, with 50% going to the U.S. and 25% to Hong Kong. This year a powerhouse of 28 brewers came to VINEXPO under the umbrella of the Japan Sake and Shochu Makers Association, the result of two years of planning to get to Bordeaux.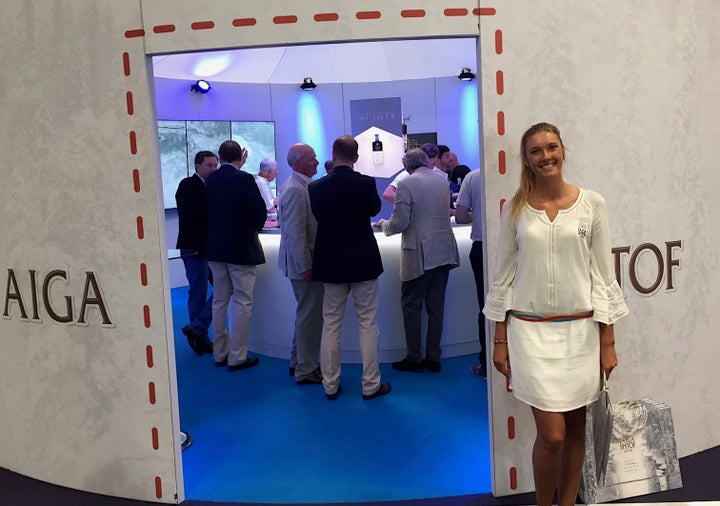 Old and new products in brand new bottles are rife throughout the exposition, and there was a significant promotion of rosé wines by producers and companies that believe that market will continue to soar, and not just as summer wines. There was also a good deal of buzz about the wines of developing countries like Slovenia and Serbia. One of the real surprises for me was to find a new vodka—a category that might seem way over-represented in the market—called Taiga Shtof, from Siberia (above), which was far smoother than any I've tasted. It will be in the New York market this fall. The success and sheer size of VINEXPO—which will also have a smaller version in Vienna this year, then bring a new event to New York next March—precludes opening the doors to consumers. But for wine professionals it is critical both to be represented and to check out what's new as well as renew old business partnerships. Thus, you will find most of the finest chateau owners of France, Italy, Spain and Germany along with historic vintners like Spain's Torres and France's Mouton-Rothschild, which both have strong holdings in Chile. Strolling through the long aisles at VINEXPO allowed me, as a journalist, the extraordinary opportunity to stop at hundreds of stalls of wineries and buyers I know well along with scores new to me, asking questions of the owners in attendance. A Press Center was open for journalists to file stories and do interviews, and there was a new area called WOW! devoted to the "World of Organic Wines." The seminars I attended ranged from technological—the one on the concerns of the wine community about global warming deserves an entire report I will be writing soon for this newsletter—to talks dealing with digitalizing wine marketing and sales.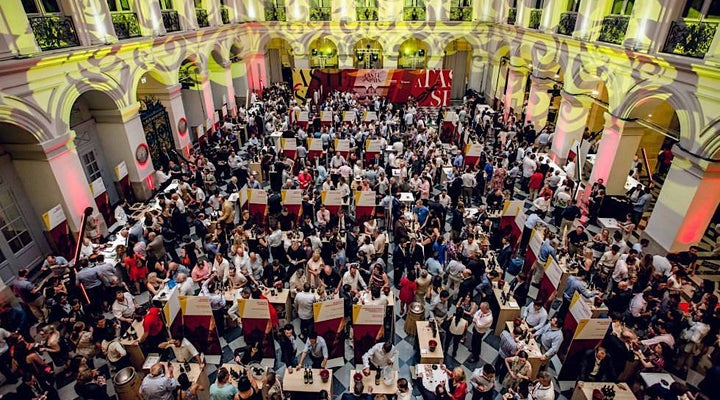 A Taste of Spain Event in Bordea Tasting as you go along is part of the pleasure of VINEXPO—the doors open at 9:30 a.m., when there's already a line outside—but can be tough going. This is in addition to dozens of sit-down tastings held by wineries and regions, including the Cru Bourgeois of the Médoc; Sauternes and Barsac; the Loire Valley; Port and cheese; an "Irish spirits renaissance;" nine Italian wineries given Tre Bicchieri awards by Vini d'Italia magazine; wines fit for banquet service; a Riesling master class; and Spanish white wines. There were also dinners at Château Mouton-Rothschild and Château Latour I was privileged to attend, both ending up with spectacular fireworks displays. More to come on those evenings. Much of what I took away from the four-day event will find its way into upcoming articles, as soon as it all settles down into various parts of my brain, which may be just in time for VINEXPO to land in New York in 2018.
Related
Popular in the Community