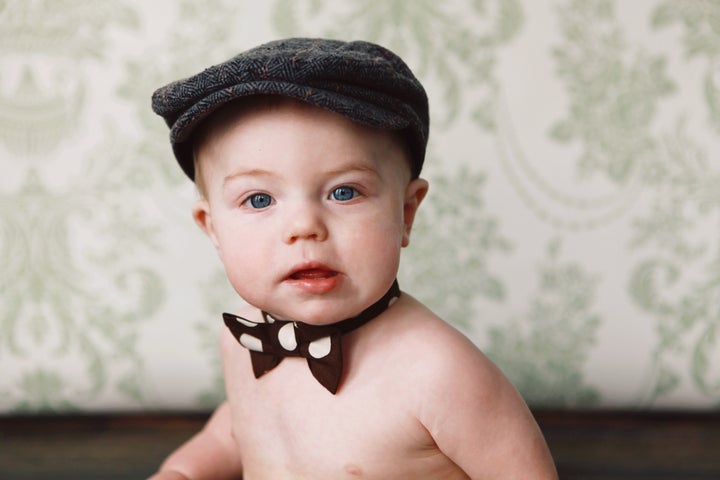 But here are 30 examples that we don't think deserve to be dismissed.
Abner—A neglected Biblical name that got sidetracked via a popular comic strip. Off the Social Security Administration's list since the 1930s, its Nameberry rank is 210.
Aldous—It could join up with our new fave, Huxley.
Arnold—A once noble name with many distinguished bearers in first and last place, Arnold is a victim of nerdy stereotype slaps, but it could follow cousin Arthur as a comeback.
Barry—Could Barry reclaim its Irish roots and follow Harry back onto birth certificates?
Cecil—Sisters Cecily and Cecilia have been welcomed back; Cecil may be ready to join them.
Chauncey—This one has the cool traditional nickname of Chance.
Clovis—It's an early French regal name with an aromatic aroma.
Cyril—A onetime top 300 name, common in children's books, Cyril could join climbing Cyrus (the choice of Claire Danes and Hugh Dancy).
Eben—You don't have to venture into Ebenezer territory to use the handsome Eben on its own.
Ferdinand—We're bullish on this royal Spanish and Shakespearean name once in the U.S. top 200s. Latin Fernando adds some romantic appeal.
Floyd—It has an appealingly retro jazzy-cool vibe.
Giles—Pronounced Jiles, it's a saint's name with a charming London accent.
Horatio—A noble Latin and Shakespearean name that seems like a natural, it's especially cool with its o-ending.
Humphrey—Time to let go of that tough-guy Bogey stereotype and reconsider this onetime royal British name. Off the U.S. charts since the 1890s, Nameberry users like it enough to rank it 345, seeing it as a flashback to Hollywood's Golden Age.
Jabez―It's a mystery to us why this Biblical rarity with its charming Southern drawl and jazzy z-ending, has been off the top 1000 since 1880.
Jarvis―Jarvis is another neglected J-name that hasn't been heard much in last several decades but which has lots of literary cred.
Jethro—A Biblical name that became a Beverly Hillbilly, but its cool meaning —'excellence'―pleasant sound and o-ending should be enough to bring it back; Nameberry ranks it at number 302
Lester—Once as high as number 52, could Lester echo cousin Esther's revival? Some notable namesakes: jazzman Lester Young, news anchor Lester Holt
Milton—Think distinguished cultural icons like the poet Milton, painter Milton Avery, composer Milton Babbitt, before you dismiss this upscale British surname.
Montgomery—When Isla Fisher and Sacha Baron Cohen chose this upstanding surname name for their son in 2015, a lot of other namers decided to give it a second look. Long off the national list, Montgomery is number 382 on Nameberry and having a comeback in England.
Morris—One s-ending boy name that hasn't yet been revived, Morris boasts two major painter namesakes: Morris Graves and Morris Louis, and two cool nicknames, Moe and Moss.
Murray—Though it's a Scottish/Irish name with a sea swept meaning and a soft sound, Murray has suffered from IDD (image deficit disorder) over the last few decades, but could be reconsidered as a retro water-related name.
Myron—In the past top 200 lists for half a century, Myron was the name of a major ancient Greek sculptor and an unlikely saints' name, but is another sad victim of IDD.
Percy—A noble Norman surname associated with the poet Shelley, once as high as number 110, and recently both Harry Potter and Heroes of Olympus characters, Percy would make a pleasantly surprising choice for a modern boy.
Phineas—A name with a lot of quirky charm and the perfect modern nickname of Finn, Phineas has appeared in literature from Uncle Tom's Cabin to Harry Potter.
Ring—Famed Jazz Age writer/journalist Ring Lardner was born Ringgold, but the word name Ring, like Bing, has a nice ring to it on its own.
Rollo—Doesn't it just roll off your tongue, in a lively roly-poly way? Alternatively, you could take a more formal route to Roland.
Roscoe—An appealing o-ending name that is eligible under the 100-year rule.
Rufus—Scruffy, redheaded, playful, and slightly rambunctious, Rufus is ready to roughhouse; Rufus Scrimgeour has a more serious image as Minister of Magic in Harry Potter.
Rupert—Always more popular in the U.K. than in the U.S., Rupert became more visible here via "Harry Potter" actor Rupert Grint. It already has a lot of Nameberry love, ranking at number 170.
Popular in the Community