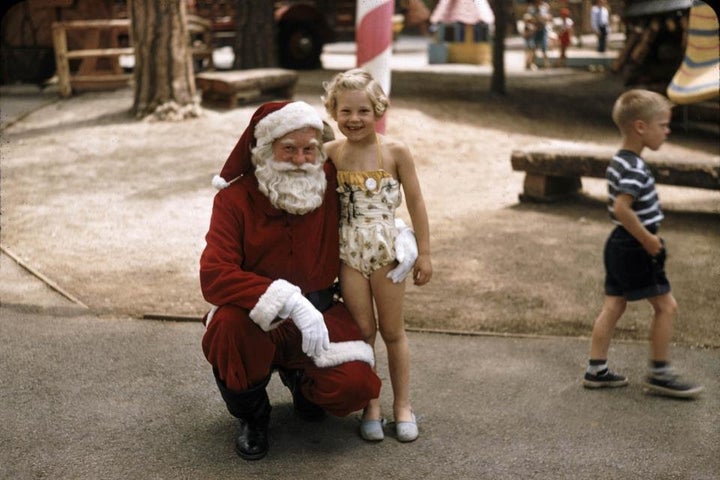 LOS ANGELES -- For Alison Martino, long-time TV producer and creator of the online community Vintage Los Angeles, it can be difficult to feel the holiday spirit in Los Angeles, Calif. The region stays sunny through New Year's, and as holiday decor continues to shift from the public arena to commercial spots like shopping malls, it's becoming easier to conflate the season with shopping deals.
"It's all about holiday sales," said Martino in a phone interview with The Huffington Post. "Get your plasma TV 15 percent off. It's not visually exciting."
Martino, who's turning 42 in December, said she's wistful for the outsized holiday decorations that used to adorn Hollywood Boulevard and other major arteries throughout the city. Up until the 1980s, Martino said, Hollywood Boulevard used to be packed with signs of the season: big Christmas trees, bells, bows, wreaths and lights.
"We don't have snow in LA, so sometimes I think we need a something little more visual," said Martino, who has taken to documenting the ghosts of Christmases past on Vintage Los Angeles.
All photos courtesy of Vintage Los Angeles. To submit your holiday photos, go to Vintage Los Angeles. Story continues below.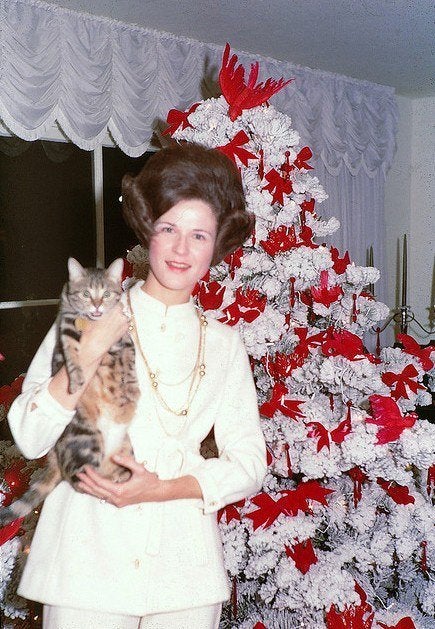 Vintage Los Angeles Holiday Photos
The Vintage Los Angeles Facebook page started as an outlet for Martino to document and share her personal collection of mementos from Hollywood's Golden Age: menus from the hottest restaurants, photographs of her father, singer Al Martino, and decades-old b-roll of a forgotten Los Angeles.
The Huffington Post first interviewed Martino in May 2011, back when Vintage Los Angeles had only 7,000 members. Martino's Facebook page has since bloomed into a 50,000-plus community (they hit the number Dec. 1), and she described it as both "the closest thing to a time machine" and "a big online coffee shop" where people can swap stories and photos about a forgotten time in Los Angeles history.
The Facebook page has also inspired a few members to preserve forgotten family photos and think of them as treasured heirlooms. For the entire month of December, Martino invited the community to share photos of the holiday season in Los Angeles. Hundreds of photos have already poured in. A few gems among the pictures: a Christmas-themed amusement park called Santa's Village in San Bernardino, sitting on Santa Claus' lap at the at the now-closed Bullocks department store in Sherman Oaks and Eddie Cantor on a float at the 1950 Hollywood Santa Claus Parade.
Lisa Riccardi, a community member at Vintage LA, has shared a few of her great uncle's rare photos of Hollywood Boulevard taken during the holiday season in the 1940s. Riccardi's great uncle, Arnold Hylen, was a professional photographer. But few of his holiday photos were ever published or shared with other people, said Riccardi in a Facebook exchange with HuffPost. "They captured Los Angeles in its golden age. It would be a crime not to share them," said Riccardi. "He loved this city and sharing his view of it. I plan to continue where he left off."
"If I drive down Hollywood Boulevard now and drive down it through the summer, it looks exactly the same," Martino said. But it was not always so.
"Los Angeles used to revel in the Christmas season. This photo is a wonderful reminder of those times," wrote community member Alice Galeotti. Dina Spence, a younger community member, added, "My God, the street & Bldgs. Look so Clean & New! So cool to see how it looked in my Grandparents' day!"
Popular in the Community