"The good news is that we get to eat foie gras paté. The bad news is that you also have to eat tomato jelly."
That was how we broke the news of our latest vintage recipe to our friends who were dining with us that night. Savory gelatin is a thing that just weirds a lot of us out -- your editors included. But we knew it would make for a good conversation starter and interesting pictures. Foie Gras Canapés IV was the recipe in question (we love that there are three other recipes for these in this book), and it was -- like most vintage recipes -- a reminder of how far cookbooks have come in the clarity department.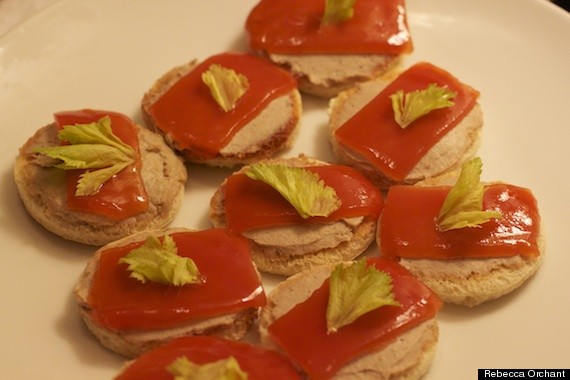 The recipe just sort of assumes that you are a tomato jelly pro. Although there is a recipe for it in the back of the book, the gelatin-to-liquid ratio is a bit dubious and our tomato jelly was really tough to stamp out with our intended cookie cutter.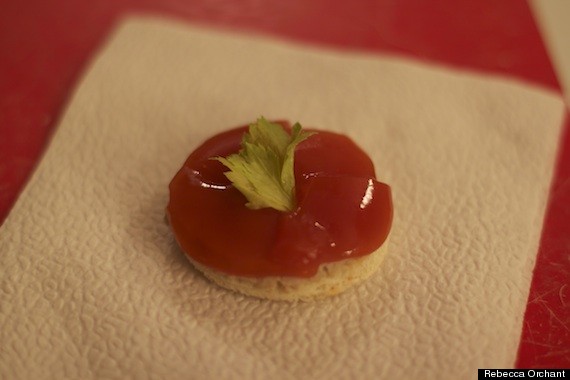 Which is why all of the canapés but one ended up having rectangles of tomato jelly on them, as opposed to the beautiful, perfect circles the recipe suggests. In the end, it didn't totally matter because the spiciness of the Tabasco-infused tomato jelly played so nicely off the paté, and these little toasts got eaten up rather quickly.
We know we're falling into the vintage-recipe-groove when we start garnishing our canapés with tiny celery leaves, even when the recipe doesn't say we should.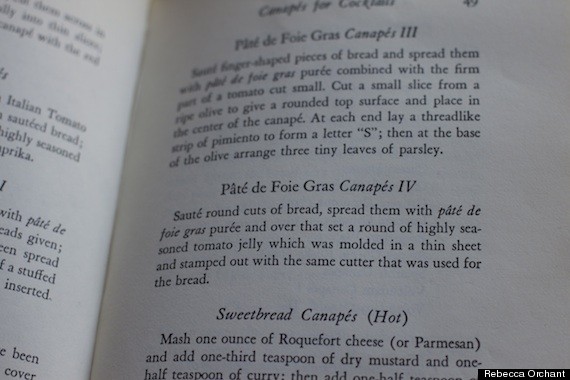 These hors d'oeuvres were definitely not the weirdest vintage recipes we've ever come across, but they were definitely out of our comfort zone. What do you think? Would you give these a go?