The obvious point, of course, is how different beauty was back then than it is now, how the most beautiful stars of the Fifties had soft, womanly shapes as opposed to the yoga-toned, ab-tastic bodies of 2011.
The ads tout scientific ways to "add attractive pounds and inches" (a complete oxymoron in this day and age) and "add glamorous curves to your figure." And it wasn't about health: the ads make it clear that being skinny or slender is the least attractive look.
"If you want to be popular, you can't afford to be skinny!" screams one ad aimed at females. Another features a man lamenting, "A skinny man hasn't a chance... I wish I could gain flesh."
It's as if all our modern notions of body image have been flipped on their heads -- replace the word "add" with "drop" in the vintage spots and they could just as easily fit right in today, when we're encouraged to drop pounds and lose curves.
The 180 degree logic begs the question: what happened in the past 60 years? What happened between Marilyn Monroe and, say, Gisele Bundchen?
Well, Twiggy happened, for one, along with the era of the mod Sixties gamine. Skip a few years forward years and you've got Kate Moss and the Nineties waifs.
Below, take a dizzying trip back in time to an era when "curvy" wasn't a euphemism for fat and "skinny" was truly a bad word.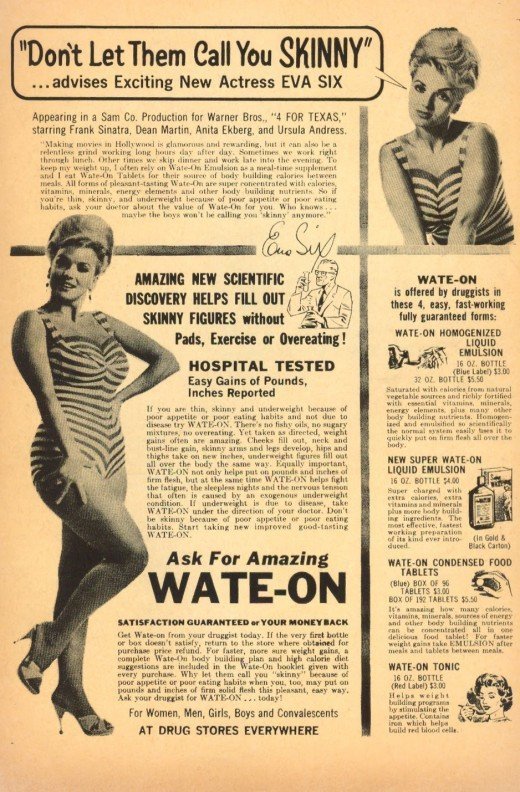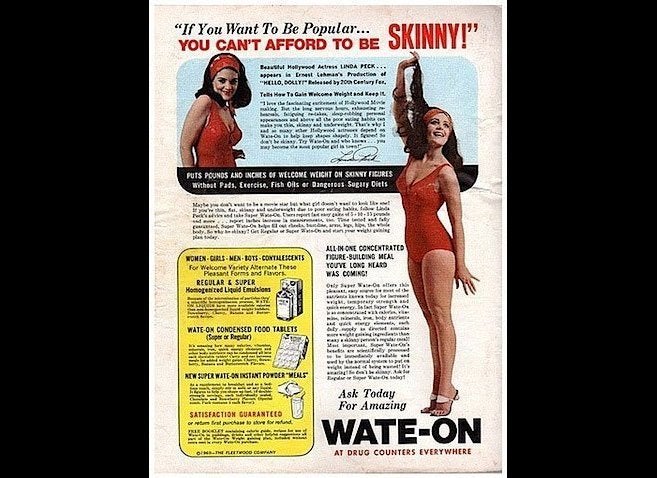 Vintage Weight Gain Ads