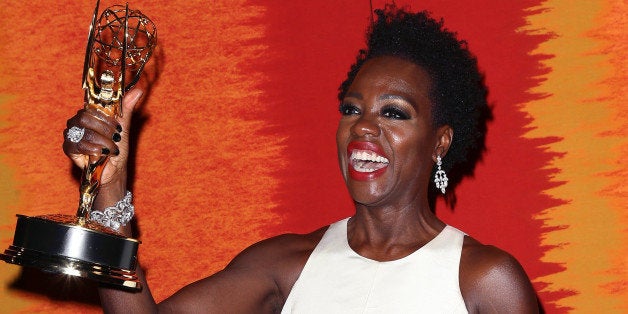 James Carville helped former President Bill Clinton win his 1992 election with this phrase: "It's the Economy Stupid." It was a simple way to convey a complex idea to voters. It worked. Clinton won against then sitting president George H. W. Bush. During the 2015 Emmy Awards, I saw the emergence of a similar message to voters of a different sort. This time, a simple and yet powerful message was sent, loud and clear, to the decision makers in Hollywood: "It's the Opportunity Stupid."
Many years ago, I had the honor of introducing Viola Davis for a speech she gave to the Rhode Island Upward Bound Program. We both were graduates of the program which helps economically disadvantaged, first generation students attend college. She spoke about opportunity. When Davis won last night's Emmy's award for Outstanding Lead Actress in a Drama Series, it was a full circle moment.
"The only thing that separates women of color from anyone else is opportunity. You cannot win an Emmy for roles that simply aren't there," Davis announced. With those words, she made it clear how important it is to create opportunities for many stories and experiences to be shared. Audiences want to see themselves on television. f you don't tell diverse stories, you miss opportunities to connect and gain market share. When given the opportunity, great talent, which transcends race, gender, sexual orientation, and country of origin, will emerge. The 2015 Emmy Awards was proof of that.
Uzo Aduba said it another way in her acceptance speech for Best Supporting Actress. "Thank you for making this show, for creating this space, for creating a platform," Aduba said. If there were no platform, there would be no opportunity. There would be no role and no Emmy. Ultimately, her character's story would not be told.
So what is Hollywood to do now? Will it seize the moment and create opportunities for new expressions and stories? Will we see an increased diversity both behind and in front of the cameras?
Davis cited the following words from Harriet Tubman during the opening of her speech:
"In my mind I see a line. And over that line I see green fields and lovely flowers, and beautiful white women with their arms stretched out to me over that line... but I can't seem to get there no how. I can't seem to get over that line."
Davis was making a statement about access, the twin sister of opportunity. She is pointing to all who hold the power in their hands to help others overcome barriers in the entertainment industry. I hope that those who have come from dire circumstances and marginalized groups will take a moment to think about the ways they so jealously guard the gates ("or line"). Give your "brothers" and "sisters" the opportunity to come in also. Outstretch your arms with mentoring or at least take a quick phone call.
As an aspiring television producer, I must say thank you to both Viola Davis and Uzo Aduba. Your light shone so bright that it renewed my hope. Perhaps Hollywood will listen and take action to allow new stories to be told. As Aduba said so eloquently in her speech: "I appreciate you for putting belief back in my heart."
Calling all HuffPost superfans!
Sign up for membership to become a founding member and help shape HuffPost's next chapter