Canada has named the trailblazing black rights activist Viola Desmond as the face of its new $10 bill, making her the first Canadian woman in history to be featured on a banknote.
Nine years before police arrested African-American civil rights activist Rosa Parks for refusing to relinquish her seat to a white person on a segregated bus, Desmond made history in New Glasgow, Nova Scotia, for a similar act of courageous defiance.
Desmond, a beautician and businesswoman, is best remembered for a prominent incident in 1946 that helped shape Canada's modern civil rights movement. The 32-year-old was ejected from a movie theater and unjustly accused of minor tax evasion after refusing to leave the cinema's whites-only seating area. She spent the night in jail and was later fined after a heated trial that drew angry protests from Nova Scotia's black community.
It was not until decades after Desmond's death in 1965 that the injustice she endured received official recognition. The province apologized and granted her a free pardon in 2010, acknowledging the case as an act of racial discrimination.
This is a historic day for the province of Nova Scotia and a chance for us to finally right the wrong done to Mrs. Desmond and her family, said Darrell Dexter, who was premier of Nova Scotia at the time. This is also an opportunity for us to acknowledge the incredibly brave actions of a woman who took a stand against racism and segregation.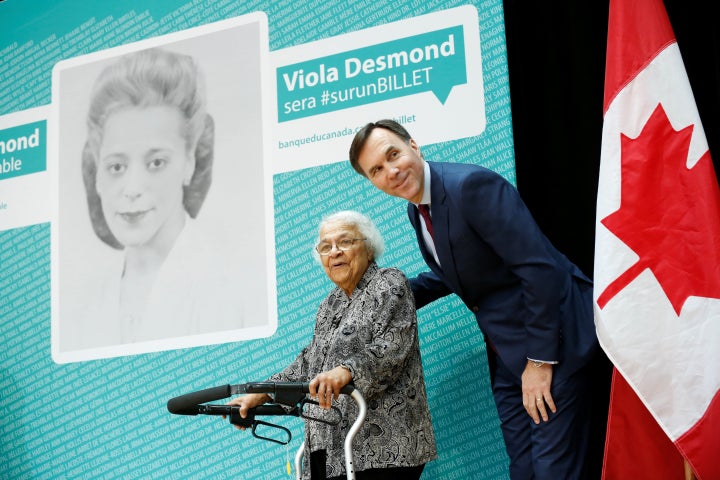 Desmond was chosen after the Bank of Canada invited the public on International Women's Day in March to help choose a "Bank NOTE-able" Canadian woman to display on the bill. 
Canadians offered more than 26,000 nominations, whittled to just 461 eligible submissions. From there, an independent advisory council further consulted with the public to narrow the list down to just five women. The note will be circulated in late 2018. 
Canadian Finance Minister Bill Morneau unveiled Desmond as his final selection at a press conference Thursday morning after a "very, very, very difficult" decision process. "[Desmond] reminds all of us today and future generations that moments of courage and dignity can truly change our lives forever," he said.
"The discrimination and racism that Viola Desmond experienced that day in New Glasgow should never have happened," added Status of Women Minister Patty Hajdu. "Reparations for the injustice that she suffered have been a very long time coming."
Prime Minister Justin Trudeau expressed his delight on Twitter shortly after the announcement. "Businesswoman, community leader, and courageous fighter against racism," he wrote. "A fantastic choice."
Desmond's sister Wanda Robson, 89, spoke at the ceremony after Morneau and Hajdu.
"I really know if Viola were here how she would feel. She would be so very proud," Robson said. "She inspires us today as she inspired people years ago."
BEFORE YOU GO
PHOTO GALLERY
Civil Rights Style