WASHINGTON -- Vice President Joe Biden is quietly working with House Majority Leader Eric Cantor (R-Va.) to try to pass an inclusive version of the Violence Against Women Act in the lame-duck Congress. And so far, sources tell HuffPost, Cantor is on board as long as one thing is stripped from the bill: a key protection for Native American women.
Staffers for Biden and Cantor have been trying to reach a deal on the bill for at least a week. Neither camp publicly let on it was talking to the other until Wednesday, when Cantor said the two are in negotiations and he's feeling hopeful about a deal.
"I am speaking with the vice president and his office and trying to resolve the issue of the differences surrounding the VAWA bill," Cantor said during remarks on the House floor.
"This week I've actually been encouraged to see that we could very well see agreement on VAWA, and I'm very hopeful that that comes about. But I am encouraged about the discussions that my office is having with the vice president's office right now, that bill being a high priority of Vice President Biden."
VAWA, which has been reauthorized consistently for 18 years with little fanfare, was, for the first time, left to expire in Sept. 2011. The sticking point has been new protections for three particularly vulnerable groups: undocumented immigrants, members of the LGBT community and Native Americans. The additions are supported by Democrats and opposed by House Republicans, who are calling them politically driven. The Senate passed a bipartisan bill in April with the additional protections, and House Republicans passed their own bill in May that omitted those three provisions. Since then, the issue has gone nowhere.
The fact that Cantor is working directly with Biden, an original sponsor of the 1994 law and a strong supporter of the Senate bill, suggests a real possibility that something could advance in the final weeks of a Congress otherwise consumed by a major tax fight. And now that the elections are over -- and the GOP received the message that they need to do a better job of appealing to women and minorities -- House Republicans may be more inclined to support the more inclusive bill.
But two sources familiar with negotiations on VAWA, both of whom requested anonymity given the sensitive nature of talks, have told HuffPost that Cantor is refusing to accept any added protections for Native American women that would give expanded jurisdiction to tribes, and is pressuring Democrats to concede on that front. There does seem to be room to negotiate with Cantor on the other two provisions relating to LGBT and undocumented immigrant protections, the sources say.
Asked to confirm if this is the current state of play in VAWA talks, a Cantor spokesman said only, "Your source is mistaken."
Later, the Cantor spokesman said in a statement, "Majority Leader Cantor and the Vice President have had a conversation seeking to find a solution. Since then, we have continued to work with the Vice President's staff, as well as Senate Democratic staff to work on a solution that gets to the root of the problem, namely, violence against women. Our staffs continue to work towards a compromise on those multiple provisions outstanding in the hopes of finding a solution."
A White House official did not respond to a request for comment on the tribal provision but confirmed that Biden is "talking to both the Senate and House about trying to get [VAWA] done if possible."
Meanwhile, Senate Judiciary Committee Chairman Patrick Leahy (D-Vt.), the author of the Senate VAWA bill, went to the Senate floor on Thursday and plainly announced that House Republican leaders are blocking his bill "because of their objections to [the] ... tribal provision."
Leahy explained the provision, probably the least understood of the three additions in the Senate bill: It gives tribal courts limited jurisdiction to oversee domestic violence offenses committed against Native American women by non-Native American men on tribal lands. Currently, federal and state law enforcement have jurisdiction over domestic violence on tribal lands, but in many cases, they are hours away and lack the resources to respond to those cases. Tribal courts, meanwhile, are on site and familiar with tribal laws, but lack the jurisdiction to address domestic violence on tribal lands when it is carried out by a non-Native American individual.
That means non-Native American men who abuse Native American women on tribal lands are essentially "immune from the law, and they know it," Leahy said.
The standoff over including VAWA protections for Native American women comes at a time of appallingly high levels of violence on tribal lands. One in three Native American women have been raped or experienced attempted rape, the New York Times reported in March, and the rate of sexual assault on Native American women is more than twice the national average. President Barack Obama has called violence on tribal lands "an affront to our shared humanity."
Of the Native American women who are raped, 86 percent of them are raped by non-Native men, according to an Amnesty International report. That statistic is precisely what the Senate's tribal provision targets.
The two sources say, to Cantor's credit, his staff has said they're willing to try to come up with other solutions to responding to violence against women on tribal lands, as long as the solution doesn't give tribes jurisdiction over the matter. But proponents of the Senate bill see the limited jurisdictional change as the only realistic way to address the problem.
Some House Republicans do support giving tribes that limited jurisdictional authority and have put forward a solution of their own. Earlier this week, Reps. Darrell Issa (R-Calif.) and Tom Cole (R-Okla.) introduced a bill that has the same jurisdictional language for tribes as the Senate bill, but would also allow the defendant to move his case to a federal court if he feels his rights were violated in a tribal court. As a standalone bill that wades into complex jurisdictional laws, though, even Issa told HuffPost last week that the bill has little chance of passing in the lame duck.
Cantor's insistence on keeping the tribal jurisdictional provision out of VAWA has infuriated some backers of the Senate bill and elicited vows to prevent any VAWA bill from advancing that doesn't protect all victims of abuse. Terry O'Neill, the president of the National Organization for Women and someone who regularly talks to people directly involved in VAWA negotiations, called Cantor's stance "completely outrageous."
"Who is Eric Cantor to say that it's okay for some women to get beaten and raped?" O'Neill said. "If they happen to be Native women who are attacked by a non-Native man, as far as Eric Cantor is concerned, those women are tossed."
O'Neill's incendiary and extreme charge highlights the intense passion that has engulfed the negotiations around the bill.
The NOW president said she didn't know why the GOP leader was so opposed to keeping the provision, since it has the backing of the Justice Department. She said any concerns about constitutional laws being circumvented on tribal lands have already been vetted. Regardless, she said she doesn't expect the White House or Democratic lawmakers to cave on the provision.
"We are not going to leave behind sisters who have been brutally raped," O'Neill said.
This story has been updated
Before You Go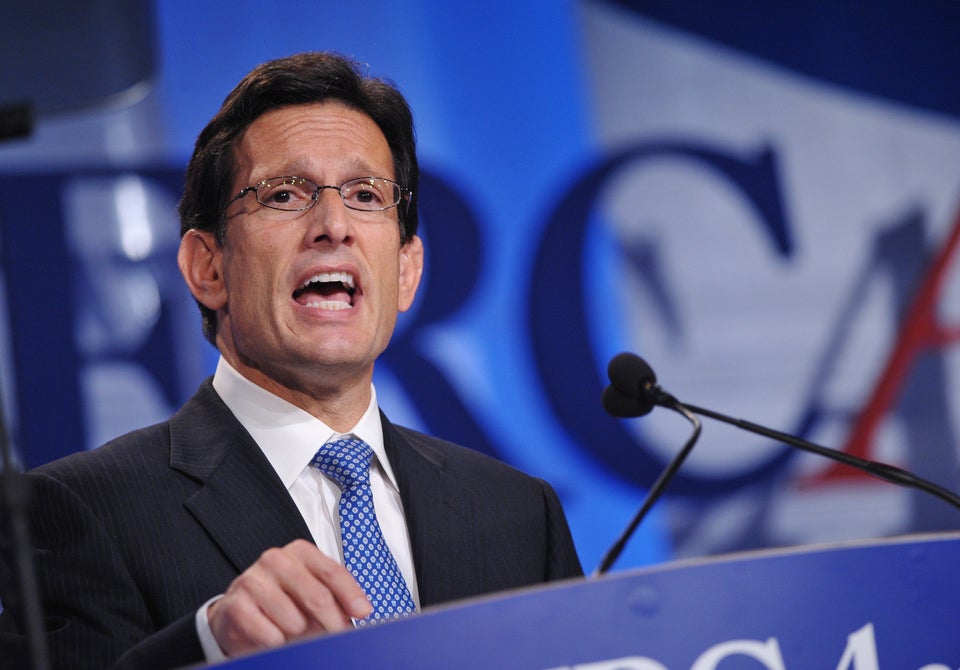 House Majority Leaders Through The Years
Popular in the Community