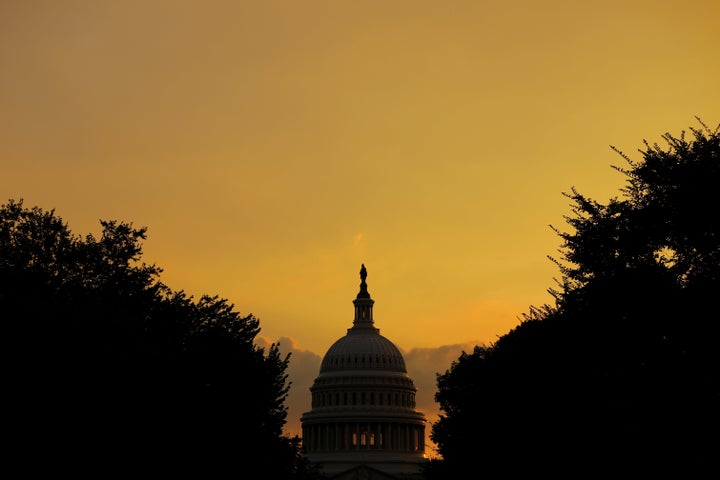 The Violence Against Women Act — which directs the national response to crimes of domestic violence, sexual assault, dating violence and stalking — will expire at the end of September if lawmakers don't act fast.
In late July, House Democrats introduced a measure to reauthorize the Violence Against Women Act, or VAWA. Then House lawmakers went on recess. When they return on Sept. 4, they will have only a few weeks before the law expires.
VAWA has "ushered in a seismic transformation on how society perceives violence against women," Rep. Sheila Jackson Lee (D-Texas), who introduced the bill, said in a statement. "Nonetheless, much work remains to address unmet needs and to enhance access to protections and services for all victims."
While VAWA was reauthorized in 2000, 2005 and 2013 with bipartisan support, the current House bill does not have a single Republican co-sponsor to date. As time runs low, advocates are growing increasingly anxious.
"There's a lot of worry in the field about the expiration," said Kim Gandy, the president of the National Network to End Domestic Violence.
VAWA, which was authored by then-Sen. Joe Biden and signed into law by President Bill Clinton in 1994, was the first piece of federal legislation to address domestic violence as a serious crime.
Among its provisions, the 2018 bill would provide law enforcement with more tools to remove firearms from domestic abusers who are not legally allowed to own them. Gun violence prevention groups say this is a critical area of focus, as firearms are the most commonly used weapons in domestic violence homicides. In the U.S., a woman is killed by an intimate partner with a gun every 16 hours.
The legislation would also dramatically increase funding for local rape prevention efforts, at a time of increased attention to the issue of sexual assault and harassment due to the Me Too movement.
The bill would also offer improved protections for domestic violence victims living in public housing. Victims would be shielded from eviction, for instance, if their abuser breaks the law, and victims would be able to transfer apartments to seek safety without penalty.
"This is not the dream bill," Gandy said. "This is a really modest, moderate set of small improvements to the existing Violence Against Women Act that we felt could be passed in this Congress in a bipartisan fashion."
Ruth Glenn, the executive director of the National Coalition Against Domestic Violence, said the goal of the draft was to strengthen existing protections for survivors and address gaps in services.
"We went back to the drawing board to see what needed to be improved upon so we could make sure what was already in place is even more effective," she said.
The bill also would provide grants for alternative justice, encouraging organizations to examine new ways to seek accountability from perpetrators of violence outside the traditional criminal justice response. The goal of alternative justice, advocates say, is to develop a process in which abusers could take responsibility for their actions while providing relief to those who have been harmed.
Lisalyn R. Jacobs, an expert in sexual and domestic violence, said the nod to alternative justice in the bill is an admission that VAWA, which has emphasized law enforcement, has had unintended negative consequences for many survivors, especially women of color.
The original version of VAWA encouraged police departments to adopt mandatory arrest policies, which required officers to make an arrest every time someone reported domestic abuse. Many states now have mandatory arrest statutes in place. But it is not always simple for police to determine who is the primary aggressor, and they can end up arresting already traumatized victims.
"The victims that were disproportionately swept up in that net were survivors of color," Jacobs said. "[The alternative justice grants] are a response to VAWA's carceral footprint and an acknowledgment that there's a significant population of people who need services and who are not engaging with law enforcement."
Lynn Rosenthal, the policy director of ending violence against women at the Biden Foundation, encouraged lawmakers to move on the bill.
"As communities have learned more about who is affected by violence and how they're affected and what they need for safety, VAWA has been improved," she said. "That happened in 2013, and that forward progress should continue."
Popular in the Community