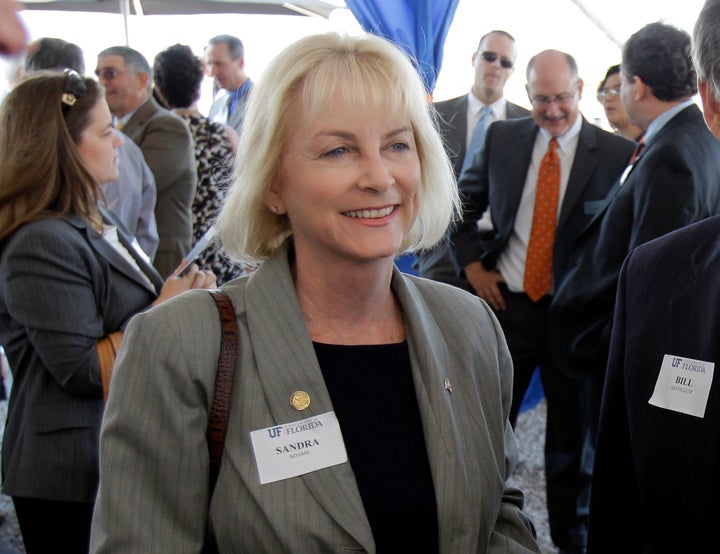 WASHINGTON -- The House Republican version of the new Violence Against Women Act (VAWA) would dramatically roll back confidentiality protections for abused immigrant women, make it more difficult for undocumented witnesses to work with law enforcement officials, and eliminate a pathway to citizenship for witnesses who cooperate with police on criminal cases.
The provisions are tucked into a bill that reauthorizes the act, and have received scant media attention. But the legislation is picking up steam in the House. The bill, officially sponsored by freshman Rep. Sandy Adams (R-Fla.), has the backing of the full House leadership, and is headed for a vote in the Judiciary Committee on Tuesday.
Reauthorization of the Violence Against Women Act is typically a bipartisan affair lacking in contention. This year, however, Republicans are pressing for significant changes that would weaken protections for victims of domestic violence, arguing that the current law is being taken advantage of by undocumented immigrants looking for legal citizenship.
The author of the rollback, Adams, was herself a victim of domestic violence, which House Republicans hope will inoculate it from attacks by groups who work with abused immigrant women.
In 1994, VAWA addressed a problem faced by abused immigrant women who are married to citizens or legal residents. In some cases, husbands would use their control over their victims' immigration status as a tool of abuse, refusing to sign the proper paperwork or threatening to revoke it. The act created a "self-petitioning" process that allows such women to confidentially apply for protected immigration status on their own. Protections for immigrant women have been strengthened in subsequent reauthorizations of the bill.
That process is managed by a specific branch of U.S. Citizenship and Immigration Services based in Vermont, where officials are highly trained in secrecy and in dealing with domestic violence situations. Extreme precautions are taken to assure that the victim's identity or action is not revealed to the abuser, for obvious reasons.
The Republican bill would eliminate that confidentiality and require women to go to the closest immigration office. It would allow the officer, not specifically trained in domestic violence response, to reach out to and inform the abusive partner that the alleged victim is applying for immigration status.
House Republicans say that some women have taken advantage of the confidentiality by fraudulently claiming abuse to acquire residency status. Victims who are not committing fraud, however, will now be exposed to retaliatory violence. What's more, most undocumented immigrants prefer to operate under the government's radar, and prefer as little contact with federal immigration authorities as possible. It's not obvious that embarking on an elaborate fraud that involves these authorities is the most attractive option for undocumented immigrants already in the country.
Persuading victims of domestic violence to seek protection can often be a daunting challenge, advocates say, and the new House rules would only make it that much more difficult.
Jennifer Podkul, who works with immigrant women who have been victims of violence as a program officer at the Women's Refugee Commission, said a provision in the law that would limit reporting time could be particularly damaging. That part of the House bill would limit the period of time for domestic violence to be reported in order to receive protection to 60 days -- a short period considering the lack of information many victims have about immigration law. Some undocumented women don't realize victim protections actually exist until they are fighting deportation proceedings and consult an immigration lawyer, Podkul said.
Beyond that, she said the proposed provision is an unnecessary restriction for a protection that is already fairly limited.
"It's a fix to something that's not a problem," she said. "There are so few people that get these benefits anyway, especially in VAWA."
Sen. Chuck Grassley (R-Iowa) expressed concern about fraud during debate over the Senate bill, which does not include the House provisions. "The one hearing the Judiciary Committee held presented testimony that fraud exists in the VAWA-self petitioning process. We heard from victims who fell in love with foreign nationals, sponsored them for residency in the United States, only to be accused of abuse so that the foreign national could get a green card," Grassley said.
The GOP bill would also change the standard of evidence from "preponderance of evidence" to "clear and convincing" -- a higher standard than that faced by asylum seekers or other types of immigration petitioners.
But eliminating the Vermont-based office that handles these issues could undermine the ability to detect fraud. Those agents are highly-trained on these issues -- meaning they are also best-suited to catch fraud, a Democratic aide who was not authorized to speak on the issue told HuffPost. The office also isn't the rubber stamp provider that it's portrayed to be by Republicans; it already rejected 32 percent of petitions in the 2011 fiscal year -- a far higher rejection rate than the average for all types of visa requests.
Michelle Ortiz, director of the Lucha Project at Americans for Immigrant Justice, wrote in a HuffPost blog that she has represented women whose lives have likely been saved by self-petition process.
"I know firsthand how dangerous an abuser can be and the risks that immigrant survivors take when they courageously decide to leave their abusers. Sara's husband was so enraged that he began threatening me after he found my business card among things she had left behind," Ortiz writes of one client who used the process. "Fortunately, he has never found Sara. She is now a lawful permanent resident. If Sara had not had the promise of confidentiality she likely would not have taken the steps necessary to free herself from her abuser."
The bill also targets crime witnesses. Under current law, undocumented immigrants who assist police or prosecutors during an investigation are eligible to apply for legal immigration status -- known as a U visa -- as long as law enforcement certifies that the person was helpful. The new law requiring that the crime be reported within 60 days would only allow certification while the case is open -- which is precisely the time when law enforcement would likely not want to certify the petition, worried that the witness might stop cooperating.
And even if they did cooperate, under the Republican bill victims would no longer have a path to U.S. citizenship if granted a U-Visa, putting them in legal limbo.
Republicans say the controversy over changing provisions that impact immigrants is based on disagreements between the House and Senate over how VAWA should be reauthorized -- disagreements which have been blown out of proportion because Democrats are trying to play politics.
Todd Winer, a spokesman for Rep. Cathy McMorris Rodgers (R-Wash.), who supports the bill and serves as vice chair of the House Republican Conference, said the controversy boils down to Democrats trying to use the issue for political gain.
"There have been and continue to be some legitimate differences about certain aspects of the bill, relatively minor aspects of the bill, not the whole bill," Winer said. "The reason why this controversy emerged in the first place is that Democrats were using it as a campaign issue."
Popular in the Community