WASHINGTON -- House Republican leaders have already been under pressure to pass an expanded version of the Violence Against Women Act in the lame-duck Congress, but now that pressure is coming from within their own party.
On Tuesday, 10 House Republicans signed a letter authored by Rep. Gwen Moore (D-Wis.) and other Democrats urging House Speaker John Boehner (R-Ohio) and House Majority Leader Eric Cantor (R-Va.) to take up and pass a VAWA bill that covers all victims of domestic violence -- much like the bill that passed the Senate -- before Congress gavels out for the year.
"We write today asking you to move quickly on the reauthorization of the Violence Against Women Act (VAWA) by bringing a bill inclusive of protections for all victims of domestic violence, similar to that which has already passed the Senate, to the House floor for a vote during these final weeks of the 112th Congress," reads the letter, which is also addressed to House Minority Leader Nancy Pelosi (D-Calif.) and House Minority Whip Steny Hoyer (D-Md.). "We must send the President a strong, bipartisan bill that protects all those vulnerable to domestic violence."
Republicans on the letter include Reps. Judy Biggert (Ill.), Ted Poe (Texas), Richard Hanna (N.Y.), Joe Heck (Nev.), Patrick Meehan (Pa.), Robert Dold (Ill.), Chris Gibson (N.Y.), Jon Runyon (N.J.), David Reichert (Wash.) and Michael Fitzpatrick (Pa.). In total, 120 House lawmakers signed the letter.
The House and the Senate have each already passed their own bills to reauthorize VAWA, but they differ in one major way: The bipartisan Senate bill includes new protections for members of the LGBT community, undocumented immigrants and Native Americans, and the House bill, which passed with only Republican votes, does not. So far, House Republican leaders have refused to accept the Senate additions, calling them politically driven. In the meantime, the issue has stalled and VAWA was left to expire, for the first time in its 18-year history, in September 2011.
The fact that some House Republicans are now publicly calling on their party leaders to get behind a more inclusive bill is notable, given their relative silence on the matter in the months since passing their pared-down bill. Meanwhile, some Senate Republicans who voted against the Senate bill have recently had a change of heart and now want the House to pass it.
Moore said there are other House Republicans who didn't sign Tuesday's letter but who are quietly trying to get their party leaders to support the provision relating to tribal jurisdictional matters and back the Senate bill. Without naming names, she said there are Republican women who are "prominent in the caucus" pushing their leaders to support the broader bill.
"We're hoping they'll just put [the Senate bill] on the floor and figure there are bigger fish to fry," Moore told The Huffington Post, pointing out that Republicans fell short in winning over women and minorities in the November elections. "They don't need another beating on something that's so commonsensical."
A Boehner spokesman said his office had not yet received Moore's letter. A Cantor spokesman did not respond to a request for comment.
HuffPost reported last week that Vice President Joe Biden, an original sponsor of the 1994 law and proponent of the Senate bill, has been quietly working with Cantor to try to get a bill passed this month. Sources told HuffPost that Cantor was trying to find a compromise on a key provision that would help abused Native American women. Though on Tuesday, three sources familiar with negotiations on the bill, all of whom are backers of the broader Senate bill, told HuffPost they fear Cantor will try to run out the clock and avoid passing VAWA in the lame duck session.
In a statement to HuffPost Tuesday on the state of negotiations, the White House said, "We are still hopeful that the House and the Senate can work together to reach an agreement on VAWA."
With time running short, progressive groups are also ramping up pressure on House Republican leaders to get moving on the Senate bill. MoveOn.org and UltraViolet, a pro-women's rights group, released a new TV ad on Tuesday that highlights the need for an inclusive VAWA.
"Three women die every day from domestic violence. That's why the Violence Against Women Act was passed, decreasing domestic violence by 67 percent," a narrator says, as images flash of a woman with bruises on her face. The bruises start disappearing as the narrator talks, but then start reappearing as the narrator continues.
"Earlier this year, a bipartisan Senate expanded protections in the Violence Against Women Act. But John Boehner and the House Republicans blocked it," the narrator says. "Tell Congress to pass the expanded Violence Against Women Act today."
The ad will air all week in Washington, D.C., on CNN, MSNBC, Bravo, Lifetime and HGTV. It coincides with about 4,000 calls Monday made by members of both of the progressive groups to House Republicans, urging them to act on the Senate bill. UltraViolet also launched a petition urging passage of the Senate bill. It currently has about 50,000 signatures.
Sam Stein contributed reporting.
Watch the new TV ad by MoveOn.org and UltraViolet below:
Before You Go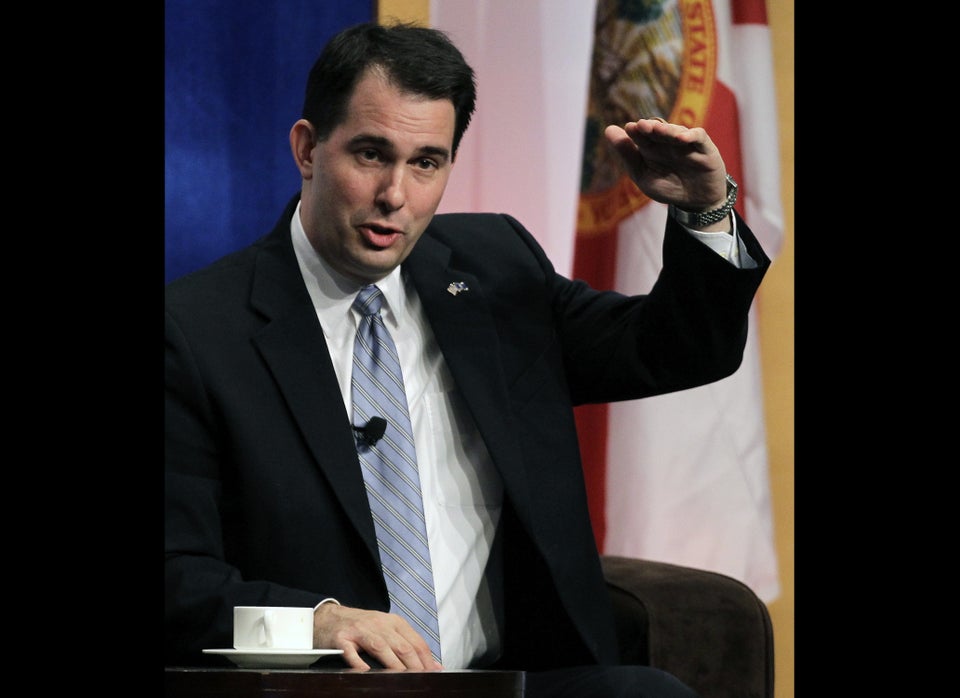 Scott Walker Survives
Popular in the Community