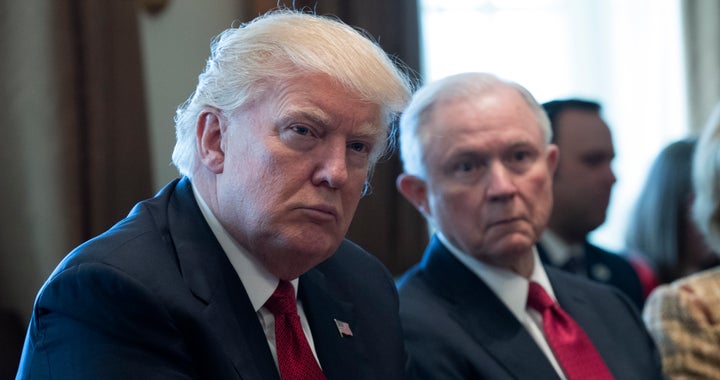 Just days after he declared April to be sexual assault awareness month, President Trump showed his true colors. He eagerly defended Bill O'Reilly, who has been accused of sexual harassment by multiple women, saying, "I don't think Bill did anything wrong." Unfortunately, this dismissive and careless attitude toward women is reflected in the president's budget. 
Last month, President Trump unveiled his budget "blueprint" for the country. One of the least talked about – yet most alarming proposals is a $700 million cut to "outdated" US Department of Justice (DOJ) programs. Whether Trump considers programs that support survivors of sexual assault, improve law enforcement sensitivity to victims, and reduce rape culture unnecessary, we don't yet know. 
But here's a clue. The conservative Heritage Foundation's budget blueprint – quietly authored by those who have or are currently working with the administration –  suggests that Violence Against Women Act (VAWA) grants should be "terminated," calling the historic legislation that has transformed the way government responds to violence a "misuse of federal resources and a distraction from concerns that are truly the province of the federal government."
Building an American society where rape is rare appears to be a goal unworthy of the Trump administration. American women and girls stand to lose out on the momentum and progress that has been made in the past two decades. Statements and actions from Trump's cabinet make that clear.
Funded and enforced by the DOJ, VAWA does not have a champion in Attorney General Jeff Sessions. As a U.S. senator, he voted against the 2013 reauthorization of VAWA. Education Secretary Betsy DeVos could not commit to upholding the 2011 Title IX guidance that established key protections for victims of sexual assault on campus. Coupled with Trump's audio-taped remarks about grabbing and sexually assaulting women, this raises a dangerous red flag for women everywhere.
When initially enacted in 1995, VAWA spelled out protections and rights for survivors of domestic and sexual violence for the first time. Over the past two decades, VAWA has tracked violence against women and the efforts that aim to heal survivors, reduce sex crimes, improve laws and educate a generation to identify, understand and prevent gender-based violence. In particular, the programs enabled by VAWA have proven critical for marginalized groups that face higher rates of violence, such as people with disabilities and Native American women. 
VAWA continues to revolutionize the way women are treated at hospitals, by police and in our judicial system. New York State alone received $7.7 million in VAWA dollars to develop effective responses which include shelter for women and children escaping horrific physical and sexual violence, legal assistance, crisis intervention, and training for judges and law enforcement.
The suggestion that VAWA might be "outdated" is absurd and demonstrates an utter lack of knowledge about the reality of women's lives. One out of every five women in America will be a victim of sexual assault and one in four girls will be sexually abused before she turns 18. In total, one in three women will face some form of physical or sexual violence in their lifetime.
Until we change these realities, there is nothing "outdated" about spending less than one tenth of one percent of our federal budget on rooting out this epidemic of violence―except that we are spending too little.
At a time when members of Congress should be looking to reassure constituents and define what it is they are standing for, the public has instead found many of the GOP hiding under their desks. According to recent news reports, more than 200 U.S. Republican members of congress have refused to hold in-person town halls – instead waiting for things "to calm down." Their silence is deafening.
While Congress and this administration seek to diminish women, the opposite is actually happening. Women all across the country are organizing and uniting and looking for ways to fight back.  In Wisconsin, advocates fromWisconsin Coalition Against Sexual Assault, End Domestic Abuse Wisconsin and the Dane County Rape Crisis Center are organizing to ensure decades of progress aren't lost.  Human Rights Watch is actively warning about the impact eliminating VAWA funding will have on immigrant women.  And here in New York, that energy and passion for justice has reached a fever pitch. It is why NOW-New York, the organization that I lead, recently launched the Take Rape Seriously NOW campaign to mobilize our tens of thousands of members to take action and hold their elected officials accountable, starting with a series of town Halls we're kicking off across the state.
Across the country, women are uniting to challenge a misdirected Trump agenda by amplifying the voices of survivors and advocates, documenting the vital need for threatened VAWA programs, and ensuring that our elected officials protect the essential needs and rights of women and girls.
Congressional representatives need to make a choice: will they stand up for women or stand down from elected office. The collective power of the women will ensure it. As Eleanor Roosevelt once said, "A woman is like a tea bag; you never know how strong it is until it's in hot water."
REAL LIFE. REAL NEWS. REAL VOICES.
Help us tell more of the stories that matter from voices that too often remain unheard.
BEFORE YOU GO