WASHINGTON -- The Violence Against Women Act is finally heading to the president's desk this week after a dragged-out political fight over expanding protections to Native American, LGBT and immigrant victims of abuse.
The House voted 286 to 138 on Thursday to pass the bipartisan Senate version of VAWA. Here's a look at the final vote tally. Among the more notable votes: House Majority Leader Eric Cantor (R-Va.) voted against it, while House Majority Whip Kevin McCarthy (R-Calif.) and House Republican Conference Chairwoman Cathy McMorris Rodgers (R-Wash.), who sponsored the GOP alternative bill, voted for it. House Speaker John Boehner (R-Ohio) didn't vote.
The vote came just after the House rejected its own GOP bill, 166 to 257, which drew loud cheers in the chamber. Sixty Republicans voted against the GOP bill.
President Barack Obama praised the House for passing the broader Senate bill and said he'll sign it into law as soon as possible.
"Today's vote will go even further by continuing to reduce domestic violence, improving how we treat victims of rape, and extending protections to Native American women and members of the LGBT community," Obama said in a statement. "Renewing this bill is an important step towards making sure no one in America is forced to live in fear, and I look forward to signing it into law as soon as it hits my desk."
Throughout the debate, House Republicans maintained that their bill would have covered all women. But the reality is that it didn't go as far as the bipartisan Senate bill. The House bill stripped out protections for LGBT victims of abuse, it didn't give tribal courts new authority in certain domestic violence cases, and it added new eligibility restrictions for U visas for abused immigrant women. The House bill also entirely left out two separate measures attached to the Senate bill: the SAFER Act, which helps law enforcement address a backlog in untested rape kits, and the Trafficking Victims Protection Reauthorization Act, which targets human trafficking.
The House Republican bill appeared doomed before it hit the floor. It had zero support from Democrats, and a growing number of Republicans were saying they couldn't support it. Seventeen House Republicans sent a letter to Boehner and Cantor earlier this month urging the passage of a bipartisan bill. Ahead of Thursday's vote, Rep. Shelley Moore Capito (R-W.Va.) said she planned to vote for the Senate bill, as did Rep. Tom Cole (R-Okla.), a leading voice on tribal issues.
The GOP bill "does not adequately recognize sovereignty" and fails to give tribal courts "the tools they need to combat violence against women," Cole said in a statement, read aloud on the floor by a Democratic colleague.
Even conservative Rep. Ted Poe (R-Texas) said he planned to vote for the Senate bill because it included the SAFER Act.
The House's action means that VAWA will be reauthorized for another five years, with $659 million being provided for various programs targeting domestic violence. Congress failed to reauthorize VAWA when it expired in October 2011, due in large part to House Republican opposition over the new provisions in the Senate bill.
During Thursday's debate, McMorris Rodgers maintained that the GOP bill didn't specifically exclude anybody. Instead, she said, it broadly prohibits discrimination against anyone.
"Please point to anywhere in the House bill where coverage is denied," McMorris Rodgers said. "Where is the coverage denied?"
Rep. Gwen Moore (D-Wis.) didn't waste much time responding. Describing the debate over VAWA through the last 18 months as like an "alternate reality," Moore pointed to the fact that the GOP bill explicitly removed all references to "sexual orientation" and "gender identity" when it comes to groups who qualify as underserved communities.
"The distinguished floor leader has asked us to find ways, find areas in the legislation that are wanting," Moore said to McMorris Rodgers. "I would submit that that is one area that is wanting."
This is a developing story and has been updated.
Before You Go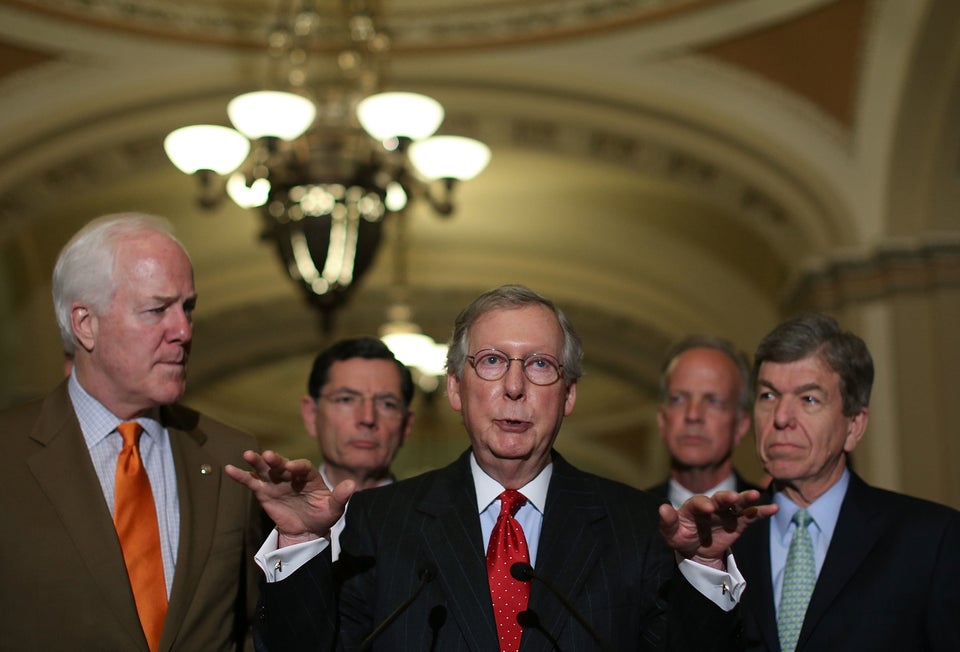 The Strongest Conservatives In Congress
Popular in the Community