In Ecuador, roughly one in six women have experienced physical, sexual or psychological violence. To put it another way, 3 million Ecuadorians have counted themselves a victim of gender-based violence in their lifetime. According to the same Pan American Health Organization research, 38 percent of women in Ecuador have been physically abused, 26 percent sexually abused, and 17 percent have been victims of patrimonial violence. These statistics, however bleak, are still merely numbers. Numbers that look eerily similar to statistics across the globe.
In 2011, a campaign by UN Women attempted to transform black-and-white stats like the ones above into robust, personal stories by calling for women to submit real testimonies about their experience with violence. In just three months, the project, dubbed Cartas de Mujeres, collected a total of more than 10,000 letters from women across the country. Nearly half of those letters detailed instances of family and domestic violence. In response, the city of Quito decided to criminalize the sexual harassment of women in public places.
The Cartas de Mujeres project continues to receive letters from women in Ecuador and beyond, and one very socially engaged artist is taking notice. In honor of International Day for the Elimination of Violence Against Women, Los Angeles-based Suzanne Lacy is gathering 1,000 men in a bullfighting ring in Quinto to read these letters addressing injustice in their country. Together, they hope to point out the need for continued action and legislation to help combat violence.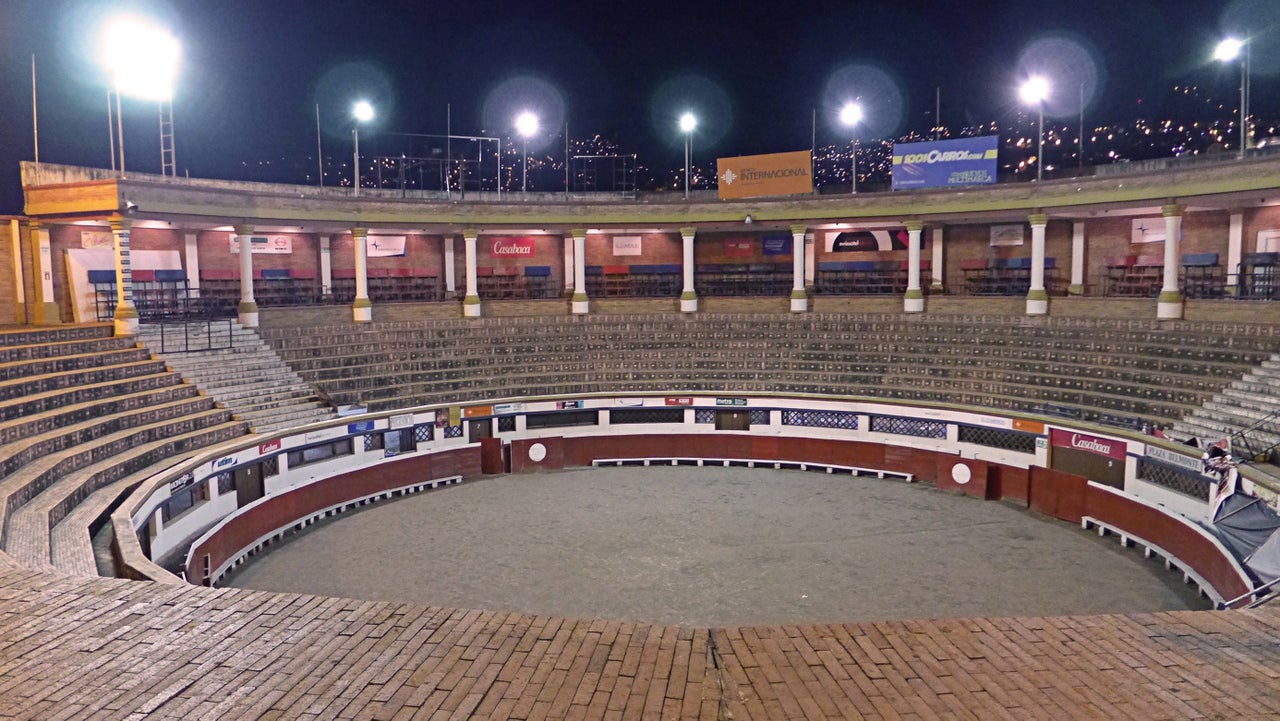 "This is the time to engage men more significantly in conversations on intimate partner and sexual violence," Lacy explained in a statement to The Huffington Post. "Is it a global epidemic, or are we only now beginning to notice what years of activism [have] been trying to tell us?"
The reality of gendered violence in Ecuador is no better or worse than it is in other countries, Lacy reiterates, but she attests that each nation has their own story. In preparation for her performance, which will take place on Nov. 25 in Quito's Plaza Belmonte (the only ring currently used for bullfighting in the city), she hosted a workshop meant to teach participants about the nuances of violence and encourage them to explore their own preconceived notions of masculinity. "During these workshops, each participant will 'adopt' a letter from an unknown woman," the project description reads, "and through this letter interrogate his own understandings of family violence."
Above all, the men were encouraged to discuss possible solutions to gendered violence.
"The global movement of immigrants, war and poverty only makes women and children more vulnerable, the stories of personal violence seemingly hidden in larger social forces," Lacy said. "But it is there, all the same, and it is time that both men and women urged dramatic steps to restore the fundamental right of safety for women."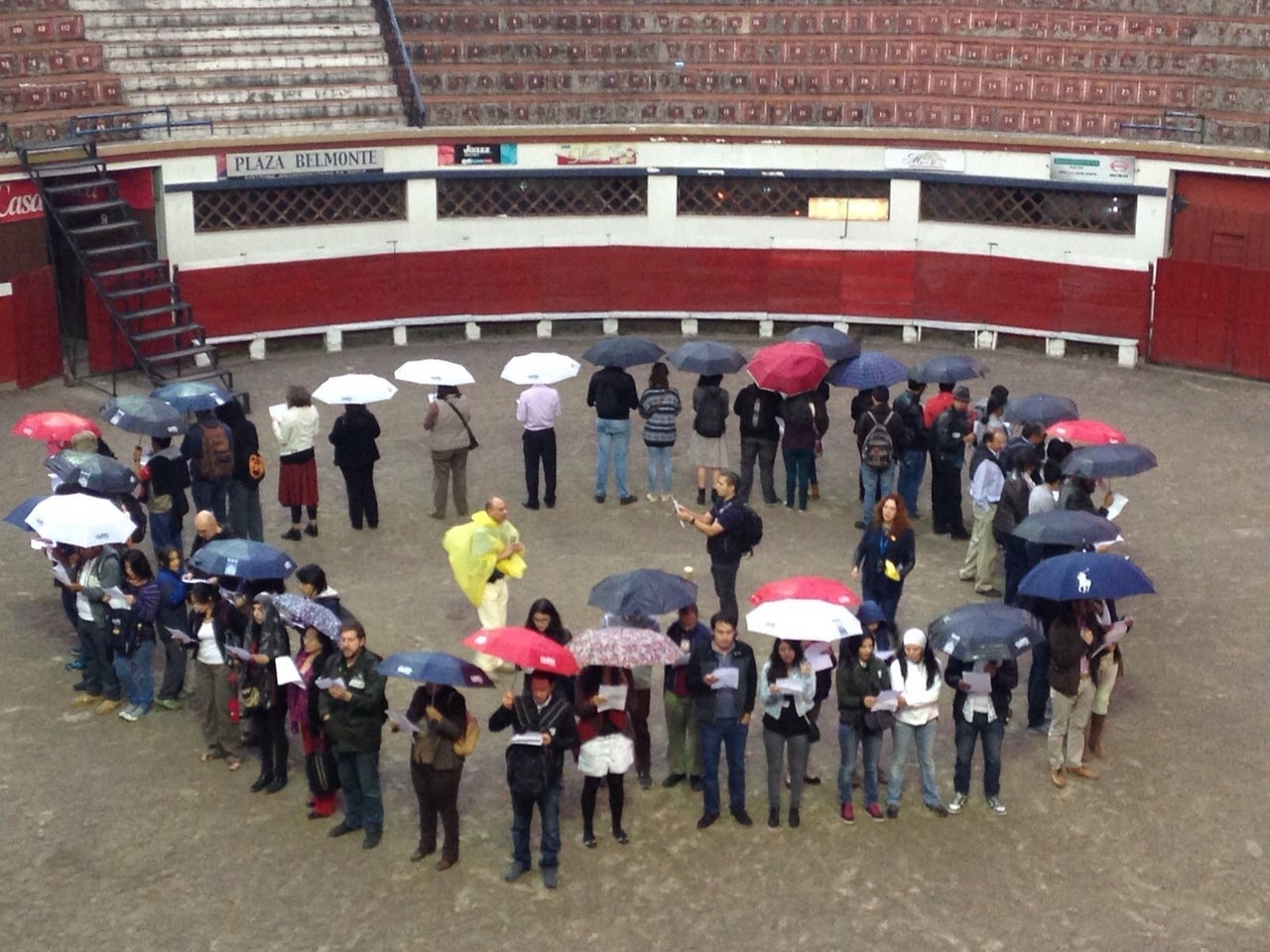 "Lacy's project is making an invisible problem visible," Deborah Fisher, Executive Director of A Blade of Grass, one of the organizations helping to make Lacy's performance happen, explained to HuffPost. "[It's] creating an opportunity to empathize with an issue that is so vast that it's easy to become numb to it; and, most importantly, it's demonstrating that a shift in accountability is possible. It's a great work of art because it is transformative."
Lacy has a history of confronting dire social issues through performance art. In "Three Weeks in May," she visualized the frequency of rape in LA; in "The Oakland Projects," she worked with California youth to discuss police brutality and education. For Lacy, and Fisher, art is the perfect platform through which to discuss social justice, as it can be used to both increase visibility of an issue and elicit empathy.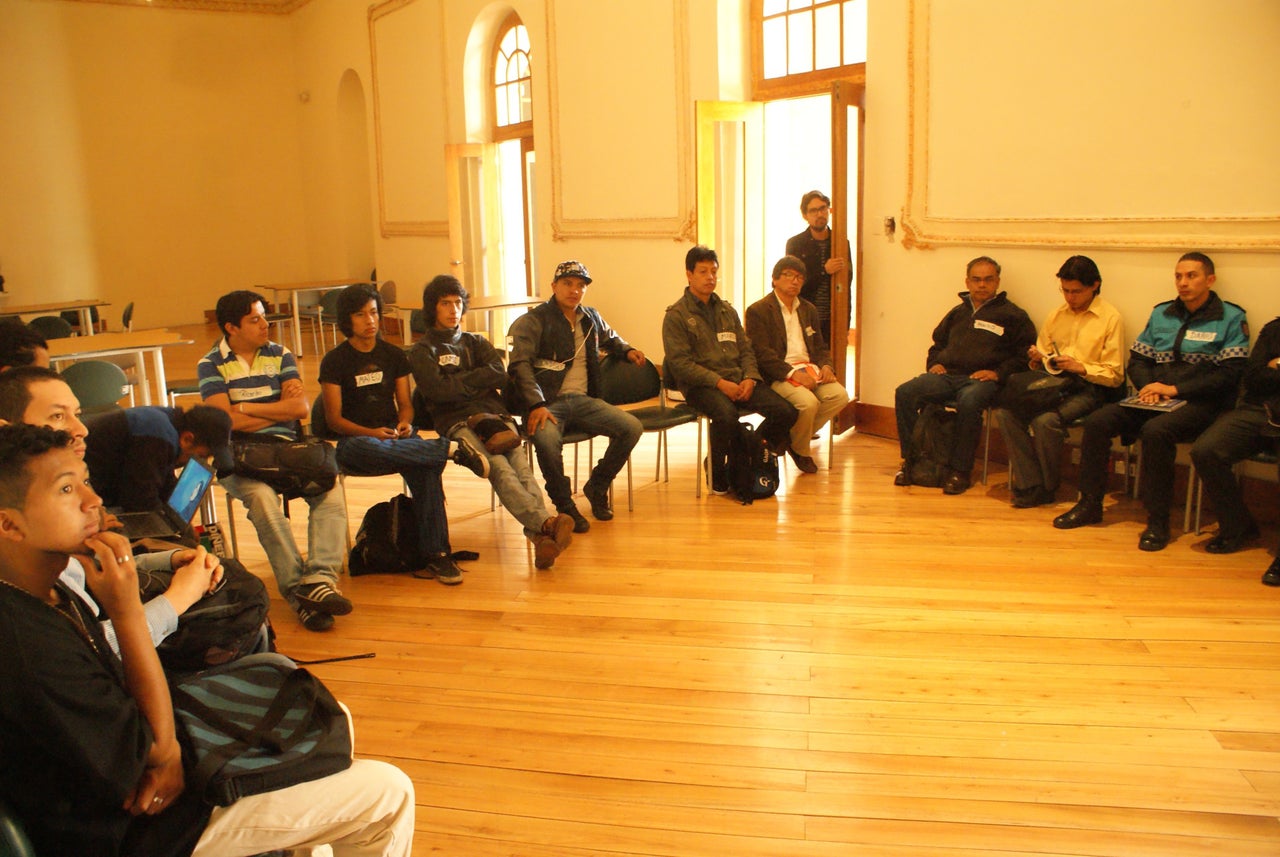 "We think Lacy's project is an excellent example of our stake in socially engaged art for a few reasons. She's not depending on an art context -- she's finding meaning in the world with other people," Fisher added. "She's choosing not to make an art object that represents violence against women; instead, she's using representation as a tactic to enact change -- to reduce actual violence against women. She's collaborating with a number of stakeholders to reflect a multiplicity of views instead of working alone in a studio to create a work of singular artistic genius. And instead of making an art object, she's generating an experience that depends on other people."
Lacy's performance, titled "De tu puño y letra: Diálogos en el ruedo" and staged with the help of Fundación Museos de la Ciudad and Centro de Arte Contemporáneo, will ultimately consist of a 60-minute participatory performance including music, readings, personal testimonials and choreography, involving artists and activists from Ecuador, Mexico and the United States.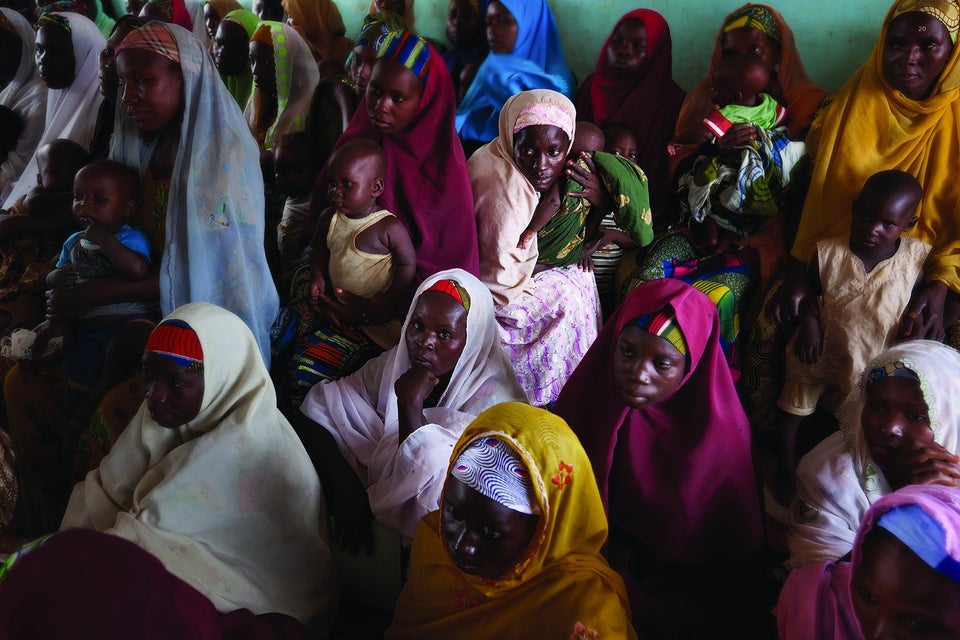 Faces of Courage: Intimate Portraits of Women on the Edge
Popular in the Community