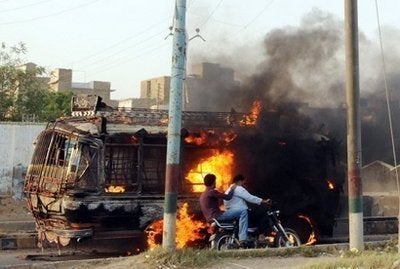 Pakistan's major port city, Karachi, saw serious fighting last week. Ethnic tensions, car jackings, drugs and mafia gun running are not new to this town, the financial center and home to the Karachi Stock Exchange, but this kind of violence had reduced in tempo somewhat, for a while. At least 34 people were killed and 50 injured, according to Al Jazeera English.
Karachi is a town where the mohajirs dominate. Mohajirs, meaning emigrants, are the ethnic group of Muslim Urdu-speakers who fled India at the time of Independence in 1947. They are, by and large, well educated and professional, and dominate too in the Sindh Province of Pakistan, one of the regions that Pakistan is divided up into. They were never fully accepted in Pakistan as true 'sons of the soil' and because they suffered discrimination, many of them formed themselves into a political party, the MQM, to argue for equal rights in education and employment. There are now MQM members of the Pakistani Parliament. Interestingly, former president Pervez Musharraf is a mohajir, from Karachi. The popular MQM leader is Altaf Hussain who is exiled in London, England.
There are mohajir - dominated neighborhoods in Karachi, and I drove into them in an MQM Minister's car when I was on assignment and wanted to investigate. The MQM HQ is called Nine-Zero and I wanted to take a look at it one time. It was too dangerous to get out of our car and though it belonged to a respected female politician, if someone from another ethnic group or even the security forces wanted to take a pot shot at us, they could have. We had a driver and were all unarmed. We could have been fired on at any point. I was scared. With paramilitaries in their armored personnel carriers on every street corner and the streets completely empty in the Mohajir neighborhoods, I could feel a palpable tension in the air.
The MQM are a political force in Pakistan, and Altaf Hussain can bring Karachi to a standstill if he gives the order, broadcasting by speakerphone to crowds of thousands of mohajirs assembled in Karachi, from his London base. He is charismatic and a highly skilled orator. I was invited to his wedding reception. The most famous pop stars of Pakistan came to sing for him.
Now, with different groups living in Karachi, ethnic warfare can break out at any time. Given the conflict raging in other parts of Pakistan, this just makes things even more dangerous at a tense time for the country.
Rani Singh is a broadcast journalist who has spent most of her career to date with the BBC, presenting, reporting and producing for its various television and radio outlets. Follow her blog here.This is part of HuffPost's Spotlight On Pakistan. Eyes & Ears and HuffPost World are building a network of people living in Pakistan who can help us understand what is happening there. These individuals will send us reports -- either snippets of information or full-length stories -- about how the political crisis affects life in Pakistan. This is an opportunity to have a continued conversation with Americans about what's happening in your country. If you would like to participate, please sign up here.
Related
Popular in the Community