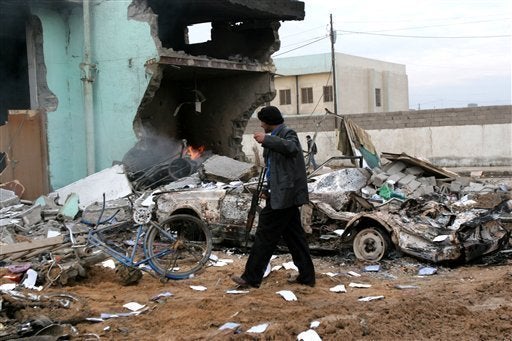 A police raid Saturday on an extremist Shiite Muslim mosque thought to be the headquarters of an extremist cult capped a weekend of violence in southern Iraq, while elsewhere tensions between Iraq's Shiite-led government and renegade Shiite cleric Moqtada al Sadr continued to escalate.
Iraq's national security advisor said he was briefly taken hostage Saturday in a Baghdad mosque and implied that his captors were Sadr supporters. Mowaffak al Rubaie was released only after Iraq's interior minister, who oversees the police, intervened.
In an e-mail to McClatchy, Rubaie said that Sadr's followers "used the same tactics that they used before on Abdul Majid al Khoei." Sadrists were accused of fatally stabbing Khoei, a moderate young Shiite cleric who was considered a rival to Sadr, in 2003. A warrant for Sadr was issued in 2004, but it's never been executed, and he's denied any involvement.
On Friday, a spokesman for Sadr warned that the cleric might not extend a six-month cease-fire by his Mahdi Army militia, which U.S. officials say has contributed to the reduction in violence in Iraq. In a statement, Salah al Obeidi charged that rival Shiite militias have infiltrated Iraq's security forces and that some senior security officials remain in their jobs although they've been charged with human rights offenses.
"This will force us to reconsider the decision to extend the cease-fire despite repeated public statements in the past that we will," Obeidi said.
Police attacked the booby-trapped mosque on the outskirts of Nasiriyah the day after its members attacked police in Basra and Nasiriyah, killing more than 100 people and injuring more than 200 in the two cities.
Officials later said the group intended to kill religious clerics and other noteworthy people who were among the thousands of pilgrims for the culmination of Ashura, one of the most important Shiite Muslim holidays. In the southern city of Basra, the group also briefly took control of an oil company's offices before being repelled.
Elsewhere in Iraq, three suicide bombers attacked a police checkpoint in Ramadi, killing six police and injuring 13 in the predominantly Sunni city. In western Iraq, a rocket killed seven people in Tal Afar on the Syrian border. Northeast of Baghdad in Diyala province, a roadside bomb killed three bodyguards in the provincial governor's convoy.
Friday's clashes were the worst violence in months in Basra, where British forces handed over control of the city a month ago. Nearly 100 were killed, including 80 cult members, another 112 were reported injured and Brig. Gen. Shamkhi Nour Hussein, the head of national intelligence and investigations in Basra, said that about 100 people were arrested.
Some reports identified the attackers as the Shiite cultist group Jund al Samaa, or Soldiers of Heaven, but police officials said more information on the group's identity would be released in coming days.
The Soldiers of Heaven was responsible for an attack a year ago that ended with the deaths of more than 350 cult members after a shootout with U.S. and Iraq security forces outside Najaf and the Shiite holy city of Karbala.