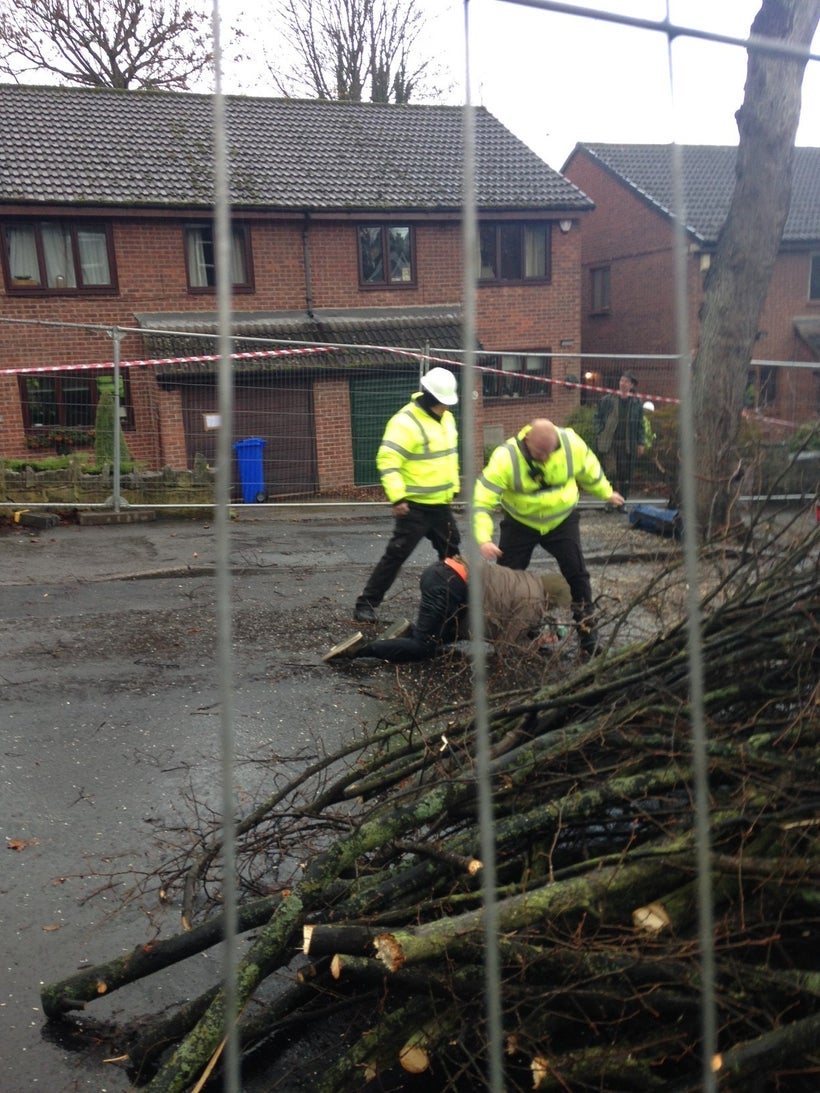 On 27 November, the Sheffield council showed us the lengths it will go to in its determination to fell healthy trees that cause small disruptions in pavement. The day began strangely, and ended horribly. At one in the morning, residents were awakened by the loud clattering noise, as barriers began being erected around threatened trees. Through the early morning hours, barriers appeared across the city, most in places with no parking restrictions, and no notice of works taking place. In many cases, these blocked access to private property, without warning or owner's permission. (This could have caused very serious harm if there had been an emergency.)
Then the private security showed up. Refusing to show their identification and in many cases with faces covered, they began physically preventing people from accessing private property, even where they had the owners permission. They forcibly removed people from public pavements, where they had every legal right to be. And they threw a peaceful protestor violently to the ground.
How did this come to be the means by which the council engages with dissenting citizens? Good question. Ever in the background is the 25-year secret contract with Amey to maintain Sheffield trees, streets, and pavements. Amey and the council have decided to fell thousands of healthy mature trees all across Sheffield, whose only sin is disruption of pavements, and residents are horrified. They are determined to fell one of the few elms to survive Dutch Elm disease, the WWI memorial trees of Western Road, and even— a few weeks before Christmas— the trees of Abbeydale Park Rise. These trees were bought by residents more than forty years ago, and every Christmas they are lit so dramatically that people from all over the city come to admire them.
The council claim that the trees are being replaced, but putting a tiny sapling in place of a tree that has been here far longer than any of us is no replacement. The council claim that they cannot afford to retain trees, but one thing we do know about the contract is that it includes pre-paid engineering solutions for just this purpose. The council claimed that these solutions have been used 143 times, but after the Information Commissioner forced them to respond to a Freedom of Information request, they conceded that they had no evidence of any of these solutions being used anywhere as part of the program. The council claim that only seven percent of residents surveyed object to their plans, but this was actually 50% of the respondents to a survey with a 14% response rate. It would be equally accurate to say that only 7% support their plans. There is, in short, no justification for the vast scale of destruction of Sheffield's trees, or the violence being used against those who object to it.
Despite all of this, the tree protectors have remained remarkably peaceful and polite. Even the judge who granted the council an injunction against protestors entering barriers noted that "the conduct of those seen engaging in this direction has at all times been peaceful", and he noted that "relations on the ground between objectors and Amey's employees have been friendly and good-humoured". In fact, campaigners and arborists frequently shared cups of tea and biscuits, and came to know each other as friendly acquaintances. Last week, however, a concerted media campaign began to depict the protestors as aggressive and confrontational. Arborists began informing tree protectors that they had been instructed not to talk to us. This was, we now see a prelude to the introduction of private security with instructions to to use force against citizens peacefully exercising their legal right to protest.
So this is what it has come to: our elected representatives are hiring a private security firm to assault peaceful protestors so that they can fell beloved mature cherry trees purchased by residents, just in time to prevent their annual decoration for Christmas. (And all just after their attempt to imprison an opposition councillor on charges which were thrown out of court.) It is hard to believe that this is the city I have come to know and love.
Calling all HuffPost superfans!
Sign up for membership to become a founding member and help shape HuffPost's next chapter
This post was published on the now-closed HuffPost Contributor platform. Contributors control their own work and posted freely to our site. If you need to flag this entry as abusive,
send us an email
.