Japan got its own taste of Turkish-Kurdish animosity this weekend, proving that tension between the factions extends far beyond Turkey's borders.
Nearly a dozen people were injured outside of the Turkish embassy in Tokyo on Sunday after hundreds of expatriates gathered for early voting in the snap Nov. 1 parliamentary election. The Japan Times reported a skirmish began a few hours before polls were due open at 9 a.m. local time.
Japanese police said more than 600 people were gathered at the riot, which continued to 11 in the morning. Law enforcement officers wielding batons and riot shields broke up the violent incident.
It's unclear what started the fighting, but some outlets report pro-Kurdish supporters were waving flags at the embassy.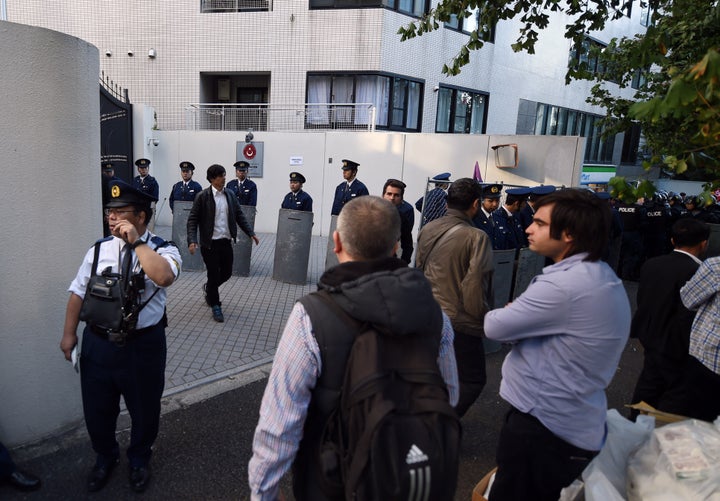 Turkish President Recep Tayyip Erdogan saw his party lose its 13-year-long governing majority in June after the pro-Kurdish Peoples' Democratic Party (HDP) made history by winning enough votes to secure seats in parliament. Erdogan hopes his party will win back this majority in the Nov. 1 election.
Tension throughout Turkey have exploded in the months after the June vote. Ankara has launched airstrikes against the banned, separatist Kurdistan Workers' Party, or PKK, and frequent attacks -- blamed on the group -- have targeted soldiers and police officers.
Earlier this month, twin blasts killed nearly a hundred people at an anti-war rally attended by pro-Kurdish and leftist groups. It was the deadliest terrorist attack in Turkish history. While Turkey has pointed blame at the Islamic State group, some Turks say the government has blood on its hands and seeks to sway election results.
The Kurds have been instrumental in the U.S.-led coalition's fight against IS. However, leading Turkish officials say the PKK is nothing but a terrorist group, no better than IS, that has waged a bloody insurgency for over three decades.
CORRECTION: A previous version of this article mischaracterized Turkish President Erdogan as an ally of the Kurdish minority. This article has also been amended to reflect that the Kurds have long been associated with the HDP, and did not change that relationship in June.
Popular in the Community