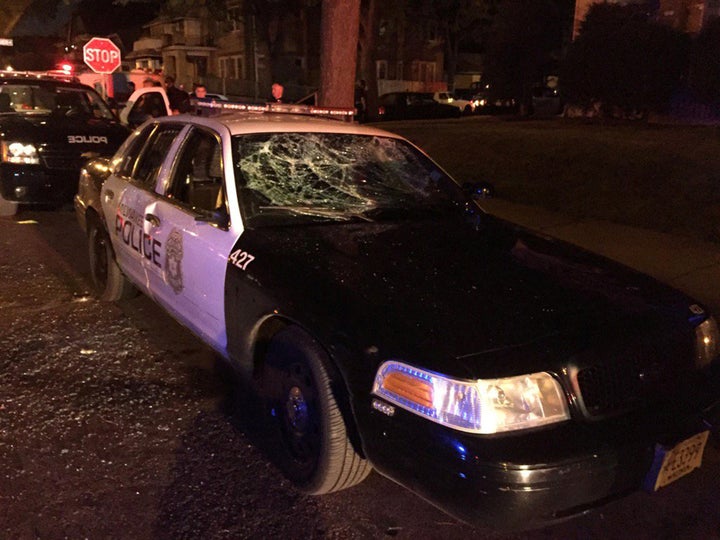 MILWAUKEE (Reuters) - The National Guard was activated on Sunday to help authorities should further rioting erupt in a predominantly black Milwaukee neighborhood where a policeman killed a suspect who officials said had turned toward the officer with a gun.
Police Chief Edward Flynn said a silent video of the incident appeared to show the officer acting within lawful bounds in the shooting of Sylville K. Smith, 23, on Saturday after Smith fled a traffic stop. Flynn said the video from the officer's body camera showed Smith turning toward the officer with a gun in his hand.
In a scene Mayor Tom Barrett described as "unlike anything I have seen in my adult life in this city," crowds gathered after the shooting and turned violent during the night in the Sherman Park neighborhood of the U.S. Midwestern city.
Gunshots were fired, six businesses were destroyed by fire and police cars damaged before calm was restored in the neighborhood, which has a reputation for poverty and crime.
Seventeen people were arrested in the disturbances, Flynn said. Four police officers were treated for injuries and released from hospitals.
Flynn told a news conference that the officer who fired the fatal shot was black and media reports also identified Smith as black.
Flynn said the officer stopped Smith's vehicle because he was behaving suspiciously and then had to chase Smith several dozen feet on foot into an enclosed space between two houses.
He said the video from the officer's body camera showed Smith turning toward the officer with a gun in his hand but that the moment when the officer fired his weapon could not be determined because the audio was delayed.
"I'm looking at a silent movie that doesn't necessarily tell me everything that will come out in a thorough investigation," Flynn said. "You know the fog of war. You know first reports are frequently wrong or slightly off.
"I know what I saw. Based on what I saw, didn't hear, don't know what the autopsy results are going to be, he certainly appeared to be within lawful bounds," Flynn said of the officer.
The mayor told the news conference that Smith did not drop the gun as ordered before he was shot.
Smith had a lengthy arrest record, Barrett said, and officials said earlier he was carrying a stolen handgun loaded with 23 rounds of ammunition when stopped for unspecified "suspicious activity."
Police presence in Sherman Park was low on Sunday afternoon, with some residents milling around and others cleaning up debris. But officials were planning for what might come.
Wisconsin Governor Scott Walker announced the National Guard activation after a request fromMilwaukee County Sheriff David Clarke, who met with Walker and Wisconsin National Guard Adjutant General Donald Dunbar.
Barrett said the Guard would not be deployed unless police requested it.
Police violence against black men and women has set off intermittent, sometimes violent protests in U.S. cities including Ferguson, Missouri, Baltimore, New York, Baton Rouge, Louisiana, and St. Anthony, Minnesota, in the past two years.
The outrage has given rise to the Black Lives Matter movement and touched off a national debate over race and policing in the United States.
There also have been deadly ambushes of police this summer. Five officers were slain by a sniper in Dallas in July as they provided security at an otherwise peaceful protest of police killings. Three officers were killed by a gunman in Baton Rouge less than two weeks later.
Policing in Milwaukee has been under scrutiny since 2014 when Dontre Hamilton, a mentally ill unarmed black man, was fatally shot in a park by a white officer, an incident that sparked largely peaceful protests. No state or federal charges were pursued but the U.S. Justice Department started a review of the police department's policies, practices and accountability system.
Coalition for Justice, formed by Hamilton's family after his death, said on Facebook the rioting following Saturday's shooting was "a demand for justice on every level" in what it called "one of the most segregated cities in the United States."
Police were called to Sherman Park in June after reports of residents throwing rocks, bricks and bottles at a bus and a business.
The National Guard, which is under the dual control of the federal and state governments, was deployed in Ferguson in August 2014 after several nights of rioting over the police killing of an unarmed black man.
(Additional reporting by Chris Michaud and Laila Kearney in New York and Julia Harte in Washington; Writing by Frank McGurty and Bill Trott; Editing by Howard Goller and Peter Cooney)
Popular in the Community