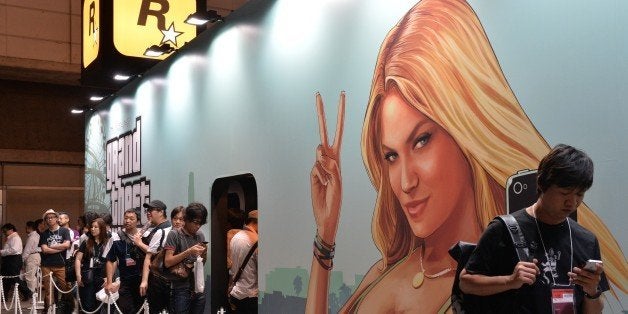 Lindsay Lohan is suing Rockstar Games over a bikini-clad blonde character she claims is her likeness in the hit game "Grand Theft Auto V." Released last fall and created with a budget of more than $100 million, Rockstar Games boasted $1 billion in sales in the first three days of a game that pushes social boundaries by allowing players to kill, steal and destroy in exquisite ways, albeit virtually.
"Grand Theft Auto V" (GTA5) represents pinnacle of both the commercial success and the continued controversy of violence and sexism surrounding the U.S. game industry. This success highlights how human principles and values come to be discussed and explored in contemporary society. The game is a huge, complex game that represents advances in technical features, such as rendering and artificial intelligence. It is profitable because it allows players to transgress commonly accepted social norms and choose to cross boundaries that would be otherwise socially forbidden.
For example, I can grab a bike and evade the police in a realistic downpour. I can steal a fighter plane. How cool is that? Ultimately, "GTA5" signifies the cutting edge of what a certain kind of game can do: create immersive worlds where players have an expansive feel of their own agency and action. Playing GTA5, I'm left with the awe that I can parkour across rooftops, leap into swimming pools, and go anywhere I please. The size of the world is immense.
But I can also have sex with prostitutes and kill them to get my money back without any repercussions. I can run down characters with my SUV as a form of recreation. I can fire into crowds with an assault weapon. If I felt like it, I could do this for hours and hours, and days on end. And this is where the game moves from a transgressive game that explores human nature into something more than that: When you play violent games, a part of you know its wrong -- and enjoys that. Such experiences recall the controversial documentary "The Act of Killing"(2013), where Indonesian death squad leaders reenacted their crimes with surreal pleasure.
That's the real world, all right, but it's meshed with fantasy, too.
Some boundary crossing is a natural form of play: Anthropologists have noted violent gameplay and dark play subjects for hundreds of years. Victorian kids, for example, played innocently with their dolls but also killed them off in bizarre catastrophes and held funerals for them. Grimm's fairy tales were ghastly, violent and cruel. Read the originals; it was a natural thing that a father could sell his kids to the devil for some quick cash. In "The Girl Without Hands," the devil chops the girl's arms off in retribution when the deal goes awry. That's pretty horrific stuff.
These situations, however, still portrayed a sense of right and wrong, a sense of beauty, as well as the macabre. They weren't cynical. Rather, they were outlets and cautionary tales for those surrounded by extremely strict social norms, rigid family structures and incredibly deep-rooted cultures. They typically ended on a hopeful note, too.
Practicing what it means to live in the world with its contradictions and experiences does mean we imagine some dark things in play. But we also need to practice other themes in our play, lest we lose a bit of what it means to be human. We are social creatures and live in societies with shared values. Do our games reflect what's important to us as well as what's scary and forbidden?
It is up to designers to expand the vocabulary of play to make other forms of connections to beauty, autonomy, collaboration and community. Some designers are doing it in the increasingly robust "indie" game scene. Play the award-winning game "Journey" and find that anonymous game play with others can transcend trash talk and become awe-inspiring. Play "Road Not Taken" and save lost children in a forest. Or play an indie board game and go off-screen altogether for a night. Excellent new models of play allow discovery that just might express different human principles and bring players novel kinds of joy. Maybe we can leave the Lindsay Lohans out of our games entirely.
Related
Popular in the Community