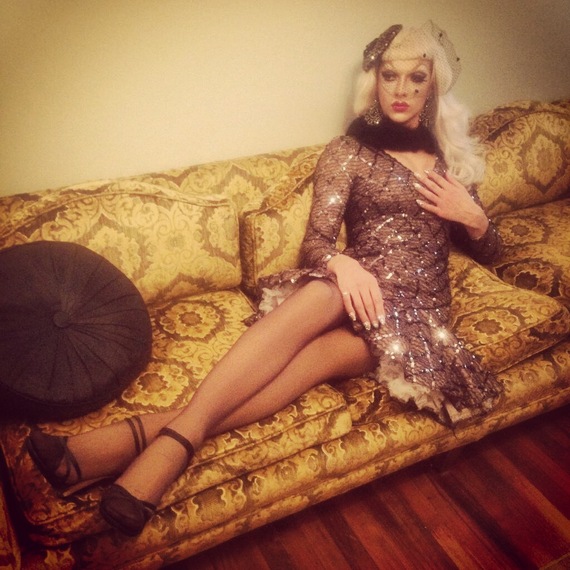 "My parents are really supportive of my drag. They're old and they don't get it, but they love me," says Violet Chachki. "They don't come to my shows, but they see I'm able to pay off a mortgage with my drag."
Jason (boyface Violet) is 21 ½, and has only been doing drag since she was 19. Most performers take years to break even on drag, and very few ever manage to do drag as a true job. Jason gets to focus solely on his drag career--not flipping burgers, temping, or turning tricks--which is something many queens only dream of. Add in the distant support of parents, and Violet is already living the fantasy life of so many other girls out there.

It's Sunday night, which is usually a day out of face for Jason. Tonight he's throwing together a quick Violet to see Dita Von Tease perform at the Tabernacle. Dita's a definite idol for Violet--her burlesque represents a type of empowered femininitiy that Violet wants to emulate in drag.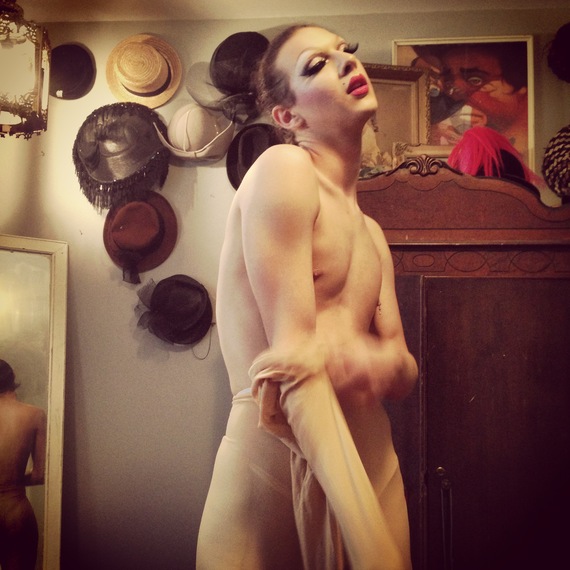 Violet is known for her "statuesque" beauty--she's tall, ultrathin, and has the most impeccable legs. Upon hoisting up panty hose number 5, she says "You have to create the illusion darling." What she refers to is a complex arrangement of white, nude, and flesh colored panty hose that create the look of perfectly smooth skin. It's a look her fans have come to expect, and she's surely going to run into many of them tonight. Making a living off of drag requires a performer be willing to put her drag on at the drop of a gaff.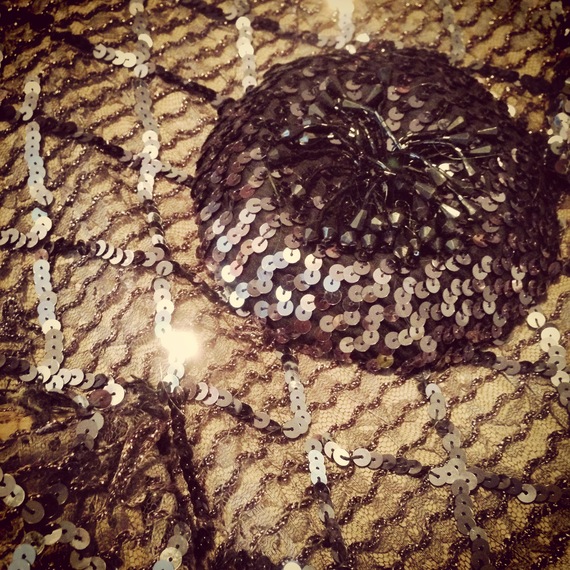 She usually has just three paying gigs a week, but this week she has six. Violet will serve day drag at an Adult Swim photo shoot Tuesday afternoon, diva standards at drag showpalace Lips on Wednesday, Edgewood girl realness at Church (It's a Bar!) for a Living Walls block party on Thursday, whatever the hell she wants at The Other Show on Friday, big city showgirl at an event at The Dollhouse in Savannah on Saturday, and then back to Atlanta on Sunday to perform burlesque beauty at Red Light Cafe.
Jason's become a beautiful, successful business woman through focusing all of his attention towards Violet. If the work schedule doesn't sound exhausting, Jason squeezes weekly lessons in aerial silks into his routine. Violet twerks as the only acrobatic-burleque drag queen in this town, and it's taken a tremendous amount of energy to get there. If there's a reason Jason can pay a mortgage off with drag it's because he's constantly honing and improving the persona of Violet.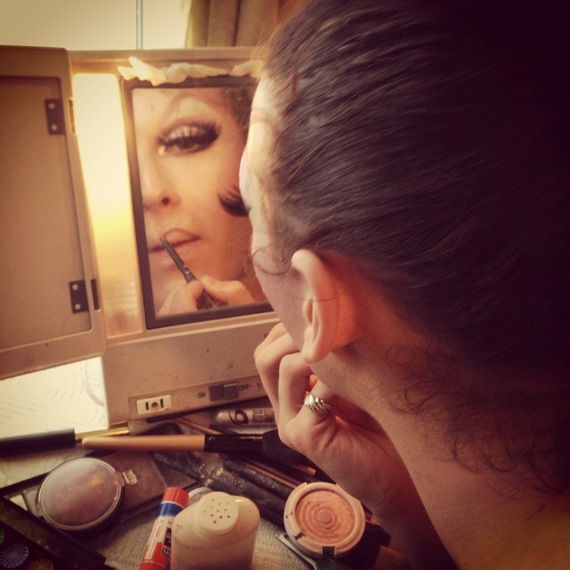 All of this drag success came from a very special one-night-only performance Violet did at LeBuzz in suburban Marietta in late 2011.
"It's a place where drag queens go to be born and to die," says Violet.
The club has produced several fabulous young queens who have taken metro-Atlanta by storm. Just before Violet's first performance, the CD she had planned to use wouldn't read and she was forced to borrow music from a new drag friend she had just met--Evah Destruction. With Evah's help, Violet's first performance was to "Heavy Metal Lover" by Lady Gaga.
"The next week I used my fake ID to get into LeBuzz for a drag contest--I was 19 at the time. I used my real birthday when I signed up for the contest, and they clocked me and banned me from the club."
Months later in February 2012 (and still underage) she won Miss New Faces at Friends on Ponce--Atlanta's favorite drag dive. In April, Violet performed in the most legendary season of Dragnique at the Jungle. This season brought together Edie Cheezburger, Evah Destruction, Miami Royale, and Violet Chachki as competitors and colleagues.
In the finale, Violet lost to creative powerhouse Edie Cheezburger. Violet served great face and total body perfection, yet her movements on stage seemed mechanical. Soon after Dragnique, Violet met the girl who would teach her how to move in drag.
"I met my sister Brigitte Bidet when she was serving tables at Homegrown. I put her in drag for her first time. She taught me to dance, and I taught her makeup."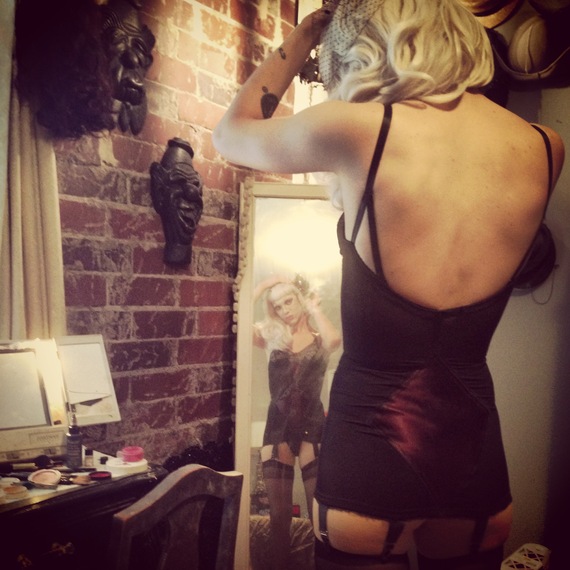 The two girls soon found a drag mother, Dax ExclamationPoint, a queen from Savannah who inspires fear, lust, and respect all at the same time.
"We became Dax's pseudo drag daughters," says Violet. "Mostly we went out with her in drag and got drunk. She taught me how to set a wig, socialize, and commit to a look. We never took off our shoes at the bar. She taught me how to drink on a budget--just go out in drag and you get free drinks."
While all this drag transformation was going on, Jason was also studying at SCAD-Atlanta. He couldn't balance the time and expense of college and drag, but he found that Violet could bring in extra money. In fall of 2012, Violet was hired as a regular cast member of The Other Show at Jungle--led by Edie Cheezburger, also featuring Evah Destruction and Miami Royale from Dragnique. With a slot on this incredibly talented cast, Jason quit college and focused his creativity solely on Violet.
The Other Show has given Violet tremendous exposure. It's repeatedly voted the best drag show in town, and they regularly feature national-name guest stars. Violet has worked with Lady Bunny, Alaska Thunderfuck, and Amanda Lepore. Violet learns from each of these performers what it takes to be a beautiful, successful performer.
"I felt like a bitch being around Amanda Lepore. She's a poodle. She's so nice that it makes her even prettier. I can't stand it."
Following the drag dream has lead to a charmed life for Violet. In a very short amount of time she's built legions of fans in Atlanta and worked with big-name performers. Jason wants to pursue Violet as far as he can, but he knows she may have a shelf life. The art of drag does takes a toll on the performers. Drag-dancing death drops destroy the body, stage makeup ruins a performer's natural complexion, and all the traveling can wear a girl down. Violet will surely still be pretty when (and if) she ever quits, but all that creative energy would have to go somewhere.
"I would like to go back to school for design when I'm too old for drag," says Jason.