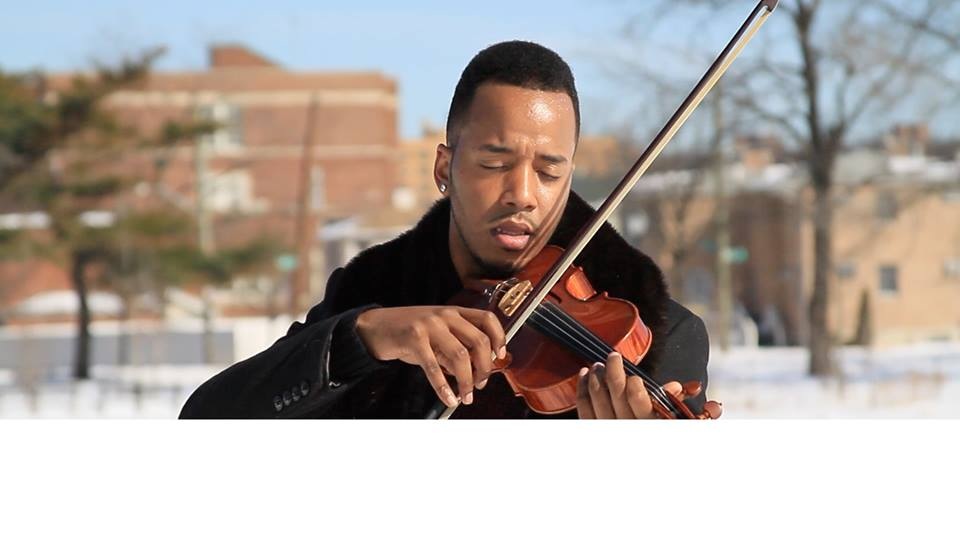 Out of a Queens's window amongst the sounds of sirens, city bustle and the usual New York grind imagine hearing the carefully constructed melodies of Beethoven's 5th symphony. A young Damien Escobar sat listening to his brother and cousin practice, too young to touch his playmates new school issued instruments forced an anxious little prodigy to sit on the sidelines. Once Escobar enrolled in music it was only a matter of time that he would meet his instrumental fate with a simple bow and strings. His natural ability to impress a crowd led him to unique opportunities and front row on his journey to self discovery. With a successful and packed timeline, Escobar shares his passion with me in a personal interview in a popular Manhattan lounge. A train away from where his desire to play the violin began, he unveils new global projects and his triumphant attempt to give back.
Coined the "Hip Hop Violinist," Escobar revealed he hadn't discovered hip hop till his pre-teen years. DMX's rugged tone and signature barking initiated frenzy in this musical genius and constructed the initial union in Escobar's tone. Blending his Julliard classically trained skills with popular urban sounds, Escobar and his brother introduced subway commuters to a destined star. Riding the train while serenading passengers exposed him to a lucrative business by the age of 10 and embraced his natural talent in the inner city tunnels. Even as the youngest student accepted into Julliard, Escobar's temptation to fit in caused a teenage abandonment of his sweet notes in exchange for acceptance with peers. Out of place and lost for hope, adolescent years taught him no matter where your path guides you...destiny will find you. Reunited with his violin, an estranged Escobar prioritized his life and set out on a mission revisiting his stage in the underground. From the subway to primetime, focused Escobar managed to follow a lit path that opened on the stage of America's Got Talent with millions of viewers captivated by his new sound. Sweeping two Emmys, television debuts, endorsements and heavy involvement in popular movie scores, Damien Escobar knew he finally made it to the top.
Soon after the lights on stage powered down, this story dips into uncharted territories filled with life lessons and humbling beginnings. Losing fame and notoriety can happen with one wrong move and choices have to be made to rise afloat. Finding himself on a service line, pleading for extensions and payment plans in 2012, Escobar had enough. "I needed to find myself again" and headed back to the Jamaica Queen's apartment where Beethoven bit Damien in his most influential years. "I needed to teach myself everything about this business. I've spent years trying to make other people happy but now it was time to find Damien." With mom in his corner helping plant his feet in the ground, Escobar decided once again to steer from music and tapped into the Real estate market. Proudly dialing friends from his desk, Escobar remembers a close friend storming into the office and demanding him to redirect that energy back into the four strings that helped title him one of the world's best violinist. Reminding him that he was a musician foolishly imitating something he clearly wasn't, Damien's friend put him back on track. A second chance at fame came as fast as he left that office, leading him to a new team and new vision.
Escobar's Timeline to success begins
Finding himself questioning his next move, Escobar decided to fly to France and try his luck on a popular syndicated talent show. His first performance with all eyes on him was set on the "Taratata" stage and launched his solo career. Once exiting the stage, Escobar remembers telling friends "I wanted more". November tweets of Escobar on World Star boosts confidence that led to a December performance at the Indy Car 2012 Championship Awards Banquet. Performing solo was his validation that the same violin that saved him from city streets was going to pay the service bills he once struggled to afford. Redefining his image and sound, a new artist emerged hitting fans with something they knew was now essential. Escobar wrapped up the year accepting an invitation to perform at Russell Simmon's Hip Hop Inaugural Ball. Challenging him more than ever, Escobar launched a "quick" college tour introducing his "I AM ME" campaign. Two weeks and ten schools, Damien knew to win this crowd he had to go back and "bring out the crates!" The buzz affect the students created about his new sound thrilled executives at the Top Chef headquarters. Next on his list was the 2013 Food & Wine event in New York City. Escobar states, "He finally found happiness and was spiritually free."
Escobar's album "I AM ME" releases his inner desire to reconnect with fans and spread the initial love he had for music. A main concern of Escobar's was creating an opportunity to give back to the community that initiated his love with music. Solely through social media, Escobar managed to host an event raking in over fifty thousand dollars for the Jamaica YMCA benefiting over 600 kids. This being a top priority for native New Yorker, "It's not normal for kids to be in the streets and dodge bullets." Damien shakes his head after reviewing the statistics of crime rates in his hometown. Sitting on the Board of Directors at the Y and armed with a new team, he proudly presents his management as the people who saw his young talent in those same city streets and stuck with him to see out his success. Amongst his power team is Anne Edmond of the elite PR firm CRAFT Agency. Anne is prepared to help launch this legend in the making and keep him in the spotlight he deserves. Armed with a solid team and concrete foundation, Escobar is projecting next year as his best ever. Setting forward he plans to continue on this same path except now he can depend less on yesterday and creatively play into tomorrow as himself. I asked Escobar where he envisions himself in a year and with an intense smile and confident disposition he says, "I see myself in the Top 40's hitting the mainstream market and giving the violin the platform it deserves. I want to be to music what Michael Jordan was to basketball." Nudging double legendary Michael's, Escobar credits a lot of his musical influence to Michael Jackson. We laughed as he mentions his future legendary status, possibly influencing a young musician today. With an open heart and passionate about his gift, I ask Escobar what he expects people to associate his name with once topping charts, he quickly responded in a confident tone, "A violin. I will be the next Damien "Jackson."
Follow Damien Escobar on all sources of media:
Twitter www.twitter.com/dameesco
Facebook www.facebook.com/dameesco
Instagram at www.instagram.com/dameesco
Listen to Damien's music here.
Calling all HuffPost superfans!
Sign up for membership to become a founding member and help shape HuffPost's next chapter