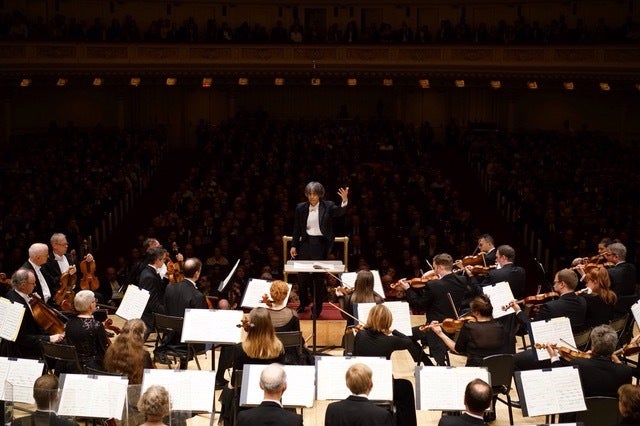 By Christopher Johnson, Contributing Writer, October 23, 2017
The Montreal Symphony made a flying visit to Carnegie Hall this past Wednesday night—literally; they'd played the same pieces the night before in their stunning new concert hall back home—bringing a recent piece by Samy Moussa, a young Canadian composer who was making his Carnegie Hall debut, along with standards by Bartók and Brahms, the latter featuring another milestone in violinist Maxim Vengerov's comeback from an injury that kept him sidelined for the better part of a decade.
Vengerov's public was out in force, and that may explain why the program was reconfigured for New York so as to put the Brahms violin concerto last, preventing audience-defection at intermission and virtually guaranteeing an instantaneous, near-unanimous standing ovation at the end. You can see why: Vengerov's playing is alternately fierce and tender—spectacularly so when he goes high and soft—and he certainly knows how to put on a show. There's nothing false or stagey about him—even at his most theatrical, he seems perfectly sincere—but you are never in doubt about how he feels about the music, even when he's not playing.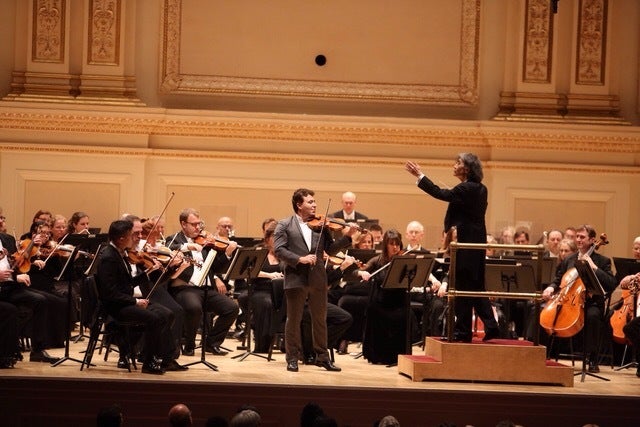 For all that, there was little sense of Brahms's seething motivic invention, which drives even the most lyrical passages in this piece. Major structural arrivals occurred like familiar landmarks passing in review, as if on schedule, and Brahms's magical dissolves into distant keys, which ought to seem revelatory no matter how many times you've heard them, felt ornamental rather than transformative.
Bartók's Concerto for Orchestra, likewise, came across as comfortable and familiar, as if to confirm the suspicion, still sometimes voiced by movement modernists, that it constitutes a venal "compromise," rather than Bartók's ultimate triumph of intellectual daring, synthesizing his own methods and materials with those he so admired in Stravinsky and in the classical tradition, as if to reinvent The Rite of Spring in the service of delicate sensibility and high comedy.
Here again, the piece was vigorously and often brilliantly played, but without clear attitude, so that the famous "Game of Pairs" seemed unduly poker-faced, the elegy lacked all sense of grief, and the "interrupted intermezzo" cruised right along. As in the Brahms, structural arrivals seemed muted and counterpoint was blurred. And oddly, in a piece that spotlights individual players and sections, there were balance-problems throughout: brasses and timpani nearly always too loud, other percussion sometimes inaudible, violins and oboes often too soft, while the violas were glorious, even facing the back wall. Given the orchestra's reputation and the hall's famous acoustics, this may have been a consequence of tight scheduling, but it was surprising nonetheless.
Moussa's A Globe Itself Infolding, commissioned for the inauguration of the Symphony's new organ in 2014, departs from the norm for such pieces in being subtle and, for the most part, quiet; still, it presupposes an instrument of enormous range, depth of sonority, richness of color, and audible potential to blow the roof off, should the organist so choose—characteristics that the Symphony's Casavant Frères instrument, a true pipe-organ as spectacular to look at as to hear, possesses in abundance, but that Carnegie Hall's Rodgers electronic wholly lacks.
Like most of Moussa's already-substantial catalogue, this piece is attractive and involving, with beautiful instrumentation—you don't need to read the program-notes to realize that Boulez was a mentor—but it went for little at Carnegie, even with Jean-Willy Kunz, the Symphony's impressive organist in residence, on hand to do the honors. It's well worth checking out the fine recording made by these same forces, using the instrument Moussa wrote for.
At the end of the evening, the orchestra joined Vengerov in an encore—the Meditation from Massenet's Thaïs—and everything came right: balances were true and lovely, the violins sang out, there was beautiful soft playing throughout the band, and the transitions were managed with exquisite care and real feeling. Let's look forward to next time.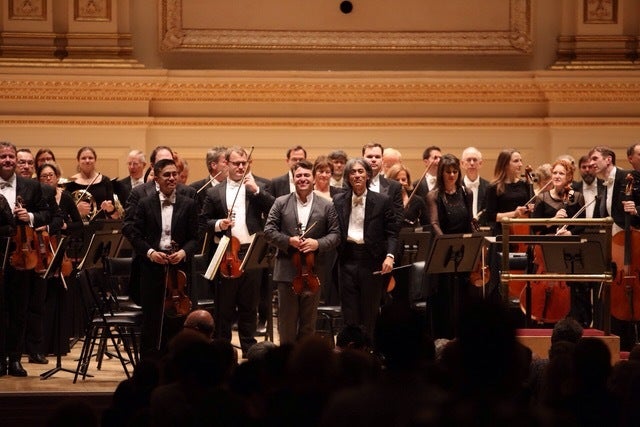 For ZEALnyc's interview with Samy Moussa click here.
___________________________________
Christopher Johnson writes frequently for ZEALnyc about classical music and related performances.
For all the news on New York City arts and culture, visit ZEALnyc Front Page.
REAL LIFE. REAL NEWS. REAL VOICES.
Help us tell more of the stories that matter from voices that too often remain unheard.
This post was published on the now-closed HuffPost Contributor platform. Contributors control their own work and posted freely to our site. If you need to flag this entry as abusive,
send us an email
.