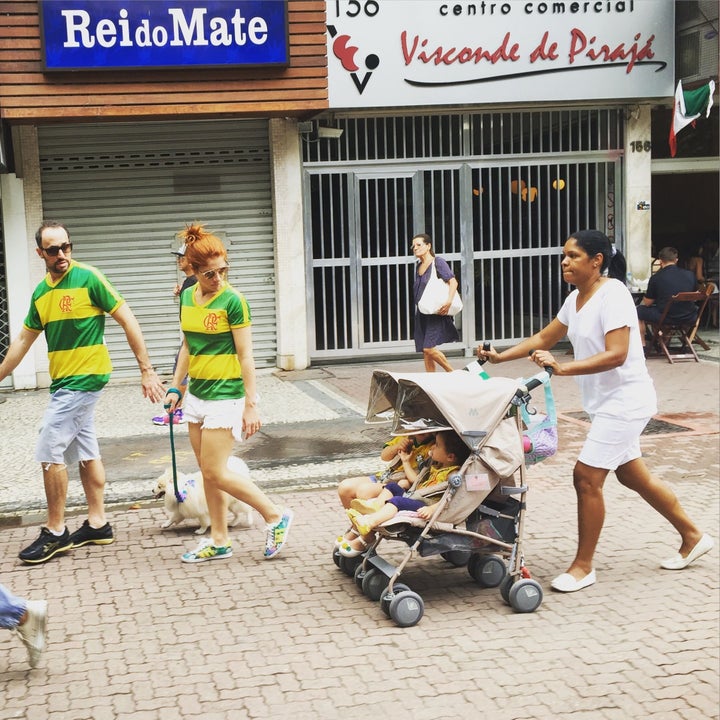 Nearly 2 million Brazilians demanded an end to Dilma Rousseff's scandal-filled presidency in a wave of demonstrations on Sunday. But one protest image in particular brought into focus another highly charged issue: the division of race and social classes.
A photographer from Correio Braziliense newspaper took a picture of protesters Claudio and Carolina Maia Pracownik, walking their dog through Copacabana, Rio de Janeiro. Their nanny, Maria Angélica Lima, trails behind them in a white uniform, pushing their two young daughters in a stroller.
The photo of the wealthy family and their nanny rapidly went viral and sparked a heated, national debate that highlighted the divisions and inequalities some say it portrays.
The image had already been shared millions of times by the end of Sunday, as memes began to surface, Canada's Globe and Mail reports.
The Pracowniks were taking part in a mass protest calling for the resignation or impeachment of Rousseff, whose Workers' Party government has been blamed for the country's economic woes and immersed in widespread allegations of corruption.
Reactions to the photo have been largely divided. Many who are offended say it is a flashback to slavery in Brazil, which was the last American country to abolish the practice in 1888.
"Brazilians who are against the protests think this image is emblematic because it shows a couple of rich people going to the streets and having a black nanny taking care of their children," HuffPost Brazil senior news editor Luciana Sarmento said.
"The critics see in this image a representation of our enslaver history. More than 100 years after the end of slavery, black women would still be imprisoned to their historical roles. So these demonstrators would represent basically the elites of Brazil -- as showed by Datafolha -- and they are protesting against corruption, but they keep social inequalities."
Others argue the Pracowniks have been unfairly subjected to online criticism, and say they hold as much of a right as anyone else to protest against Rousseff's embattled government.
"This photo was taken out of context to represent demonstrators as people who echo against corruption, but are not interested in achieving a better society with more equality," HuffPost Brazil editor-in-chief Diego Iraheta said.
"Actually, the black nanny herself is against Dilma Rousseff's government, according to an interview in a Rio newspaper. Her main critique to Dilma is the level of inflation, which affected her every day. She thinks there is nothing wrong in working on Sunday, taking care of her bosses' children, because she is paid properly by them."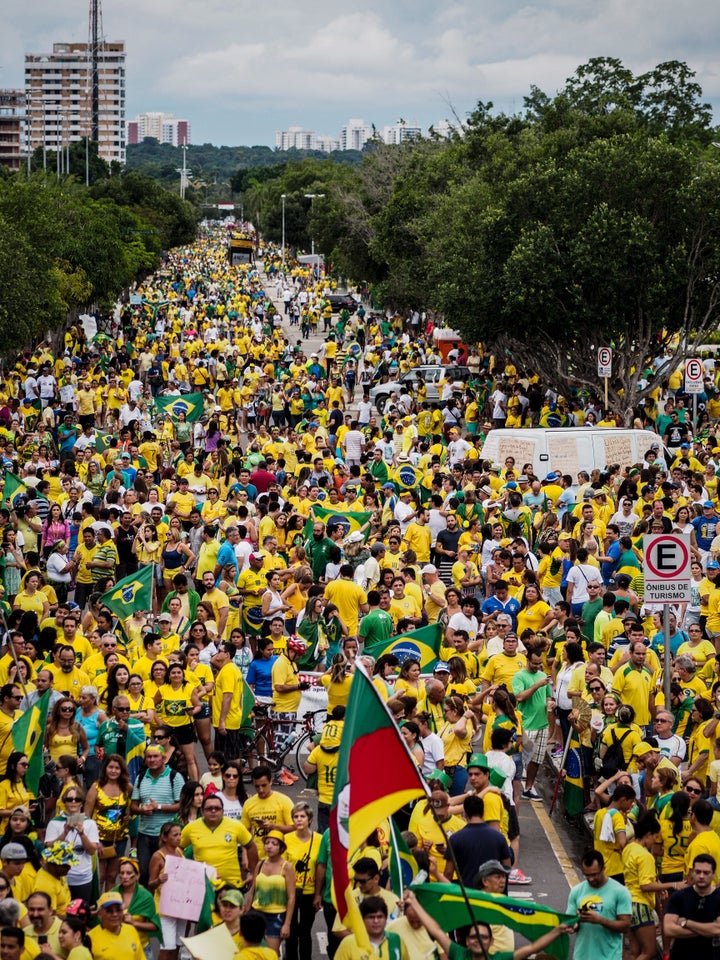 Lima told O Globo that the mass coverage frightened her. "I thought it was very bad. To expose me that way, to expose my bosses, the children. It wasn't necessary," she said in the filmed interview.
The nanny said that she sympathized with the protesters, but they won't solve the country's problems.
"Unfortunately nothing's going to change. If [Rousseff] leaves, the one who comes in will continue to steal. Unfortunately, that's the way Brazil is. And the ones who suffer are us -- poor people, the lower class," she said. "The people who've got their money, the politicians who have it so good, they're going to be fine. And the ones who are always going to have it the worst are the poor."
As the outrage continued to erupt on social media, the Pracowniks turned to their own social media pages to add their voices to the online frenzy.
"This argument of discrimination is unacceptable and prejudiced," wrote Carolina Maia Pracownik wrote in a Facebook post. "As they say: Prejudice is in the eye of the beholder. I am not a 'madame' and I don't mean to 'show' that I have a nanny. I chose to have them help to take care of my daughters. If you didn't choose to hire nannies or don't need them, good for you! I did, I want the help and I value them! They are thoughtful professionals, caring, patient and loving."