It was in my inbox Sunday night, "The Immigration Picture That Set Facebook on Fire." Naturally curious, I read the post by Julito Varela. In it was this photo and the story about how it went viral after Latino Rebels posted the image. In a matter of days, the image had gotten 31,657 likes and 28,083 shares. Clearly it had "resonated", as Varela says.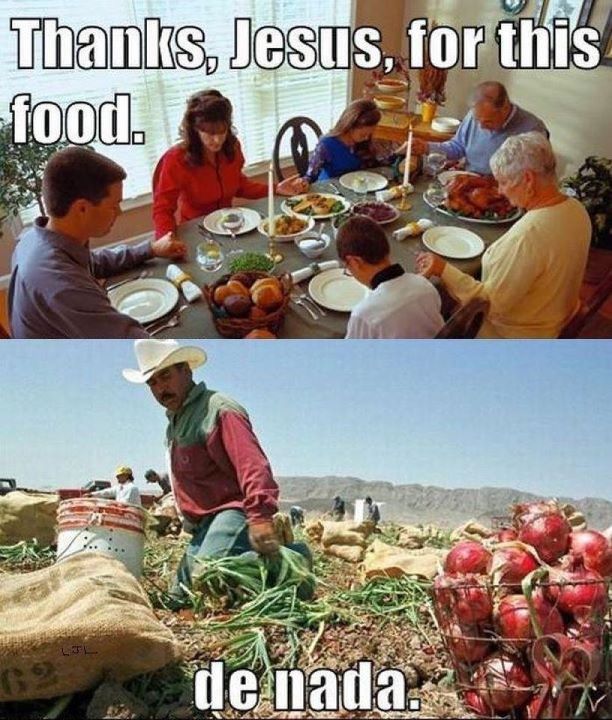 The two other adults in my house looked at the photo and said very different things, both also different from what was going through my mind.
Allow me for a moment to smash stereotypes - as I scanned the thousands of comments about the photo in Facebook, I realized that while haters were commenting in spades, nobody was looking at the man named Jesus picking onions and thinking about the fruits of his work (other than feeding the nice people in the picture above him.)
Here are the success stories I saw when looking at Jesus in the photo, inspired directly by people I know.
- Here's Jesus picking onions. His daughter Carolina however, will graduate next week as valedictorian of her high school in Fresno, California. At this moment, she's at Stanford University a couple hours away, attending the third annual Silicon Valley Latino Leadership Summit, hobnobbing with Latinos holding Ph.Ds. and master degrees. Carolina is also there meeting Latinas running cities as their mayors, meeting Latino venture capitalists, entrepreneurs, and others whose parents decades ago perhaps also picked produce (or not.) For those insisting on holding on to stereotypes, let me assure you that these educated types of Latinos really do exist --go ahead and look at the speaker lineup if you don't believe me.
- Here's Jesus picking onions, but it's a photo of him ten years ago. Today, he owns one of the most successful wineries in Napa Valley, along with the Ceja family of Ceja Vineyards, the Montes family of Marita's Vineyard and others. Many of those who picked the grapes thirty years ago are now owners of the wineries. Some are owners of the vineyards they once labored in; others are heads of wine-making operations. Their college-educated, U.S.-born children hold titles like Vice President of Operations and VP of Marketing. I met these families at last summer's Latino Leaders Magazine Maestro Leadership Awards Gala in San Francisco where a half dozen Latino-owned wineries shared their creations.
- Here's Jesus, who could very well have been the father of my friend Humberto Rincon. Son of an Imperial Valley bracero like Jesus here, Humberto graduated in the top three percent of his class while living in a migrant camp and went on to earn his mechanical engineering and material science degree from the University of California at Davis. After receiving a full-ride scholarship from IBM, he graduated with a master degree in Mechanical Engineering Design from Stanford University and has enjoyed life in Silicon Valley working for Fortune 500 companies and startup ventures. Today Humberto is the proud father of a daughter who is a medical doctor, he plays a lot of golf and is an innovative force in the green economy as detailed in Latinnovating.
- And finally, thinking back to some aspiring young people I met last spring, I had this thought: Here's Jesus, whose son Enrique is currently back east enjoying his second year at Harvard University. While Jesus labored in the fields, Enrique participated in the twenty year-old Ivy League Project, led by founder Martin Mares. Mr. Mares believes that being born to disadvantaged parents does not disqualify you from attending an Ivy League university. In California's Central Valley, Texas and Arizona, Martin finds the promising students, the sons and daughters of migrant workers like Jesus, and helps them attend Ivy League universities. Through his work connecting the kids with funding sources and taking them to visit the campuses, he sends accomplished, high-potential students like Evette Tovar to places like Yale, Brown, Princeton and Harvard. The stories Martin tells of his students (like the Harvard-educated doctor marrying the Yale-educated attorney) are unforgettable - he's a man on a mission to make sure that Jesus' work is richly rewarded, when his U.S. -born children become college graduates from America's most prestigious universities and more.
I saw the phrase "struck a nerve" a few times remarked about this photo. I hope I've struck a few more. "We all see what we want to see," someone wrote as a Facebook comment for this picture. What do you see when you look at it? I can't wait to hear more thoughts and feelings about it. I hear the sounds of smashing stereotypes - do you?

Calling all HuffPost superfans!
Sign up for membership to become a founding member and help shape HuffPost's next chapter