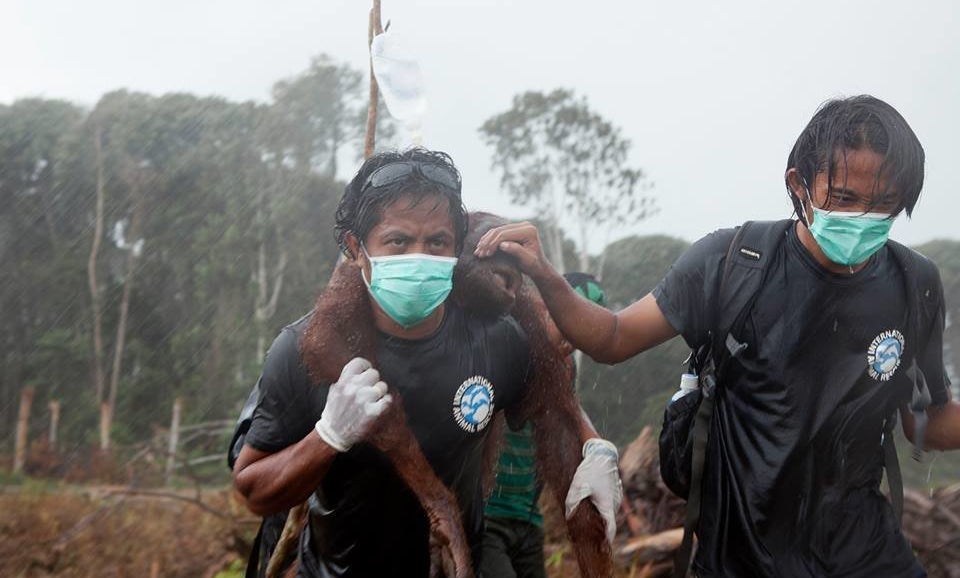 A malnourished female orangutan is pictured draped on a rescuer's back, the two of them drenched by the falling rain. The animal's eyes are shielded from the downpour by an outstretched hand, that of another rescue worker helping to get her to safety.
It's an evocative image, one that tells the story of a dying species and the challenges facing the humans trying to save it. Shared widely this month on social media, the photo was first captured in April 2013 during a rescue mission in Indonesian Borneo. An emergency response team from International Animal Rescue and members from a local forestry department had rushed to save four starving Bornean orangutans from a decimated forest near a palm oil plantation.
The animals, all of them female, had been "reduced to eating bark and stems" because of the lack of fruit and leaves in the area, IAR said at the time. A mother and baby, both of them described as "very thin," were among the apes rescued that day.
Though not new, conservationists said this week that the image may perhaps be even more meaningful today than when it was first captured. For both species of orangutan, the situation "can only be said to have gone from bad to worse since the photo was taken three years ago," Lis Key, an IAR spokesperson, told The Huffington Post.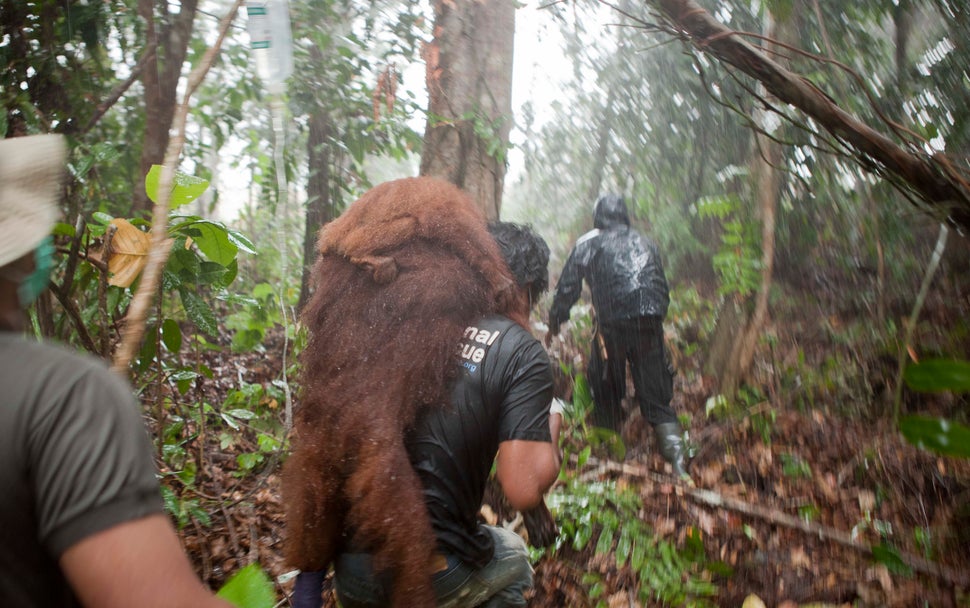 This July, the Bornean orangutan was declared "critically endangered" by the International Union for Conservation of Nature.
It was a dispiriting announcement. The Sumatran orangutan had already been listed as critically endangered years before. The up-listing by the IUCN meant both orangutan species had entered the final tier before extinction. 
"This is full acknowledgement of what has been clear for a long time: orangutan conservation is failing," Andrew Marshall, one of the assessment's authors, told Mongabay this summer. 
According to the IUCN, Bornean orangutan populations have decreased by nearly two-thirds since the early 1970s, and will further dwindle to an estimated 47,000 animals by 2025 ― a drop of more than 86 percent in 75 years.
Sumatran orangutans have experienced similar population declines. There are fewer than 7,300 of them in the wild today. 
Orangutans are found only on the Indonesian island of Sumatra and Borneo, an island shared between Indonesia, Malaysia and Brunei. The destruction of forests on these islands ― mostly for agricultural reasons, specifically palm oil production ― has been pinpointed as the No. 1 threat to orangutan survival. Slash and burn techniques, often illegally used for forest clearance on these islands, endanger the lives of both people and animals.
"The 2015 fires turned an already dire and desperate situation [for orangutans] into an environmental crisis of massive proportions," Key said this week. "Following those fires, our team worked tirelessly translocating stranded animals to protected areas of forest, as well as rescuing baby orangutans that had been captured from the wild and were being kept as pets by local people. Those young orangutans are now undergoing rehabilitation in our centre in preparation for release back into the wild. But without serious action to conserve and protect orangutan habitat, there will eventually be no forest to return them to."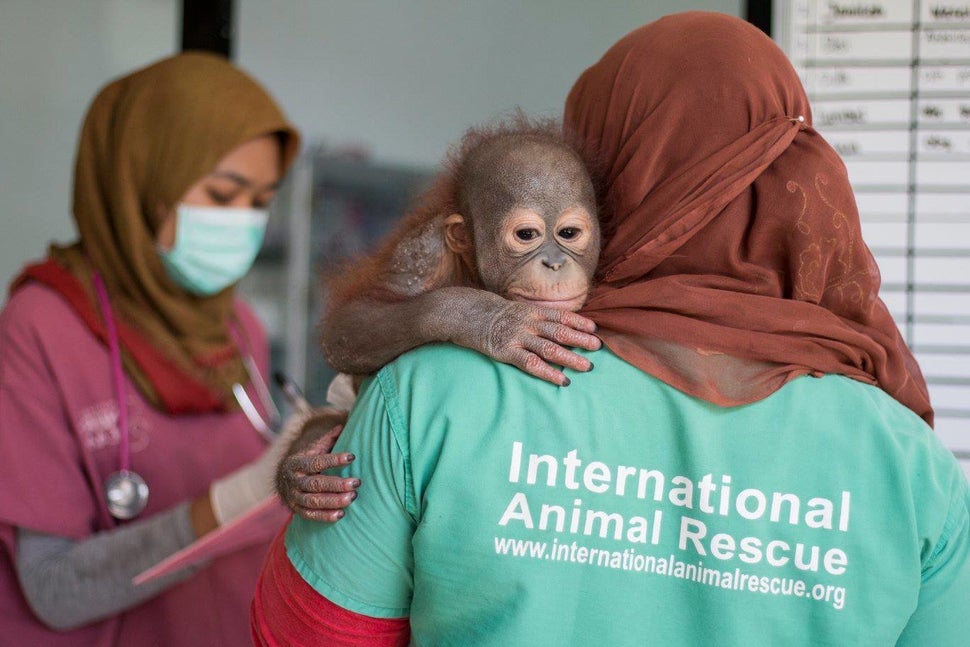 Other than deforestation and the illegal pet trade, hunting is another major threat facing wild orangutans. IUCN said an estimated 2,000 to 3,000 Bornean orangutans are killed every year, primarily for their meat.
In September, the IAR said it had rescued an orphaned orangutan who'd been found in Indonesian Borneo with a bullet in his shoulder. The 18-month-old's mother had likely been killed by hunters, the animal charity said. 
"With the continuing, relentless destruction of their forest home," Key said last month, "orangutans are becoming more and more vulnerable to hunters and increasingly at risk of coming into conflict with humans."
Calling all HuffPost superfans!
Sign up for membership to become a founding member and help shape HuffPost's next chapter
BEFORE YOU GO
PHOTO GALLERY
Baby Orangutan Rescued