A mom's viral photo underscores the selflessness of parenting.
On Tuesday, Amy Palmer posted a photo on Facebook that shows her husband Andre sleeping under their 20-month-old son's crib at York Hospital Pediatrics in Pennsylvania. The toddler had suffered an asthma attack, KTLA reports.
"This is a picture of a hard working man dedicated to his family!!" she wrote. "After working all night third shift, he's right here with his son who is in the hospital. He's so tired but he's here!!"
Amy added that she thinks her husband deserves a "Father of the Year award."
In the midst of the viral frenzy, Palmer shared a follow-up post, explaining that she was "overwhelmed" by the response and thanking those who have shared the story and written kind comments and direct messages. She revealed her son is now home and doing much better.
The mom also shared additional background about the photo. "The room our son was in was so small there was literally enough room for the crib and a chair that turned into a bed," she explained. "It was early in the morning and Andre Palmer just got done working third shift and dropping our daughter off at daycare. He was literally exhausted himself!"
That's when he decided to sleep under the crib. Palmer noted that the people working at the hospital were "amazing" and certainly would've offered him something to sleep on had they known what he was doing. And after spotting her husband on the floor, she quickly helped him move to the chair-turned-bed where she was sleeping ― "but not before taking the picture that I felt spoke volumes about the good person, husband, and father he truly is," the mom added.
The photo of her husband sleeping beneath him stands as a reminder of the beauty she witnessed in the midst of a difficult time. "I took the picture because I thought what a selfless thing for my husband to do," she wrote. "He could have went home after work, he could have asked me to get up."
It's a sweet, simple gesture with a wide impact.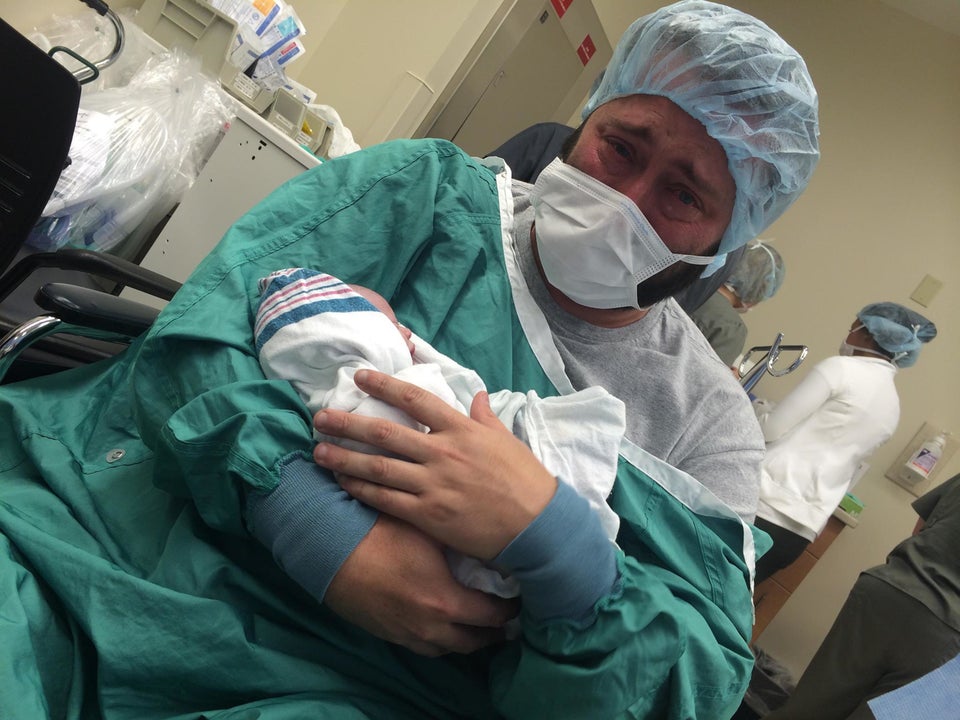 First Photos Of Dads With Their Babies