Photos of a man who appears to be dragging a little girl by the hair through a Texas shopping center are causing a firestorm on social media.
"Somebody needs to pull him down the road by the hair," one commenter wrote. "Makes me sick."
"I would have been the one going to jail, because I would beat the fuck out of him," wrote another.
The uproar began after Erika Burch posted the photos to her Facebook page on Monday.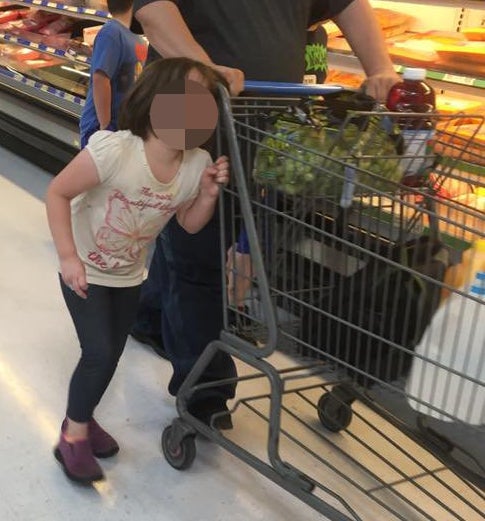 "I saw this little girl slouched over and her dad was gripping her hair on the cart while he shopped," Burch told The Huffington Post Wednesday by phone. "She was crying and begging him to stop. I said, 'Oh, hell no.'"
Burch said she immediately went over and confronted the man.
"I said, 'Hey, you need to let go of her hair,'" she recounted. "He looked at me and said, 'No, bitch, you need to mind your business.' I said, 'No, this is my fucking business' and I got my phone out."
The angry mom said the man continued to push the cart, dragging the child along with it. She snapped photos of him while another shopper called the Cleveland Police Department. When officers arrived on the scene, they took a report from Burch.
Later, after officers questioned the man, Burch says a sergeant with the Cleveland Police Department told her they were unable to arrest him, because the child had no visible injuries.
"I was livid," she said. "The cop had seen the photos on my phone. I told him, 'You've got to be kidding me, this is abuse, not discipline.'"
As of Wednesday, the post has been shared more than 147,000 times.
The Cleveland Police Department has since made their own Facebook post, assuring citizens they have not washed their hands of the case:
"The Cleveland Police Department has received numerous calls in regards to a child having her hair pulled last night at Cleveland Wal-Mart. We want to assure the community this case is currently being investigated by our Detective Division. CPS has been contacted per our policy and is also investigating this case. A joint investigation is currently being conducted by both agencies."
In a follow-up interview with police, Burch claims investigators showed her surveillance video they obtained from Walmart.
"You could see this man drag this little girl ― who's only like 5 years old ― from one end of Walmart all the way to the other," she said. "What makes it worse is that this child is supposedly autistic."
While a majority of the responses to Burch's Facebook post applaud her intervention, a handful of commenters have sympathized with the child's father.
"What's wrong with this country is people should mind their own business," one defensive commenter wrote. "The kid was being [an] ass and he held her hair to the cart to keep her from running around … I say good job make your kids mind."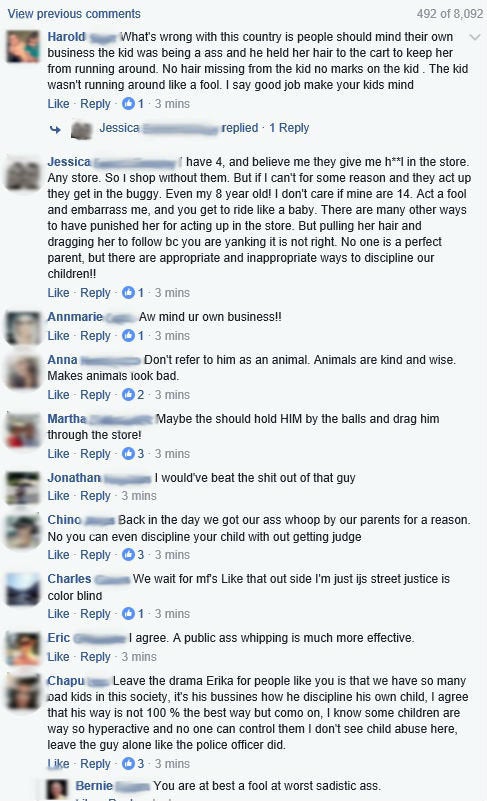 Burch said she's unfazed by the negative responses, which she attributes to "idiots."
"If you can approve of this, you're a low-life and your parenting skills probably need to be investigated," she said. "When I see something like this, I'm going to speak my mind, regardless of what people might think."
Calling all HuffPost superfans!
Sign up for membership to become a founding member and help shape HuffPost's next chapter
BEFORE YOU GO
PHOTO GALLERY
Questionable Parenting