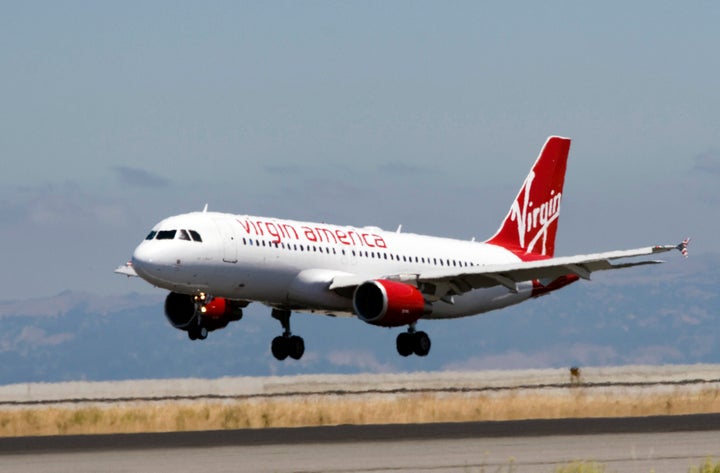 The thing I'll miss most when I leave my post as VP of Marketing at Virgin America — other than skipping the TSA line and our amazing teammates — is seat 4C. It's a great seat, designed with a sexy, leather seat cover, a power outlet and the best seat-back entertainment in the sky. But these luxuries are not why I'll miss 4C. It's not its proximity to the front of the plane either. We all know being up front can save you thirty minutes when you land (and, if you're trying to get home to make a 9-year old dinner, that's an eternity) but it's not that.
What I'll miss most, but take with me from 4C, is an appreciation for the power of random moments. We've seen it in the movie Sliding Doors and we've all heard stories of couples that met at a dog park, a coffee shop, at the dentist's office or on a flight. You see, 4C is the stage for a perfect random moment.
I realized early on that the guests flying Virgin America were way cooler than me. Sure, I worked for the airline that brought the fun back to flying, but I'm a single, suburban mom that finds pruning rose bushes and making kale chips exciting. I'm don't know the hip bands. I haven't funded a tech start-up. And, I'm certainly not an eco-adventurer.
However, I can work an airplane cabin and a cocktail party. After 15 years of sobriety, I don't need a drink to socialize. I have no fear when it comes to meeting people. On a plane, your conversation starters can be simple, "That's odd I store my iPhone in my shoe too." Or, "I'm glad those twins aren't sitting next to us." I also get to ask questions. People love questions. Asking questions makes people feel valued — and they transfer that value over to liking you more.
If this is starting to sound like painful flight — we've all sat next to the chatty Cathy who will talk the entire journey — I'll give you the end of the story first (and add that you can fly with your headphones on or your headphones off).
I leave Virgin America with a richly diverse, life-improving network of friends, technology experts, digital influencers, artists, entrepreneurs and more. Because of 4C, my daughter and I were invited to see David de Rothschild's Plastiki boat being made.
And, because of travels from 4C, several passionate kids met Sir Richard Branson. Their lives were changed too when he asked them, "What's important for the future? Why do you want to be entrepreneur?" He gave them his time, and he gave them a sense of value. This didn't occur in some boardroom, it started in the cabin of a plane.
When the world has moved from six degrees to four degrees of separation, a single connection on an airplane or at an event can change your life. One dear friend that had his life change by random connections on ground is Steve Shimmel. Steve grew up in near poverty, in a 600-square-foot apartment with his parents and sister. As a boy, he helped his dad run his pest control business. After college, Steve couldn't get a job so he put his resume on a sandwich board and hit the streets of San Francisco. One introduction led to another and so on and so on. Steve ended up being number 13 at Google and retired at age 38.
Steve's moment was random, but he made it happen. It might be a sandwich board or a pair of headphones that you leave on your lap, but it all comes back to networking, anytime, anyplace. It's the most powerful business tool we have.
I leave you with this. I was recently asked to speak on social media at a conference. After some thought, I emailed the host group and inquired if I could speak on networking. The reason? My thoughts are that networking is all about making the most of random moments. It's not always about building your Twitter following or increasing the number of folks in your G+ circles or maintaining your Klout score.
Sometimes, the most powerful person in your future is randomly sitting next to you at an event, in the grocery store or on a plane.