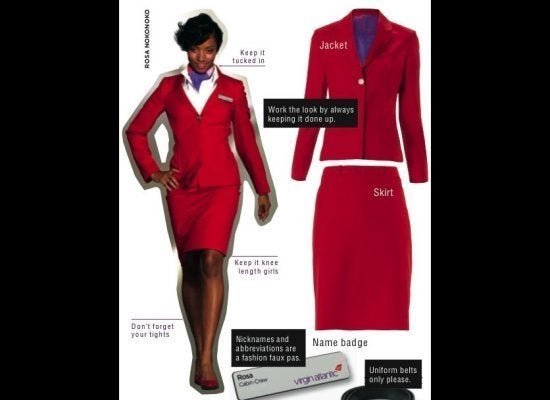 If you've ever sat cramped, in a middle seat in coach, on a red-eye flight, you likely understand the swollen feet, baggy eyes, pale skin, crumpled clothes and general feeling of discomfort and dishevelment that results when you finally arrive at your destination. On the contrary, if you're in business or first-class on a red-eye flight, you likely also understand the swollen feet, baggy eyes, pale skin, and crumpled clothes and general feeling of dishevelment with these flights. The point: it's not about where you sit, it's about how you groom that prepares you for arrival. And who better to teach us the tips and tricks for looking and feeling good at 35,000-feet than those who fly on a daily basis?
I caught up with Rebecca Creer, senior spa and grooming manager for Virgin Atlantic Airways, to get her tips on looking good after a long flight. Virgin recently launched the first edition of its "grooming manual" (something all airlines and hotels have) in the form of a magazine called RUNWAY, meant to act as a beauty and grooming guide for its employees. (*SEE PHOTOS BELOW*)
"It was a guide to how you wear your uniform, but I wanted it to be more inspirational and fun. Your look is such a massive part of your brand. Instead of saying grooming manual, we wanted to make a magazine," said Creer. "Our people are our models."
Creer says much of the inspiration the grooming team gets for their guide comes from top magazines.
"We see what looks are coming in, and we'll work to help them translate that into [employees] current uniforms," said Creer. "Could be anything from lipsticks to hairdos."
While there's no denying flight attendants always have a put-together look about them, what I really wanted to know were the little secrets that kept them looking this way.
"Be careful with what you eat. People tend to eat food because it's in front of them. On a night flight, eat light. I always have a banana - it is good for you and helps induce sleep," said Creer. "I also always carry chamomile tea because it's so calming for the stomach and helps with bloating. I also carry a pashmina - it can be used for so many things - and for night flights always carry facial wipes so you can take your makeup off."
Creer's never-fly-without-product? Eye drops. A few drops before you fall asleep will keep your eyes refreshed and hydrated, and help reduce swelling.
While all this grooming and product information is essential, there is one piece of the puzzle we have to explore: repositioning yourself for arrival. You don't want to walk off the plane looking like you've just spent hours cramped in an aluminum tube, but it's not always easy to reapply makeup and freshen up in a 2x2 airplane lavatory. Creer's solution: the iPad.
"I don't often put my makeup on in the bathroom. Because of the lighting, you tend to put on too much. Once the lights go on, I use my iPad, put my camera setting on, and do my makeup at my seat," said Creer.
Who knew the hottest trend in technology could also be a beauty aid?