Sir Richard Branson's Virgin brands are always one to make a splash (remember his arrival at the Dallas airport for Virgin America?), and Monday's announcement of a new red shoe for female flight attendants on Virgin Atlantic is no exception.
The new patent shoes, named, appropriately, "Dorothy" and Dotty," will make their debut on Virgin Atlantic's first flight of its new A330 from Manchester to Orlando on Monday.
The shoes come on the heels (no pun intended) of the success of the airlines' newest commercial, which debuted last fall (watch below).
In a press release, Steve Ridgway, airlines' Chief Executive, said:
We have listened to our staffs' comments and we have been working very hard to develop a pair of patent leather red shoes that will reflect the glamour of our iconic uniform and I am very pleased to see the launch of the new shoe on a day when we launch our new shiny Airbus A330 at Manchester Airport. I am sure the new red shoe will add even more glamour to our female uniformed staff worldwide.
In related news, Virgin Blue (the company's Australian counterpart) made headlines when they debuted chic new uniforms February that were modeled by Elle Macpherson (see photos below).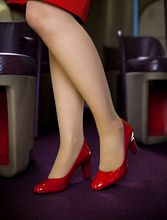 WATCH the commercial below: