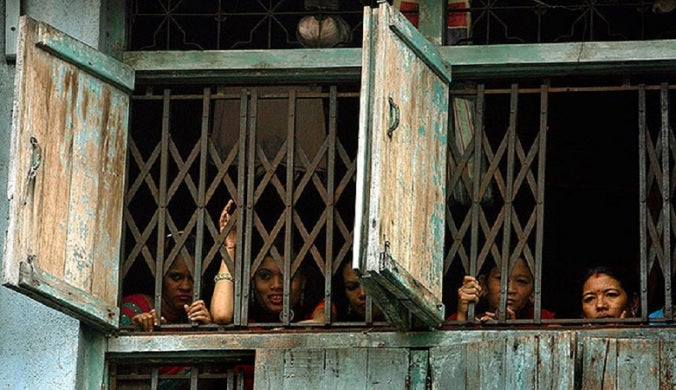 Clad in a red net sari, she emerged out of the crowd on a bustling street. Having a voluptuous frame, she walked towards me. With her long, dark hair neatly tied in a bun, she wore minimal jewelry and a red lipstick that contrasted with her fair skin. A little timid in her appearance, she stood in front of me, her gaze unwavering. "I will never bring my daughter here. Will never push her into this business," she said. "Does she know of your profession," I asked as I tried to find some expression on her melancholic face. She shook her head. "Unaware of the reality, she lives with my mother," she said, looking at me with her big brown eyes.
Well, not a very decent question to ask but have you ever been to a red-light area? If yes, then you know what I mean when I say: Bustling street, dingy houses, plunging necklines, garish makeup... In fact, it was a little difficult for me to believe that it was exactly how I had imagined. I could not help feeling amazed at how our filmmakers could replicate the environment with such precision.
So, here it begins. The sun had just set in the Indian city of Calcutta. At around 7 in the evening, we entered the street, which is known to house over 11,000 sex workers, making it presumably the largest red-light area in Asia.
As we entered Sonagachi, we saw two cops sitting quietly. One of them stiffened as we approached them. "Working on a news story is fine but if anything happens to you over there, we won't be responsible," he warned. The thrill, treading a forbidden path gives!
So, with my eyes on the street ahead, the rustic charm of Calcutta behind, and three friends by my side, I marched ahead. And there we were, finally! It was marked by a few women standing on each edge of the street, confusingly staring at us. Blue rickety houses welcomed us with their windows giving us a sight of some women sitting on a bed. A few steps ahead, some more such women and then plenty of them, flirtatiously smiling, posing, fiddling with their hair. Some wearing traditional Indian saris, some short dresses…all decked-up with a coquettish air around them.
The youngest I saw must have been 12. Sporting sindoor (a red or orange-colored powder worn by some married Indian women along the parting of their hair) and their lips painted bright pink, they stood among the more 'professed' of the women, half-nervous, coyly smiling at the passerby. For your information, prostitution is illegal in India, though I hope you didn't miss the mention of those cops stationed outside the street! That is why, a lot of female sex workers wear this powder, just in case they get caught.
My olfactory senses had surrendered to a well-lit betel nut shop across the street. The drunkards hovering around kept the environment lively. It perfectly reminded me of a few Bollywood movies I had seen.
Busy watching the extravagant display of feminine charms, I suddenly felt a disturbance. We were stopped by a man. "Sir, what are you looking for," he asked slyly. "Oh, a pimp! Not bad," I thought. We ignored, he insisted. "Sir, why don't you tell me what you are looking for," he kept repeating. It did take us a little bit of an effort to ward him off before we could move on to reach the end of the street, the dreaded zone, as the cops would call it.
As we reached there, these things became only more pronounced. Looking around, we were able to locate the temple that was supposed to act as the threshold of the "core area." Around 10-15 middle-aged women, two cops sitting idly, and a drunkard getting beaten up, ostensibly, for making ruckus- that's how the area around the temple looked like.
As we stood there watching the drama, a few women from the group came forward and asked us where we had come from. We said a thing or two and let them take over. "Why have you come here? Huh? Don't you know it's such a bad place," asked a woman wearing a black kurta, her dark hair tied in a bun. She must have been around 40. Another woman in white joined her, "Yes, go out at once," she said chidingly. The woman in black kurta then interrupted, "My child, it's not a place for decent people. They won't be able to distinguish between you and us. Are you getting me?" She went on. Thinking of her last sentence leaves me startled even today. These were her words spoken in Hindi: "Beta, tum logo ki toh izzat hai. Tum hamare jaise nahin ho." (My child, you are not like us. You have some dignity)." I wanted to speak, speak something to her but seeing the other enraged women and cops join them, I thought it was better to remain silent and leave.
Luckily, we were followed by a little man. Turned out to be another "agent," a pimp, and a self-proclaimed drug peddler. In an hour-long conversation we had with him, he shared the dark details of the well-lit area. From flesh trade to rampant drug peddling, he discussed it all.
"Here you will find women as young as 12 and as old as 60. Some come to earn money, some to satisfy themselves," he said carefully avoiding mentioning forced prostitution. "And how much do they earn every day?" I asked. "Madam, it all depends on the body of the woman. The more desirable the body, the more price it attracts. Some of them even charge up to Rupees 4,000 (around $63)," he said.
"Haha! The dogs take free services and don't even pay us," he said promptly. "They raid the place every day. Do you see the vehicle that just came out of the street?" he said pointing at a police van. "They take us to the police station, extort money and set us free. Every day," he added.
"What about AIDS and other sexual diseases?"
"A lot of women here have these diseases but you see they don't tell anyone. But it shows on their faces… Besides, how can they afford the expensive treatment?" he added after a pause. "The number of cases just keeps on rising with the population. "Abhi ye hain, kal inke bache honge (Today they are in the business, tomorrow their kids will take over)," he said giving off a feeling of pessimistic perpetuity.
"Is there any woman here who has vowed not to bring her kids into this profession," I asked him. Had I not asked him, we would not have met the woman in red sari I spoke to you about in the beginning.
To recollect my thoughts, I saw a myriad of emotions there: laughter, freedom, pain sorrow, subjugation, greed, care, solidarity and finally, hope.
I saw women laughing around, chatting loudly. I saw women wearing mismatched clothes walking confidently. That woman wearing a red top with a low neckline walked so freely sporting an attitude that I rarely see in women around me. Do we often think of these women when we talk about breaking stereotypes?
I saw women who could unexpectedly step into a motherly figure for a stranger, forbidding her to visit 'wrong' places. And finally, I saw women possessing a resolute spirit underneath a gloomy face, working hard to give a bright future to her daughter.
If only I could talk to them for a little longer, if only I could say to the woman in black kurta: You deserve to be respected as much as I do or any other person on the earth does. Your profession cannot, just cannot, take away your dignity…
(A version of this article appeared on a Network 18's website.)
Related
Popular in the Community