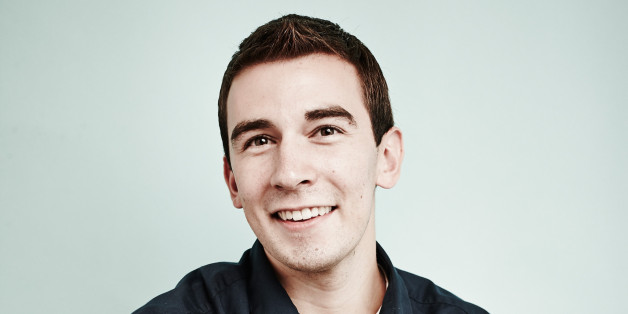 Alec Melger never felt bad about himself for being a virgin. As a 21-year-old student in Arizona, he wasn't bullied by others or embarrassed about never having had sex. Telling his friends and family he was gay was much more difficult.
Like many gay men, Melger made the decision to talk to his loved ones about his sexuality. Unlike most, he did it all on national television while filming MTV's first season of "Virgin Territory," a docu-series about virgins. In a moving scene (see the clip below), he sat his parents and brother down and said, "When I have sex for the first time you want me to love the girl and be faithful to her and be safe. I agree with all that, but I wanted to clarify one thing. It's not going to be with a girl. It's going to be with a man. I'm gay."
"As soon as I came out to my parents, I felt this immediate relief," Melger said, over a year after filming "Virgin Territory." "Twenty years of angst just came off my shoulders and they were so accepting of me." In the next episode, he invited his closest friends to his parents' house and presented them with a cake. It read: "Hey, I'm gay."
Melger was just one of 13 cast members on the show, which allowed each person to share their own experience with viewers
"I decided to be on ['Virgin Territory'] because I feel like people look at virgins as weird species or aliens," said Mikaela Sims, a self-described "normal" girl from Portland, Oregon. In a popular promo for the show, Sims was shown saying, "I'm actively trying to lose my virginity." But as she clarified to HuffPost Entertainment, the 20-year-old is not only seeking sex. "I'm actively looking for a guy that I would like to maybe further have a relationship with, that I could possibly lose my virginity to," she said. "I'm actively looking for someone to make a connection with."
Another cast member, Dominique Sullivan, wants to wait to have sex until marriage. "I want to share it with someone who has my heart and I wanted to be able to tell young girls to hold out, not to be pressured to have sex," she told HuffPost. But Sullivan, like Melger, was tackling larger issues while on the show, including what appeared to be a strained relationship with her mother.
"We're able to open up kids' story lines beyond one episode," Colin Nash, Senior Vice President of Series Development at MTV, told HuffPost. "Which allows us to dive into different facets of their relationships and their lives, like with Dominique and her mom. There are some issues that go into her dating life and things that happen with her mom that might affect her relationships with men."
MTV followed people like David, who got his first kiss ever on camera, Lisa, who was getting ready to have sex for the first time on her wedding night, and Shelby, who had surgical breast augmentation while filming. "Starting off the topic with something that's so forthright and forthcoming allows kids to feel very open," Nash said." The only thing the cast had in common was their virginity.
Asked if he had any regrets about being a part of the show, Melger said no. "The only thing I wish is that the cameras were there longer," he said. "When I first came out I still had so many prejudices against gay people built up in myself because I'd been in the closet for so long. Its hard to change your entire way of thinking after you've been in the closet for 20 years. I built up in my head that there's a right way to be gay and a wrong way to be gay, and there's no right way or wrong way to be any sexual orientation. It's just who you are."
"Virgin Territory" airs Thursday at 11 p.m. ET on MTV.
Calling all HuffPost superfans!
Sign up for membership to become a founding member and help shape HuffPost's next chapter
BEFORE YOU GO
PHOTO GALLERY
Virgin Territory