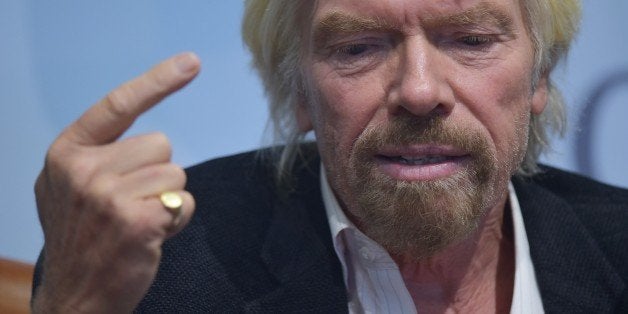 Virgin Group CEO Richard Branson explained in a blog post on Tuesday why he gives salaried workers at his company unlimited vacation days. But the policy may actually do more harm than good for some employees.
"It is left to the employee to decide if and when he or she feels like taking a few hours, a day, a week or a month off, the assumption being that they are only going to do it when they feel a hundred percent comfortable ... that their absence will not in any way damage the business -- or, for that matter, their careers!" Branson wrote in an excerpt from his new book, The Virgin Way, published on Virgin's blog.
In theory, Virgin's rule, which currently applies U.S. and U.K. employees, should increase productivity and attract talent. Let workers take the time they need for their personal lives, so the thinking goes, and they will devote their work time wholly to their jobs.
But there are downsides. Lotte Bailyn, a professor emeritus at the MIT Sloan School of Management, told The Huffington Post the lack of structure may make workers less comfortable with taking vacations.
"This sounds not well thought-out," Bailyn said in an interview. "People take less time off because they feel they're not sure if this is really a commitment to them or that this is more a PR thing."
She said employees will look to senior staff to set the standards for how much time off is appropriate.
"Typically, without any guidelines or structures, people don't quite know what to make of this," Bailyn said. "They tend to fall back on expectations they have formed in previous terms."
Spokespeople for Branson did not immediately respond to requests for comment.
Americans are infamously averse to vacations as it is. About 40 percent of U.S. workers don't plan to use all their paid vacation time this year, according to a recent survey by the U.S. Travel Association and GfK, a market research firm. In a Daily Telegraph article that Branson cited in his blog post, Daniel H. Pink described the British perspective on vacations, which applies just as well to Americans: "[W]e view them as minor betrayals -- of our obligations to customers and clients, of our responsibilities to the colleagues left behind, even of the values we hold most dear."
In October 2009, two Harvard Business School researchers studied the results of forcing employees at the international management advisory firm Boston Consulting Group to take mandatory time off. Employees initially resisted. (That month, unemployment from the Great Recession peaked at about 10 percent.) But workers eventually embraced the required vacation days, and the policy preserved "a strong, engaged pool of talent," the researchers wrote in the Harvard Business Review.
Bruce Elliott, the manager of compensation and benefits at the Society for Human Resource Management, told HuffPost that the unlimited vacation policy can be positive at companies where the work is project-oriented.
"They can say, 'I just finished up a project, now is the perfect time to take a week off before the next one starts.'" Elliott said. But in an office where the work is generally ongoing and day-to-day schedules don't change as much, it can be harder to get employees to decide on their own how much vacation they deserve.
The policy's effectiveness at Virgin will depend on the corporate culture, he said. "If Virgin has a culture with regard to transparency about its expectations, it could work," Elliott said. "Absent that, who can say?"
Related