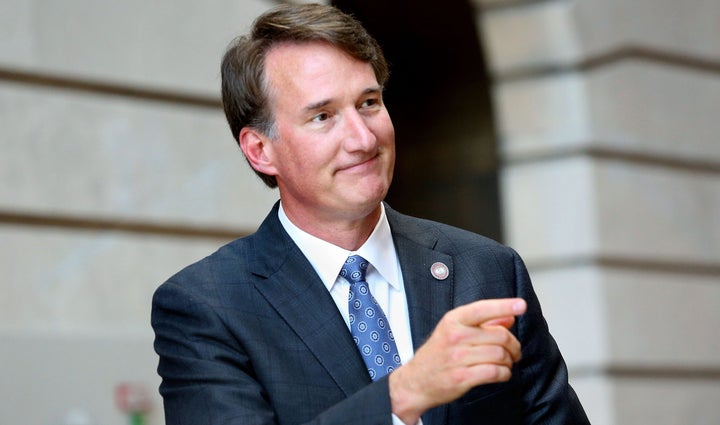 Virginia Gov. Glenn Youngkin (R) just got one step closer to making his promised 15-week abortion ban a reality.
State Rep. Kathy Byron (R) introduced a 15-week abortion restriction bill on Wednesday, the first day of the 2023 state legislative session. House Bill 2278 carries criminal penalties for physicians who provide an abortion of up to 10 years in prison and/or $100,000 in fines. It includes narrow exceptions for rape, incest and the life of the pregnant person.
"Delegate Kathy Byron made good on Governor Glenn Youngkin's promise to try to ban abortion in Virginia by introducing this proposed legislation, which would hurt Virginians and put politicians where they don't belong: in control of people's private medical decisions," Jamie Lockhart, executive director of Planned Parenthood Advocates of Virginia, said in a statement.
Youngkin, a possible 2024 presidential hopeful, introduced the idea of a 15-week abortion ban in December when he allocated $50,000 toward establishing such a ban in his state budget proposal.
"I'm proud to be a pro-life governor and plan to take every action I can to protect life," Youngkin said in a statement after the Supreme Court overturned Roe v. Wade last year.
Youngkin has since said that he will "happily and gleefully" sign any anti-choice bill that passes the legislature.
"Governor Youngkin is keeping his promise, and in the Dobbs era the voice of the people must continue to be heard in the Assembly," Marjorie Dannenfelser, president of the anti-abortion group Susan B. Anthony Pro-Life America, said in a statement, referencing the Supreme Court ruling that overturned federal abortion rights. "We are ready to fight to protect babies from the pain of abortion and lawmakers will have to tell the voters where they stand."
The good news for abortion rights advocates is that Democrats won a critical state Senate seat in Tuesday's special election ― effectively killing any chance for the 15-week ban or any other abortion restriction to successfully get to Youngkin's desk during this session. Democrat Aaron Rouse beat out Republican Kevin Adams, who stated he would support a 15-week ban. It was a tight race: Rouse's margin stood at 348 votes as of Wednesday afternoon. Adams has conceded.
Rouse's win solidifies a 21-18 Democratic majority in the state Senate, although one of those Democrats is openly anti-abortion.
Despite the 15-week abortion ban's inevitable demise, Youngkin and a handful of loyal Republicans in the state legislature are pressing forward with the restriction. Lockhart, from Planned Parenthood Advocates of Virginia, told HuffPost the push is likely to appeal to a national audience ahead of Youngkin's potential run for president in 2024.
"A lot of this is him trying to appeal to national anti-abortion extremists in his party," she said.
Since the Supreme Court repealed Roe v. Wade last summer, nearly a dozen states have enacted near-total abortion bans. Although a 15-week ban is more moderate than a total ban, it would still have a big impact on Virginians and patients from neighboring states seeking care.
Just over 95% of abortions in Virginia take place before the 15-week point. But often the people who seek out abortions after 15 weeks are the most marginalized: They're under 18, low-income and/or live in rural areas with barriers to care. Additionally, genetic testing for fatal fetal abnormalities often does not take place until 18 or 20 weeks. A 15-week abortion ban would force people with wanted pregnancies who discover a fetal abnormality to seek necessary medical care outside of Virginia.
Virginia currently allows abortion through the second trimester of pregnancy and into the third if the mother's life is at risk. In addition, it's one of a handful of states that allows abortion through the 28th week of pregnancy, making it a safe haven for abortions later in pregnancy.
"Let's be clear: a ban is a ban, plain and simple," Lockhart said. "Like all bans, Delegate Byron's proposed bill would deny Virginians the fundamental right to control their own bodies, lives, and future. Public opinion – and last night's special election results in Virginia's seventh senate district – is clear: Virginians support safe and legal abortion."
Popular in the Community