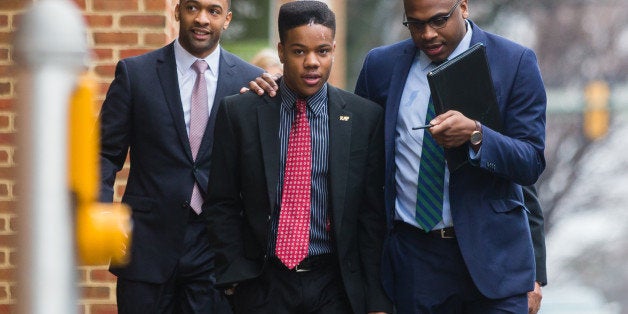 Commonwealth's Attorney Dave Chapman declared at a press conference that no Virginia Department of Alcoholic Beverage Control officers committed a crime during the arrest of Martese Johnson, who turned 21 Wednesday. Chapman said Johnson's detention was justified because a bar owner had checked Johnson's ID and turned him away, according to The Associated Press.
ABC agents arrested Johnson on March 18 outside a bar, forcing him to the pavement and leaving the student bloodied and needing stitches. The rough treatment of Johnson prompted outrage from UVA students and administrators alike.
Johnson's attorney, Daniel Watkins, said Wednesday the prosecutor's investigation showed Johnson "was not in fact committing a criminal offense" at the time the ABC officers approached him.
Authorities suspected Johnson had a fake ID, though he didn't. He was charged with obstructing justice and public intoxication. The charges were dropped last week.
"Our position is and always has been that police lacked justification to seize Mr. Johnson," Watkins said in a statement.
Three ABC agents wrote reports on the clash the night of Johnson's arrest. But all three declined to cooperate with the commonwealth's attorney's investigation, Watkins said. The agents are on restricted administrative duty, according to the Richmond Times-Dispatch, while the ABC reviews the case.
The ABC did not return request for comment Wednesday.
Calling all HuffPost superfans!
Sign up for membership to become a founding member and help shape HuffPost's next chapter