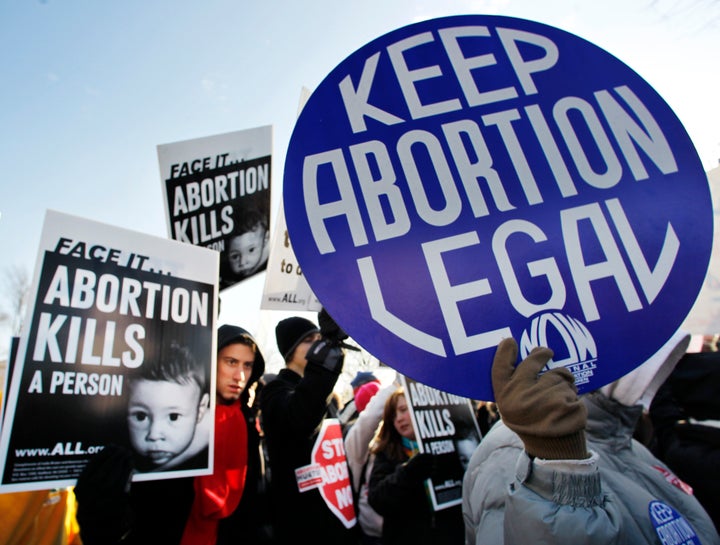 There are 22 facilities that provide first-trimester abortions in Virginia, and all of them may have to close their doors over the next two years if they can't meet the state government's rigorous new health clinic regulations.
Virginia lawmakers passed legislation in the spring that required the Department of Health to release a set of "emergency" draft regulations for abortion clinics that were to go into effect by December 31.
The rules, released late on Friday, borrow a number of very specific physical plant requirements from a rulebook intended for the construction of new hospitals. For instance, a clinic must have 5-foot-wide hallways, 8-foot-wide areas outside of procedure rooms, specific numbers of toilets and types of sinks and all the latest requirements for air circulation flow and electrical wiring.
"On the first read, it seems hard to imagine that many facilities will be able to comply," Jordan Goldberg, state advocacy counsel for the Center for Reproductive Rights, told HuffPost. "We can fairly say that the regulations as drafted are the most severe, onerous and restrictive that have been proposed anywhere. They're intended to apply to facilities that don't yet exist."
If the Board of Health passes the new standards on September 15, abortion clinics have until January to show the state a plan for the extensive and expensive renovations they'll have to undergo in order to meet the new requirements.
The Virginia League of Planned Parenthood said none of its five clinics are currently in compliance with the draft regulations. The renovations required to meet the new rules would cost millions of dollars, and abortion clinics would have to foot the cost themselves and try to recoup the money in patient fees down the road.
"We recently spent $4.6 million on renovations for the building I'm in, and we still don't meet these requirements," said Paulette McElwain, president and CEO of VLPP. "I think it's highly likely that most facilities in Virginia that provide abortions wont be able to meet them either."
Anti-abortion advocates hailed the regulations as a victory for women's safety, because they will treat abortion clinics like hospitals instead of doctor's offices.
"If these regulations threaten Virginia's abortion centers, one has to wonder just how bad things have been," the Family Foundation of Virginia said on its website.
Lawmakers in Kansas passed similar regulations earlier this year that would have shut down two out of three of the state's abortion clinics if a judge had not immediately blocked the restrictions with a preliminary injunction. The Virginia Coalition for Women's Health said it will consider similar legal action against the new regulations in Virginia, which it argues are a purely political attempt to restrict women's access to abortion.
"I think it's been very clear that Virginia's government and administration are anti-choice, and they have urged the adoption of politicized regulations that are not about patient safety," Goldberg said.
Maribeth Brewster, a spokesperson for the Virginia Department of Health said it wrote the new guidelines without considering the current state of abortion facilities in Virginia.
"As the Department of Health has not previously licensed these types of facilities, we have no knowledge or information about their physical plans," Brewster told HuffPost. "We looked at the four things we were given that needed to be addressed."
The Board of Health is scheduled vote on the regulations after a short period of public comment on September 15.
Popular in the Community