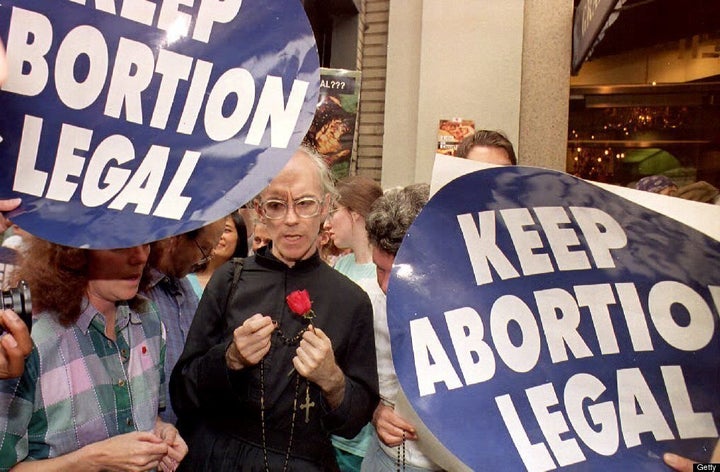 The Virginia Department of Health will release proposed clinic regulations on Friday that target abortion providers and could potentially shut many of them down.
The new temporary regulations, which will be formally voted on Sept. 15 by the state Board of Health and should go into effect by Dec. 31, will classify clinics that provide five or more abortions per month as hospitals. While state officials have not released any details about what standards the reclassified clinics will have to meet, policy experts in Virginia say the new rules are likely modeled on regulations in place in South Carolina, which mandate everything from the specific temperature of the clinic's rooms to the kinds of faucets that must be installed.
In Kansas, a similar law passed earlier this year would have effectively shut down two of the state's three abortion clinics. They were given only two weeks to comply with the strict facility requirements, until a U.S. district judge issued a temporary injunction blocking the state from imposing the rules. Under the Kansas regulations, a clinic has to keep the temperature between 68 and 73 degrees, require lockers for patients, and maintain a janitor's closet of at least 50 square feet and an operating room of 150 square feet.
Pro-choice advocates call these laws "TRAP," for targeted regulations against abortion providers. "When states begin to overreach and regulate abortion facilities in a way that's inappropriate, like in Kansas, whose regulations ranged from the impossible to, frankly, the absurd, it's abundantly clear that the goal is to shut down the abortion clinics in the state," said Jordan Goldberg, state advocacy counsel for the Center for Reproductive Rights.
But supporters of the restrictions say their only aim is to protect women. "I don't believe semi-clean to be OK. I don't believe it to be OK for poor women. I don't believe it to be OK for rich women," said Kansas State Sen. Garrett Love (R), who supported the measure, during the legislative debate in June.
The Virginia Coalition to Protect Women's Health, a group of pro-choice advocates, said in a teleconference on Thursday that it will challenge the new Virginia regulations in court if they are as overtly inappropriate as the Kansas rules.
One problem, the Virginia group said, is that these temporary requirements are going to be in place for only a year until the Health Department drafts permanent regulations, meaning that clinics will have to meet physical plant and staffing requirements that could be changed a year later. The coalition said its main hope for the new regulations is that they will be flexible enough to allow the majority of Virginia's abortion clinics to remain open.
"After we've been singled out like this, there is no best case scenario for us," said Tarina Keene, executive director of NARAL Pro-Choice Virginia. "All we can hope is that the majority of these facilities can continue to offer first-trimester abortion care services and that women will have access no matter where they live in the state."

Calling all HuffPost superfans!
Sign up for membership to become a founding member and help shape HuffPost's next chapter