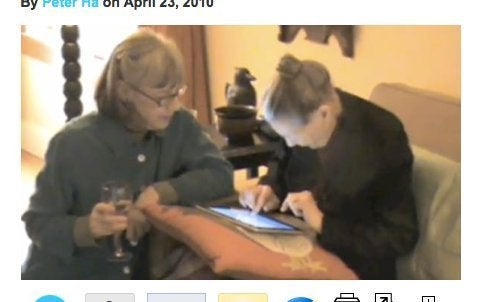 Virginia Campbell is not your typical iPad "early adopter."
The 99-year-old woman, an avid reader with an English degree from Reed College, lives in a nursing home in Lake Oswego, OR and suffers from glaucoma.
Although she's never in her life owned a computer, Campbell was eager as any Apple fanboy to get her hands on an iPad.
"Her daughter Corinna Campbell-Sack and son-in-law, Bob Sack, went and stood in line the first day they came out," the Oregonian writes. "Campbell has been writing and reading on it ever since."
The iPad has "changed her life," says Campbell's daughter of her mother, who has been using the iPad to read books and write poetry. (See her limerick about the iPad here)
"She's so into it," Adelsheim tells the
. "She shows it to everybody. People come to her apartment and she entertains the masses by showing them how to use the iPad."
WATCH:
Popular in the Community