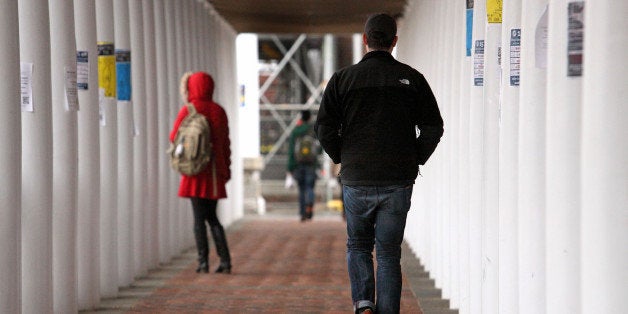 A Virginia task force unveiled a set of recommendations Thursday aimed at removing barriers for college students reporting sexual assault, improving how those cases are handled, and pushing universities in the state to develop better prevention efforts.
On the same day Virginia Gov. Terry McAuliffe (D) received the report from Attorney General Mark Herring (D), the governor also signed two pieces of campus sexual assault legislation into law.
The task force report recommends the creation of a state-based grant program to fund research and evaluation for sexual and gender-based violence prevention; the incorporation of "healthy relationship programming" in K-12 schools; the addition of climate surveys conducted by universities; and a requirement for colleges to have agreements with local law enforcement on how they will respond to situations as well as "improve and increase reporting options using emerging technologies," such as online systems.
"College students are used to doing everything online," Herring said in an interview with The Huffington Post. "It's really important we meet students where they are and communicate with them in the way that they're used to communicating."
For cases that stay within the boundaries of the campus judicial system, the process should be "fair and equitable" for both parties, provide adequate support for the accused and include "sanctions proportionate to the severity of the offense."
The report urges the state Department of Criminal Justice Services to train employees on trauma-informed sexual assault investigations, or investigations that acknowledge the unique circumstances found in rape cases as well as neurobiology related to trauma experienced by victims. It also directs the state to improve its collection and storage of evidence kits and to promote a Start by Believing public awareness campaign about how to respond to reports of sexual assault.
McAuliffe ordered the creation of the task force in August. During the state's recent legislative session, Virginia lawmakers worked on a flurry of bills targeting campus rape, and McAuliffe signed two.
One requires campus police to notify local prosecutors within 48 hours of beginning any investigation involving felony criminal sexual assault. This legislation aims to avoid the typical objections from rape victim advocates in bills that mandate schools to report assaults to police since the Virginia bill applies only to incidents that have already been reported.
Another bill requires college employees to report sexual assaults they're notified of to the Title IX coordinator. The Title IX coordinator then has to share the information with a review committee -- consisting of themselves, a representative of law enforcement and a student affairs representative -- and the group decides whether it's necessary to start a police inquiry. This legislation also requires colleges to have a written agreement with a local sexual assault crisis center or other place that provides victim support services about how to respond to situations.
"There were points in our work effort that there was real adversity," Herring said. "In the early part, in the fall, a student had been missing and later found dead. And then a couple months after that the Rolling Stone article hit, and following that the retraction -- we knew a lot of the national spotlight was on us."
There is already plenty of buy-in for changes at the schools, Herring said, including support from the president of each higher education institution in the state and plenty of vocal support from student leaders.
"I really get the sense that this generation of students really wants to change the climate," Herring said.
Read the full task force report below:
Popular in the Community