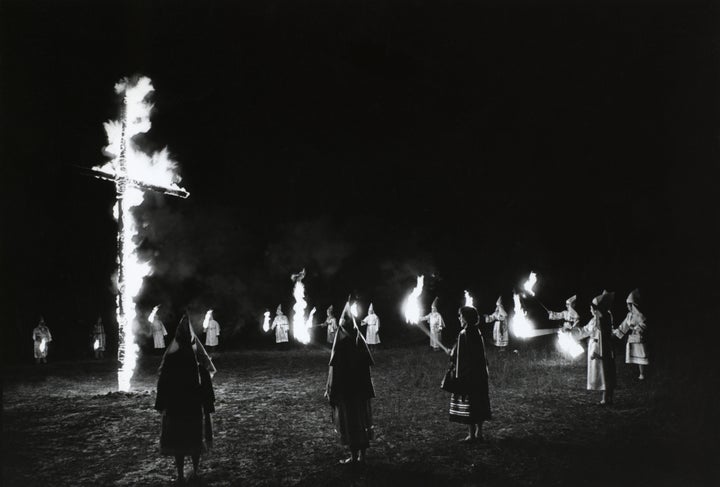 A Catholic priest in Virginia is taking a voluntary leave from public ministry after opening up about his past as a member of the Ku Klux Klan in an editorial Monday.
"My actions were despicable," wrote Father William Aitcheson, a priest with the Diocese of Arlington. "When I think back on burning crosses, a threatening letter, and so on, I feel as though I am speaking of somebody else. It's hard to believe that was me."
Aitcheson said he was moved to share his story after images from the white supremacist rallies in Charlottesville, Va. "brought back memories of a bleak period" in his life.
A release from the Arlington diocese later clarified that Aitcheson came forward with his story after a freelancer reporter contacted the diocese saying the priest's name matched that of a man arrested in the 1970s.
"Fr. Aitcheson was approached about this, he acknowledged his past and saw the opportunity to tell his story in the hopes that others would see the possibility of conversion and repentance, especially given the context of what occurred in Charlottesville," the statement read.
As a 23-year-old University of Maryland student in 1977, Aitcheson was charged with six cross-burnings, one count of making bomb threats and two counts of manufacturing pipe bombs, according to an article published in The Washington Post that year. At the time he identified as an "exalted cyclops," or leader, of the local Robert E. Lee Lodge of the Maryland Knights of the KKK.
"While 40 years have passed, I must say this: I'm sorry. To anyone who has been subjected to racism or bigotry, I am sorry. I have no excuse, but I hope you will forgive me," he wrote on Monday.
Aitcheson was reportedly sentenced to time in prison for mailing threatening letters to Coretta Scott King, Dr. Martin Luther King Jr.'s widow, as well as for several cross burnings, reports CBS News. In one incident, Aitcheson placed a burning cross outside the Maryland home of Barbara and Phillip Butler. He was ordered to pay the family $23,000 in damages ― a fee he still owes the Butlers.
"We are coordinating with Father Aitcheson in his efforts to seek reconciliation and make restitution," a release from the Diocese of Arlington stated.
Aitcheson, who was ordained a priest in 1988, denounced the white supremacy in his editorial, calling it a "false belief" that flies in the face of Christ's teaching. 
"He teaches us that we are all his creations and wonderfully made — no matter our skin color or ethnicity," the priest wrote. "Realizing this truth is incredibly liberating."
He also addressed white supremacists directly, saying: "You will find no fulfillment in this ideology. Your hate will never be satisfied and your anger will never subside. I encourage you to find peace and mercy in the only place where it is authentic and unending: Jesus Christ."
"I pray that in our current political and social climate his message will reach those who support hate and division, and inspire them to a conversion of heart," Burbidge said.
The statement noted that no accusations of racism or bigotry have been made against Aitcheson since he joined the Diocese of Arlington in 1993. The diocese also acknowledged that the priest's voluntary request to take a temporary leave from public ministry "for the well-being of the Church and parish community" was approved. 
Aitcheson wrote: "Our actions have consequences and while I firmly believe God forgave me — as he forgives anyone who repents and asks for forgiveness — forgetting what I did would be a mistake."
This article has been updated with additional information about Aitcheson's past.
REAL LIFE. REAL NEWS. REAL VOICES.
Help us tell more of the stories that matter from voices that too often remain unheard.
BEFORE YOU GO
PHOTO GALLERY
New Orleans March Against White Supremacy