Virginia became the first state since President Donald Trump abandoned rules to reduce power plant emissions to begin drafting rules to replace the federal mandate.
At a press conference on Tuesday morning, Gov. Terry McAuliffe (D) ordered state air regulators to propose rules by the end of the year to scale back carbon dioxide emissions from the utility sector and increase renewable energy investments throughout the state.
"This should be done on the federal level," McAuliffe told HuffPost by phone ahead of the announcement. "But obviously with the pronouncements now coming out of the Trump administration, we cannot rely on them to do it, so we will be taking it into our own hands on the state level."
The move lays the groundwork for a cap-and-trade system, which would set a fixed limit on the state's carbon dioxide emissions and allow companies to buy and sell the rights to pollute. Once in place, Virginia will be allowed to participate in the carbon permit trading programs such as the Regional Greenhouse Gas Initiative, which includes Connecticut, Delaware, Maine, Maryland, Massachusetts, New Hampshire, New York, Rhode Island and Vermont.
The executive directive announced Tuesday comes 11 months after the governor signed an executive order instructing the state Department of Environmental Quality to assemble policies to reduce carbon pollution, which traps heat in the atmosphere and inflames respiratory illnesses such as asthma. After soliciting opinions from more than 8,000 stakeholders, state officials recommended limiting emission from the utility sector.
Now, the State Air Pollution Control Board has until Dec. 31 to propose regulations aimed at taking the place of the Clean Power Plan, the sweeping Obama-era rule that restricted emissions from the utility sector nationwide. The regulation had yet to be implemented after being stayed last year by the Supreme Court. In March, Trump signed an executive order instructing Environmental Protection Agency chief Scott Pruitt ― an unabashed fossil fuel ally who had sued to block the Clean Power Plan in his previous job as Oklahoma's attorney general ― to rewrite the rule.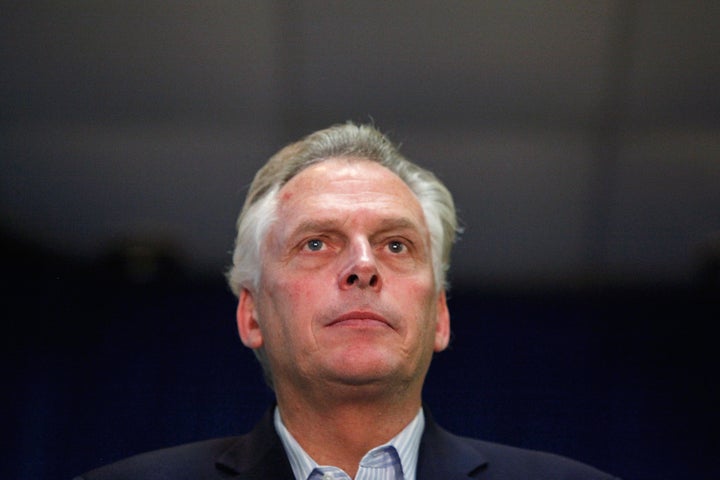 "It's clear now that the EPA has Administrator Pruitt, we'll have to take our action ourselves," McAuliffe said.
By doing so, Virginia joins the ranks of states now challenging what the Guardian described as the Trump administration's "blitzkrieg" against climate regulations and zero-emissions energy initiatives. California, Massachusetts and New York already have plans in place to virtually end the use of fossil fuels within the next few decades. Maryland last week announced plans to start vetting proposals to build offshore wind farms along the state's coastline.
Despite the partisan divide in Congress, the vast majority of Americans said they disagreed with Trump's hard-line climate stances, according to a March HuffPost/YouGov poll.
"If we're going to continue making progress it's going to happen because of leadership at the city and state level," Bruce Nilles, senior director of the Sierra Club's Beyond Coal campaign, told HuffPost by phone from San Francisco. "I'm looking forward to seeing the specifics of what gets proposed in Virginia."
Implementation of any proposed regulation will rest in the hands of whoever wins the Virginia governor's mansion in November. McAuliffe's term limit is up, and none of the three declared Republicans seeking to replace him are likely to support carbon regulations under a Republican White House bent on reviving coal production and increasing the use of fossil fuels.
Last week, Virginia Attorney General Mark Herring issued a memo confirming that the governor has the authority to regulate carbon emissions through a statewide cap or "through other means."
Still, Republicans are likely to sue to block any such regulation. So far, that's been a winning strategy. Pruitt sued to block environmental regulations at least 13 times as Oklahoma's top cop. Now he leads the agency he previously nettled with lawsuits.
The two Democrats competing in the June 13 primary told HuffPost they would enforce any carbon regulations that McAuliffe proposed.
Ralph Northam, McAuliffe's lieutenant governor, said his 25-year stint as a pediatric neurologist convinced him that children in the Commonwealth suffer from abnormally high levels of asthma and other air-quality related ailments. The well-funded Democrat, long considered the frontrunner for the nomination, vowed to enforce the utility regulation.
"This is a great step, a big step, in the direction we need to go in," Northam told HuffPost by phone on Tuesday morning. "This shouldn't be a partisan issue, it's something that's one, in the best interest of the health of Virginia; two, in the best interest of our environment; and three, in the best interest of the economy."
His primary opponent, Tom Perriello, a former U.S. congressman and progressive backed by Sen. Bernie Sanders (I-Vt.), said he too would support the regulation, but focused on the role it could play in creating more clean energy jobs throughout the state. Virginia ranked 20th in the solar industry, with 3,236 jobs last year, according to the Solar Energy Industries Association. That's roughly double the size of the state's coal mining industry.
Perriello boasted being the only candidate from either party who has rejected donations from utility firms in a state where power companies are kingmakers. In February, state lawmakers voted down a bill to prohibit Dominion Energy, the state's largest utility, from donating to public officials.
"They're the biggest donors to both political parties in Virginia," Perriello told HuffPost by phone on Tuesday. "That isn't just upsetting to a lot of Democrats, but to a lot of independents and conservatives, too. They're looking for a leader to challenge that status quo. Given my refusal to take donations and my background fighting for clean energy, they're going to have a champion in me if I win."
"I can guarantee the Republican nominee will not support what I'm doing here today."
To be sure, investor-owned utility companies across the Southeast and Mid-Atlantic are ramping up efforts to slash greenhouse gases and invest in renewables amid pressure from ratepayers and shareholders. North Carolina-based Duke Energy Corp. told shareholders earlier this month that the utility giant will invest $11 billion into zero-emissions energy and natural gas over the next 10 years. Dominion recently outlined a plan to cut each residential customer's carbon footprint by as much as 25 percent over the next eight years, according to an S&P Global Market Intelligence report. McAuliffe said the company was "clear what my intentions were from day one," adding that he "spent a lot of time meeting with them" to discuss the regulatory plans.
Dominion said it has made "tremendous progress" reducing its carbon footprint and remains committed to bringing "a lot more renewable energy onto the grid."
"Dominion has been preparing for carbon regulation for some time now and appreciates being a part of the stake-holder engagement process," David Botkins, a spokesman, told HuffPost by email. "It still looks like the regulatory uncertainty around carbon continues."
Big business is likely to support the regulation. Executives from Virginia-based candy and pet food conglomerate Mars Inc. and Coronal Energy, a solar firm that electronics giant Panasonic owns, flanked McAuliffe at Tuesday's press conference. And tech giants like Amazon and Google seek out states with strong zero-emissions energy infrastructure to locate their electricity-thirsty data centers.
No Republican candidates responded to requests for comment. The field includes former Republican National Committee chairman and frontrunner Ed Gillespie, state senator Frank Wagner and Prince William County board supervisor Corey Stewart, whose racism-singed campaign looks increasingly like a "lost cause."
"I can guarantee the Republican nominee will not support what I'm doing here today," McAuliffe said. "I didn't do this for political reasons, I did it with this timing because i thought the Clean Power Plan would be in place by now."
"This will be a major reason why people need to come out and vote," he added. "If you believe in carbon reduction, if you believe in the environment, if you believe in job creation, you need to vote."
This article has been updated with comment from Dominion.
Before You Go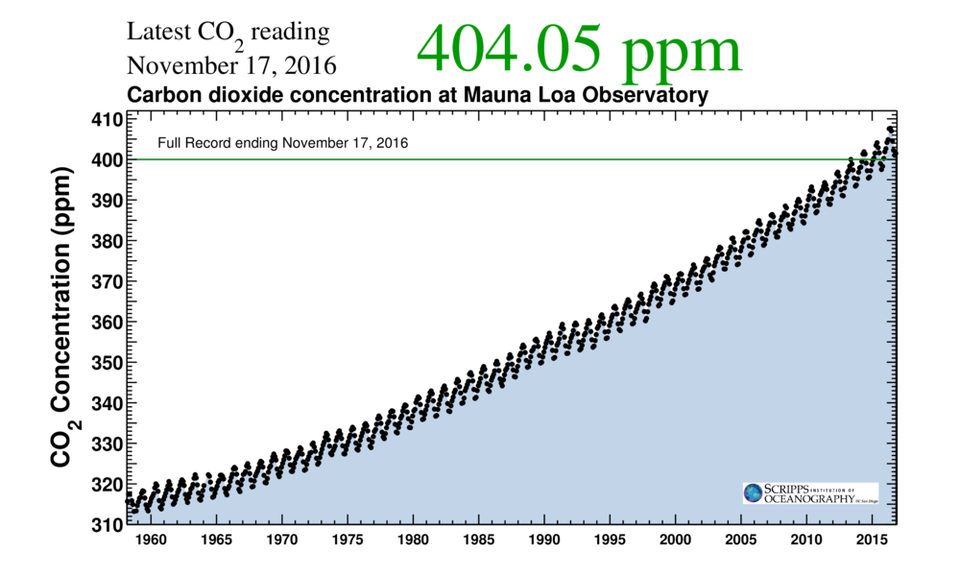 Climate Visuals For The Climate Change Denier In Your Life
Popular in the Community