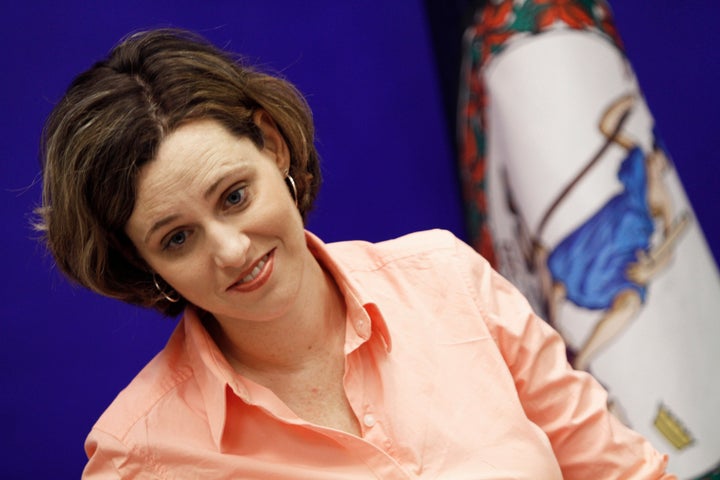 A prominent anti-abortion lobbyist in Virginia who has been pushing the administration to adopt strict regulations for abortion clinics over the past ten years is married to a top state health official, raising questions in the medical community over what kind of influence she had in the new draft of clinic regulations the state released on Friday.
Victoria Cobb, president of the right-wing Family Foundation of Virginia, has been lobbying state lawmakers for the past decade to pass legislation that would force the Department of Health to release abortion clinic regulations like those adopted by South Carolina in 1996 that reduced the number of clinics in the state from 14 to 3. A number of Republican- and Democratic-controlled assemblies in Virginia have been unable to push this type of legislation through, but this year, anti-abortion Gov. Bob McDonnell (R) signed SB924 into law, which requires all clinics in the state that perform first-trimester abortions to be regulated as hospitals.
The Virginia Department of Health released the new draft regulations on Friday, which are surprisingly much further-reaching than the clinic regulations in Kansas and South Carolina that effectively shut down the majority of abortion clinics in those states. The regulations heavily borrow from a book of facilities guidelines that were intended to inform the construction of new hospitals -- not doctors' clinics that already exist -- and list physical plant requirements that are so specific that an existing abortion clinic would have to undergo extensive, costly renovations to comply.
"The regulations are just utterly ridiculous," Tarina Keene, executive director for NARAL Pro-Choice Virginia, told HuffPost. "They have nothing to do with patient health and safety -- they are about restricting women's access to health services. We're shocked that we're having to deal with regulations that are worse than what Kansas is dealing with, and they're in the middle of litigation."
Keene and other members of the Virginia Coalition to Protect Women's Health are questioning whether the surprisingly severe restrictions, which were drafted by the Virginia Department of Health and presided over by the state's Secretary of Health and Human Services, were fueled by a conflict of interest in the administration. Matt Cobb, Victoria Cobb's husband, was appointed Deputy Secretary of Health and Human Resources in 2010, and Keene says he sat in on many of the meetings with her and her colleagues in which the new regulations were being discussed.
"People who have been dealing with these issues find it odd that he's in those meetings about the regulations," Keene told HuffPost. "I find it really intriguing to think that the premiere anti-abortion advocate is basically married to the person who's now in charge of implementing the clinic regulations, and he's involved every step of the way. I just find it almost impossible that [his wife] would not know what's going on."
A former top state health official, who spoke with HuffPost on the condition of anonymity, agreed, saying he would be "surprised if [Matt] Cobb was not reviewing" the regulations while they were being written. The official explained that the office of the Secretary of Health and Human Resources has some leeway in terms of how they can interpret what the legislation says.
"If you look at the legislation, it doesn't require the level of intensity that you're seeing in the regulations, so that's the discretion that the agency has in terms of how you draft those regulations," the source said.
The Department of Health did not respond to a call for comment. Chris Freund, a spokesperson for The Family Foundation, denies the Cobbs' marriage played any role in the administration's decision-making.
"I don't see what the issue is," he told HuffPost. "Unfortunately there's innuendo here that's unsubstantiated, and it borders on a personal attack. It's the desperate act of an industry that is finally being exposed and is losing the public debate on this issue."
The Board of Health is scheduled to vote on the new regulations on September 15 after a brief period of public comment, and Keene said the Coalition for Women's Health will then determine whether legal action is warranted.
REAL LIFE. REAL NEWS. REAL VOICES.
Help us tell more of the stories that matter from voices that too often remain unheard.