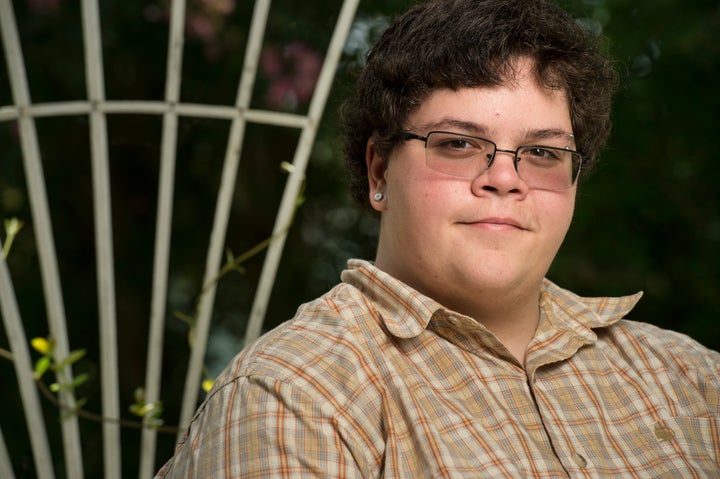 A Virginia federal court on Tuesday denied a motion to dismiss the case of transgender teen Gavin Grimm, whose fight to use the school bathroom that aligned with his gender identity became a focal point in the trans rights movement.
The U.S. District Court for the Eastern District of Virginia denied the Gloucester County School Board's motion to dismiss Grimm's case and maintained that transgender students are protected under Title IX and the Constitution from exclusionary bathroom policies based on their gender identity.
"I feel an incredible sense of relief," Grimm, 19, said in a statement. "After fighting this policy since I was 15 years old, I finally have a court decision saying that what the Gloucester County School Board did to me was wrong and it was against the law. I was determined not to give up because I didn't want any other student to have to suffer the same experience that I had to go through."
Grimm's fight began in 2014 when, as a sophomore at Gloucester High School, he was prohibited from using the boys' bathroom and instructed to only use a unisex restroom.
The American Civil Liberties Union filed a civil rights lawsuit against the school district on behalf of Grimm, thrusting the formerly shy teen into the spotlight as the new face of trans activism. On Tuesday, the court affirmed the teen's fight by denying the school board's motion to dismiss the case. It also directed the parties to schedule a settlement conference within 30 days.
U.S. District Judge Arenda Wright Allen wrote that the board's policy fails to acknowledge there are individuals who possess both male and female characteristics. "As Mr. Grimm contends, attempting to draw lines based on physiological and anatomical characteristics proves unmanageable: how would the Board's policy apply to individuals who have had genital surgery, individuals whose genitals were injured in an accident, or those with intersex traits who have genital characteristics that are neither typically male nor female?"
Wright Allen is a former prosecutor and federal public defender who previously overturned Virginia's same-sex marriage ban and was nominated to the bench by former President Barack Obama.
Wright Allen wrote that there was "no doubt" that transgender individuals had historically been subjected to discrimination, noting the high rates of violence and discrimination against members of the transgender community. She said that the board's policy was a sex-based classification because it relied on sex-based stereotypes. "The Policy classified Mr. Grimm differently on the basis of his transgender status and, accordingly, subjected him to sex stereotyping."
HuffPost spoke with Grimm in the hours following the decision. At the time the court ruling was announced, Grimm was in bed with his cat. He received a text from someone on his legal team about the ruling.
Grimm said he had "no expectations" of a favorable ruling, only "hope."
"It's something we've all known for a very long time, that this is illegal and unacceptable, but to finally have the court make that in plain language is really fantastic," said Grimm.
Now that he's graduated from high school, the ruling no longer directly impacts Grimm's daily experience. But he does have a friend who still attends his alma mater who will be affected by the court decision.
"I'm really over the moon," said Grimm, who will be going out to dinner with friends Tuesday night to celebrate.
Joshua Block, an ACLU senior staff attorney, said the district court's ruling "vindicates" Grimm and other transgender students who have felt stigmatized by their schools' bathroom policies.
"These sorts of discriminatory policies do nothing to protect privacy and only serve to harm and humiliate transgender students," Block said in a statement.
This has been updated with comment from Grimm. Rebecca Klein contributed reporting.
CORRECTION: An earlier version of this article misstated Grimm's age as 18. He is 19 years old.
Popular in the Community