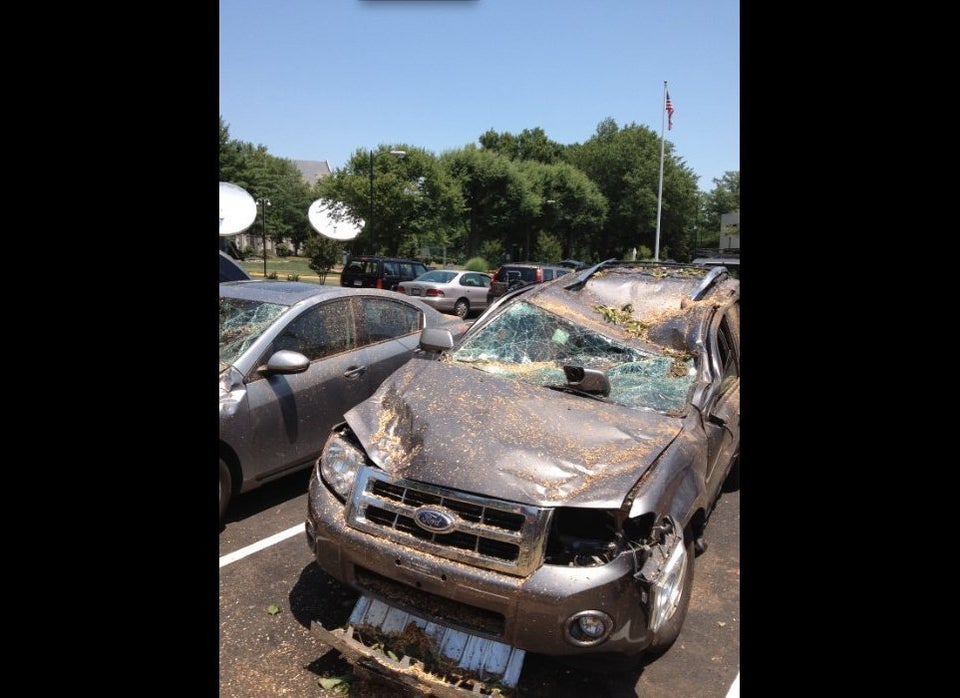 D.C. Derecho Storm
WASHINGTON -- A fast-moving, aggressive thunderstorm system known as a derecho barreled through the nation's capital Friday evening causing wind damage and extensive power outages throughout the District of Columbia, Maryland and Virginia.
The National Weather Service placed much of Virginia, the District of Columbia and portions of Maryland under a severe thunderstorm watch on Friday evening. As the storm pushed from Ohio and through West Virginia and into Maryland and Virginia, numerous severe thunderstorm warnings were issued for impacted counties.
The storm, which at times had hurricane-force winds, cleared the D.C. region by 11:30 p.m. as it headed east across Chesapeake Bay to Maryland's Eastern Shore.
According to the National Oceanographic and Atmospheric Administration, a derecho "is a widespread, long-lived wind storm that is associated with a band of rapidly moving showers or thunderstorms. Although a derecho can produce destruction similar to that of tornadoes, the damage typically is directed in one direction along a relatively straight swath."
WRC-TV reported during its 11 p.m. newscast that winds upwards of 70 mph were reported in different parts of the D.C. area. The television station reported that the storm knocked out power to more than 1 million customers across the region.
A Pepco representative told WRC-TV that in terms of power restoration, the storm may be "multi-day" event. High temperatures on Saturday are expected to rise to about 100 degrees.
Seventeen Metro stations experienced isolated power outages and third-rail electricity was knocked out on the Red Line between the Shady Grove and Grosvernor-Strathmore stations in Maryland's Montgomery County. The transit agency reported some trees down on parts of the Orange Line in Virginia's Fairfax County and the Blue Line in Maryland's Prince George's County. Bus service was experiencing major delays as well.
As D.C. area residents woke up Saturday morning, they found downed trees blocking roadways and sidewalks and plenty of debris blown around by the storm. Authorities urged people to stay off the roads to allow work crews to clear tree debris and restore power.
Customers of the Washington Suburban Sanitary Commission in Maryland's Montgomery and Prince George's County were urged to conserve water as pumps were offline and not able to refill reservoirs. The water from the system was safe to drink however. WTOP-FM reported that water consumers in Falls Church, Va., were asked to reduce water usage as well.
This is a developing story ...
Popular in the Community