WASHINGTON -- If there's one lesson that Rep. Virginia Foxx (R-N.C.) took away from last week's mass shootings in Colorado, it's that life is short. A GOP regulatory reform bill that has no chance of being law should therefore be moved forward soon as possible.
Democrats oppose the bill. And a moderate former Republican congressman, Sherwood Boehlert of New York, recently said "it would be difficult to exaggerate the sweep and destructiveness of the House bill," pointing out that its restrictions would prevent the government from helping out the housing market, consumers or the financial markets.
So when Democrats spotted a typo in the bill that said all regulations would be suspended until "employment" reaches 6 percent, rather than "unemployment," they were in no mood to cooperate with Republicans who wanted unanimous consent to quickly fix the typo and move on with the legislation.
But in attempting to fix their typo, Republicans made another. As the Hill notes, the House Rules Committee approved a rule that, once passed by the House, would correct the unemployment typo. But the new language referred to the main rule for the bill as H.Res 783. The correct number is H.Res 738.
Exasperated that Democrats would not simply agree to unanimous consent to fix the errors, Foxx took to the House floor on Thursday and -- in a tearful plea -- invoked the tragedy in Aurora while arguing for the need for bipartisanship. Life, she said, is too precious to waste, and the House should hurry up and pass the regulatory bill.
A mistake was made. And then in attempting to correct the mistake, an extraordinarily minor other mistake was made. I would appeal to my colleagues on the other side of the aisle to say, "We are human beings. We know how to forgive mistakes." Neither of these mistakes was made by a member. We're quite willing to overlook mistakes like this in the past.

And I think in the spirit of comity, in the spirit that was established on this floor, this morning, we should move on, get to the work that the American people sent us here for, and understand as was quoted this morning by one of our colleagues -- our time is very precious. Don't waste it by playing gotcha games. Think about what we discussed earlier.
Foxx essentially wanted Democrats to agree to fix the typo on the spot, without taking the bill back to committee. But it takes only one person to object to such a request, and that person was Rep. Barney Frank (D-Mass.).
"This is a small mistake in a bill that's about as partisan as it gets," he said. "To make a plea for bipartisanship with this excessively partisan bill -- that is being pushed through in such a procedurally inappropriate fashion with major concerns about every aspect of the federal government ... no, that's a mistake."
Frank added that the double error was emblematic of "haste."
"This is what happens when you try to do too much, too soon," he said.
Frank pointed out that the House was scheduled to vote on 20 amendments in the afternoon, with each one only receiving 10 minutes of debate. The House also worked late into Tuesday night on other amendments. Given the rushed effort to push through so many bills, it's no wonder there have been two major typos in less than 24 hours, he said.
"There's no preparing," Frank added. "Yesterday it was letters. Today it was numbers. I suppose tomorrow it will be astrological signs."
The House ultimately made the fix on the House floor. Foxx pulled her request for a unanimous consent motion and later put up her amendment and the rule, and the House agreed to both by voice vote.
The bill is unlikely to move forward with Democrats in the Senate or the White House.
Before You Go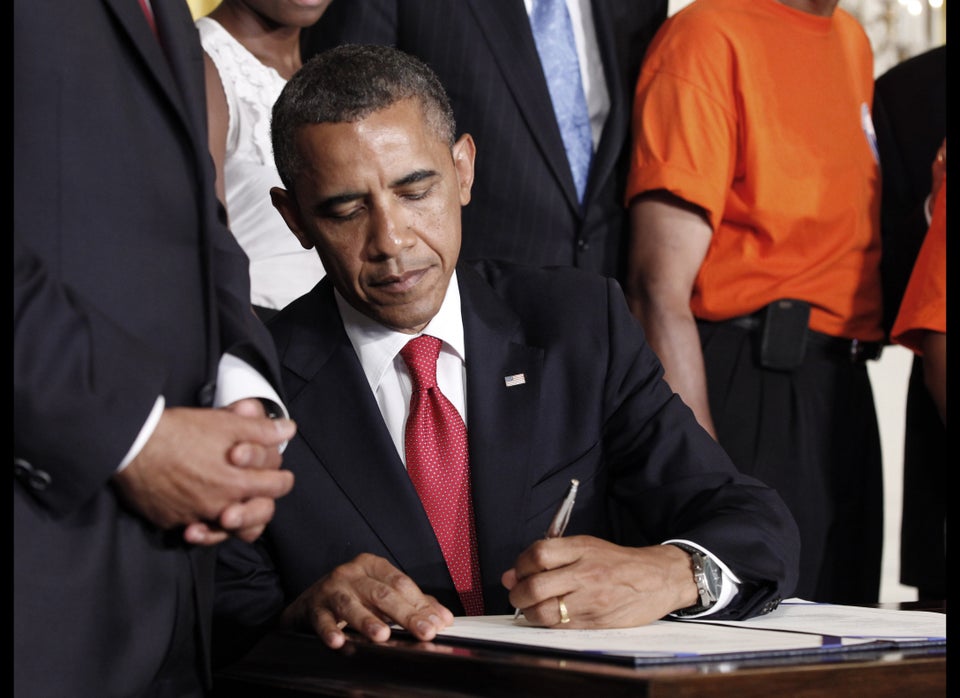 Politicians React To Colorado Shooting
Popular in the Community