 As the U.S. Supreme Court ponders gay rights amid a national debate over same-sex marriage, the ground is softening in Virginia.
A new poll shows Virginians are essentially split on same-sex marriage, less than seven years after they easily passed an amendment to the state constitution that defines marriage as between one man and one woman.
While 46 percent of Virginians oppose allowing gay and lesbian couples to marry legally here, 45 percent support the idea, according to a new poll sponsored by the University of Mary Washington's Center for Leadership and Media Studies. The result is a marked shift from a 2006 Virginia vote in which 57 percent supported the ban and 43 percent opposed it.
The close result sits within the poll's margin of error of plus or minus 3.5 percentage points. Of those surveyed, 9 percent said they either don't know or refused to answer.
"Rarely does public opinion shift on a social issue as rapidly as it has for gay marriage," said Stephen J. Farnsworth, professor of political science and international affairs and director of the center.
"While opposition of gay marriage remains stronger here than nationally, the rapid erosion of that opposition among Virginians in the years since the 2006 amendment is nothing short of astonishing."
Nationally, a cultural debate is churning as the Supreme Court last week heard arguments in cases regarding California's Proposition 8 and the federal Defense of Marriage Act. A recent CBS poll showed 53 percent of Americans think same-sex marriage should be legal while 39 percent say it should not.
In Virginia, the support cuts sharply along age, region and party, the survey shows.
The younger the person, the greater the support for same-sex marriage. Those aged 18-29 back same-sex marriage by 66 percent, followed by 30-44 year olds with 54 percent. Support drops off with people aged 45-64, with 56 percent in opposition, which swells to 65 percent among those 65 years or older.
Regionally same-sex marriage finds its greatest support in Northern Virginia, 59 percent, and the least in the western portion of the state, with 31 percent. Along party lines, a majority of Democrats and independents supported the legal marriage while a majority of Republicans opposed it.
Despite the movement on same-sex marriage, the poll reinforces Virginia's purple streak, indicating strong support, for example, for retaining the death penalty.
Overall, 65 percent of Virginians support keeping the death penalty, while 27 percent disagree. The backing holds across political party, region and race.
Across the Potomac River, Maryland appears on the verge of getting rid of the death penalty, but advocates of eliminating the punishment here would take little comfort in the survey results.
"What you see, taking the survey as a whole, is that Virginians tend to be pretty independent," Farnsworth said. "They pick and choose the policy preferences that appeal to them. The results here suggest support for some more conservative positions and support for some more liberal positions."
The survey of 1,004 adults living in Virginia was conducted March 20-24 by Princeton Survey Research Associates International.
Providing a path for illegal immigrants to gain citizenship, among the more pressing debates on Capitol Hill, wins strong support in the poll. Residents were asked if they support or oppose providing a way for illegal immigrants in the country to gain legal citizenship if they pass background checks, pay fines and have jobs. Seventy-one percent of those surveyed said they support it while 25 percent oppose the idea.
The support carries across political party affiliation, just months after the 2012 presidential election, when President Barack Obama won re-election with the strong support of minorities.
Democrats supported the path to citizenship by 84 percent, independents by 72 percent and Republicans by 59 percent, according to the survey.
"This is, I think, one of the key consequences of the Republican presidential defeat in 2012," Farnsworth said.
"There's a saying that demographics is destiny, and the Republican Party recognizes it needs more outreach to remain competitive in a nation that is growing steadily more diverse."
The poll gave a glimpse into the attitude of Virginians on various other topics, including support -- 72 percent to 26 percent -- for a bump in the minimum wage to $9 from $7.25.
Those surveyed oppose increasing the age -- to 69 from 67 -- at which working people can retire and receive full Social Security benefits to reduce the federal budget deficit. The poll found that 59 percent oppose the idea and 38 percent support it.
Residents also think Virginia's governors should be allowed to serve two consecutive terms, with 58 percent supporting the idea and 40 percent opposed.
They also say an independent board should draw the boundaries for Virginia's legislative and congressional districts, with 74 percent in favor. Fifteen percent backed the current practice in which state lawmakers draw the district lines.
(c)2013 the Richmond Times-Dispatch (Richmond, Va.)
Distributed by MCT Information Services
Before You Go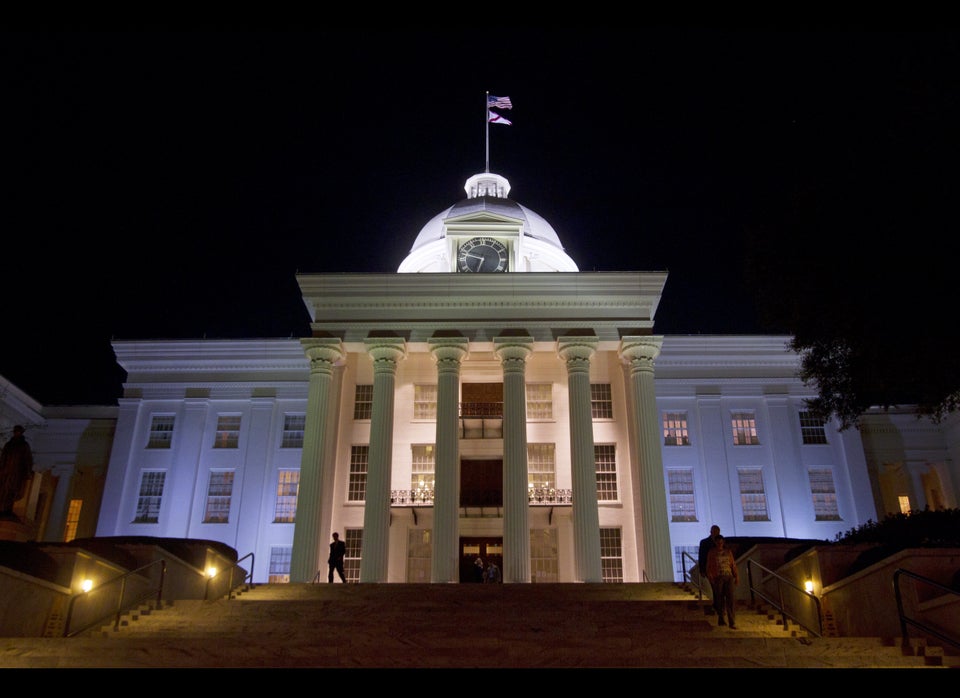 U.S. State Capitol Buildings
Popular in the Community