A federal judge ruled Virginia's ban on gay marriage unconstitutional late Thursday.
The Court finds Va. Const. Art. I, § 15-A, Va. Code §§ 20-45.2, 20-45.3, and any other Virginia law that bars same-sex marriage or prohibits Virginia's recognition of lawful same-sex marriages from other jurisdictions unconstitutional. These laws deny Plaintiffs their rights to due process and equal protection guaranteed under the Fourteenth Amendment of the United States Constitution.
U.S. District Judge Arenda L. Wright Allen wrote that the constitutional right to equality should apply to all, including same-sex couples seeking marriage licenses.
"Our Constitution declares that 'all men' are created equal. Surely this means all of us," wrote Wright Allen, an Eastern District of Virginia judge in Norfolk. "While ever vigilant for the wisdom that can come from the voices of our voting public, our courts have never long tolerated the perpetuation of laws rooted in unlawful prejudice. One of the judiciary's noblest endeavors is to scrutinize law that emerge from such roots."
Wright Allen stayed her order to allow an appeal, meaning nothing immediately changes for same-sex couples in the state.
The suit was filed by two Virginia couples: Tim Bostic and Tony London, and Carol Schall and Mary Townley, a couple whose California marriage license did them no good in Virginia. The couples were represented by Theodore Olson and David Boies, the bipartisan attorney pair known for winning the June 2013 case that restored gay marriage rights in California.
Wright Allen began her opinion with an excerpt from Mildred Loving's "Loving for All." Loving, a black woman, was banished from Virginia for marrying a white man. She brought her case to the Supreme Court, leading to the end of state miscegenation laws. The judge concluded with a salute to President Abraham Lincoln:
Almost one hundred and fifty four years ago, as Abraham Lincoln approached the cataclysmic rending of our nation over a struggle for other freedoms, a rending that would take his own life and the lives of hundreds of thousands of others, he wrote these words: "It can not have failed to strike you that these men ask for just... the same thing -- fairness, and fairness only. This so far as in my power, they, and all others, shall have."

The men and women, and the children too, whose voices join in noble harmony with plaintiffs today, also ask for fairness, and fairness only. This, so far as it is in this Court's power, they and all others shall have.
"After thorough legal review, I have now concluded that Virginia's ban on marriage between same sex couples violates the Fourteenth Amendment of the U.S. Constitution on two grounds: marriage is a fundamental right being denied to some Virginians, and the ban unlawfully discriminates on the basis of both sexual orientation and gender," Herring said in January.
More from the Associated Press:
A federal judge ruled Thursday that Virginia's ban on same-sex marriage is unconstitutional, making it the first state in the South to have its voter-approved prohibition overturned.
Wright Allen's ruling makes Virginia the second state in the South to issue a ruling recognizing the legality of gay marriages.
A judge in Kentucky ruled Wednesday that the state must recognize same-sex marriages performed in other states. It did not rule on the constitutionality of same-sex marriages inside the state, however. The Virginia judge's ruling also follows similar decisions in Utah and Oklahoma federal courts.
Wright Allen's stay was requested by the Virginia Attorney General's Office in order to avoid a situation similar to what happened in Utah after a federal judge declared that state's ban on gay marriages unconstitutional.
More than 1,000 gay and lesbian couples were married in the days after the ruling before the U.S. Supreme Court granted the state an emergency stay, halting the weddings and creating a cloud of uncertainty for the status of the married couples. Soon after, a federal judge also declared Oklahoma's ban unconstitutional. That ruling is also on hold while it is appealed.
In a movement that began with Massachusetts in 2004, 17 states and the District of Columbia now allow gay marriage, most of them clustered in the Northeast. None of them is in the old Confederacy.
CORRECTION: An earlier version incorrectly referred to Herring as a Republican. He is a Democrat.
Before You Go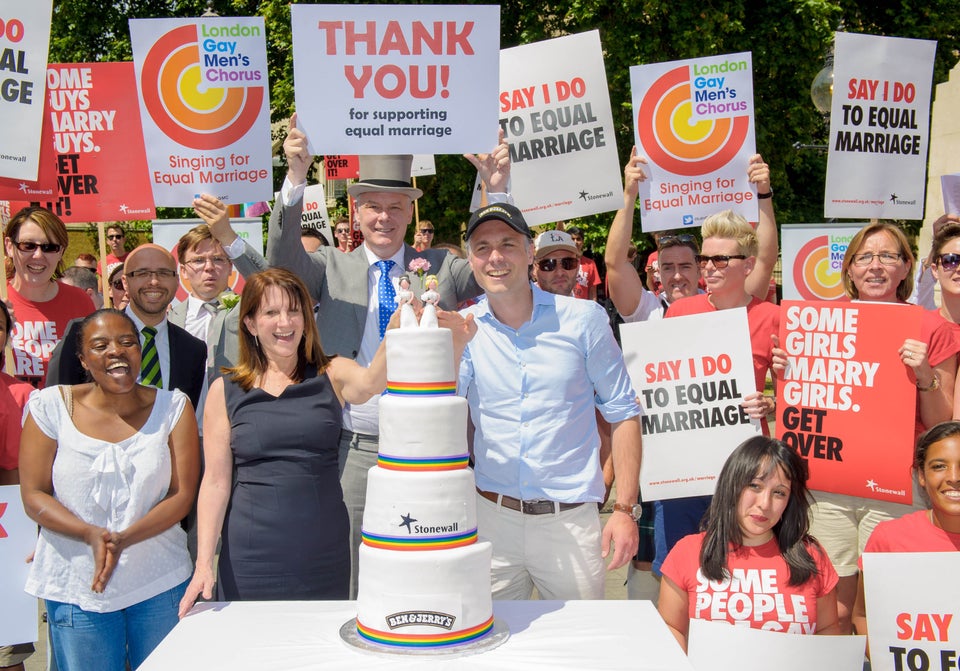 Gay Marriage Celebrations
Popular in the Community